Great Bear Hibernation Lesson & Projects for Preschool Children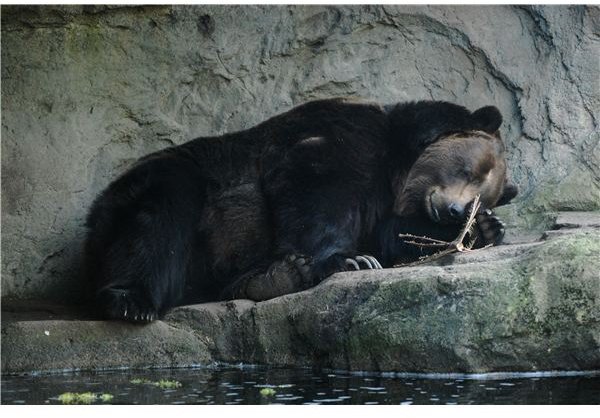 Getting Started
When we think of bears in the winter, we imagine them taking a long winter nap only to awake during the rebirth of early spring just in time to search for food. This act is called hibernation and many animals, not only bears, go through this process.
These animals can survive for months without food because they stuff themselves before the winter and have enough body fat to make it through this long period. The fat provides energy to keep them alive during hibernation. Bears are not true hibernators because their body temperatures and heart rates do not change much and sometimes they move about in their den. True hibernating animals appear dead - their body temperatures plummet and so does their heart rate; they actually fall into a deep, prolonged sleep.
Some mother bears actually give birth to their cubs during the winter months all tucked away in a comfortable winter home. The cubs nurse on her milk and emerge in early spring to look for other food and play in the sunshine.
Reading books about hibernation help young children to understand this concept. Suggested books include:
Bear Snores On by Karma Wilson [Margaret K. McElderry, 2002]

Why Do Bears Sleep All Winter by Jane Duden [Capstone Press, 2006]

Old Bear by Kevin Henkes [Greenwillow Books, 2008]

Sleepy Bear by Lydia Dabcovich [Puffin, 1993]
Use a fun piggyback song to the tune of "Frere Jacques" to help preschoolers learn the concept that bears sleep in the winter and wake up come spring.
Are you sleeping, are you sleeping?
Big brown bear, big brown bear.
Are you in your cave now? Sleeping through the winter.
Sh-sh-sh! Sleep brown bear.
________
Let's all wake up, let's all wake up,
Sleepy bear, sleepy bear.
Winter time is gone now, spring is now upon us,
Wake up now, big brown bear.
(Original song, author unknown. New words created by Tania Cowling)
Bear Hibernation Projects
Hibernation Flip Signs
Provide the children with a sheet of construction paper and crayons. Fold this paper in half. Ask the children to draw a bear that is sleeping in a den on one side of the paper and another bear that is out looking for food on the second side.
Make sure to emphasize details in the two pictures from things you read in the books above. The hibernating bear could be sleeping on a cozy bed of grass and leaves while snow is outside the door. The bear in spring is out in the sunshine among the green trees and plants hunting for a meal. Since bears like honey, think about a beehive, too. Insert a craft stick in between the fold and glue or staple this shut. Encourage the children to turn the sign to the correct side when you say, "winter" or "spring" - this teaches the children how the seasons affect the bears. You can also use these signs when singing the song above.
Dramatic Play Center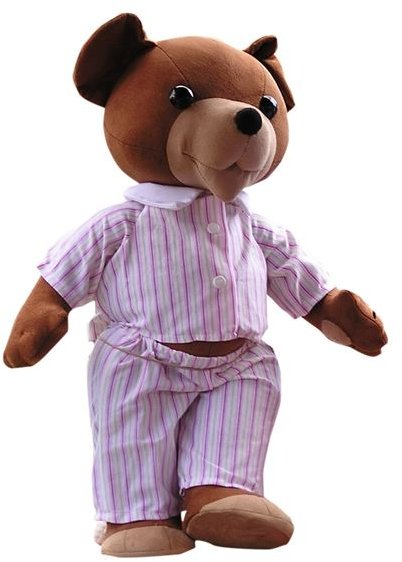 Gather some medium-sized boxes and let the children decorate them as the bear's den or cave. Use art materials like paint and crayons. On a specific day, have the children bring in their favorite stuffed bear animal toy to class. Have extras in case a child forgets or doesn't own a stuffed bear. Let the children play hibernation placing their bear inside the cave to sleep and outside to hunt for food.
On a larger scale, a large appliance box makes a great cave for the children to pretend to hibernate. Cut a large oval opening on one side. Invite the children to crawl inside to pretend to sleep. Monitor how many children can go inside at once and always practice safety when children are playing together.
Snack Ideas
If you have cooking facilities (or want to make these at home) prepare a cake mix according to the package directions. Place the batter into sections of a muffin tin to make cupcakes. Before you bake them, place a Teddy Graham cookie down into the batter in each cake section. The children will be delighted to find a hibernating bear inside their muffin or cupcake treat.
Another way to hide a Teddy Graham cookie would be inside a cup of pudding (chocolate, vanilla or butterscotch). Add whipped cream on top to replica the snow in the winter. The children will love hunting for the hibernating bear inside this delicious dessert.
This article will help the children explore and learn how animals live through the cold winter weather. You can take this hibernation lesson a little further by discussing other wildlife that spend the winter sleeping, like the groundhog, mice, chipmunks and squirrels, and bats.
Sources and Added Information
Copycat Magazine, "A Long Winter's Nap" - Jan/Feb 2000
"The Bear Den" - https://chalk.richmond.edu/education/projects/webunits/adaptations/bears.html
"Secrets of Hibernation" - https://www.pbs.org/wgbh/nova/satoyama/hibernation.html
Projects: personal experience in the classroom
Photos: