Christmas Tree Centerpiece
One great idea for preschool kids' homemade Christmas gifts involves making a centerpiece by using a small Christmas tree, and having the preschooler decorate it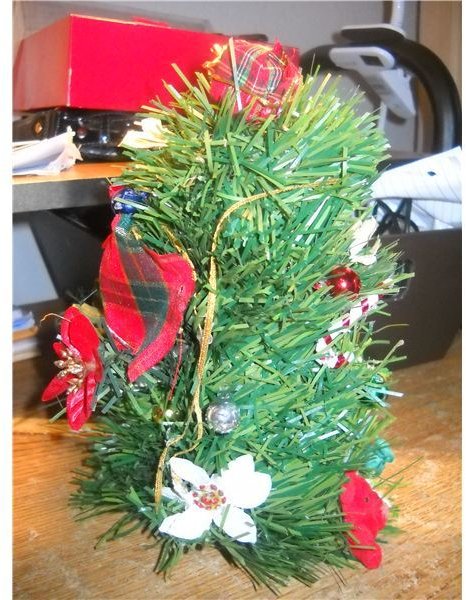 with little Christmas craft pieces. Here is a list of things needed:
One small Christmas tree for each student. The trees can be found at craft stores.
Glue that is age appropriate and safe for preschoolers to use.
A large variety of small craft, Christmas-type ornaments for preschoolers to use to decorate their trees.
Assembling the Christmas tree centerpieces is very easy. Each preschooler is given their own tree, and with the help of teachers or assistants, they simply put a small amount of glue on each of their ornaments or decorations and apply them to the tree. Some great ideas for ornaments and decorations include ribbon in traditional Christmas colors, glitter, sequins, fake flowers or other craft pieces.
The Christmas tree centerpieces are then put aside to let the glue dry, and then they are ready to be taken home and given to the parents. For an added touch, preschool teachers could purchase some Christmas gift bags for the centerpieces.
Decorative Fruit Bowl
Another great idea is a decorative fruit bowl that preschoolers decorate themselves. Here is a list of supplies needed to make this centerpiece.
One medium to large bowl. Depending upon budget, the bowl can be made out of plastic or a heavy ceramic found in craft stores as a ready-to-paint product.
Paints that are safe for preschoolers to use. These paints can usually be found in craft stores as well.
Stickers.
Each preschooler is given a bowl with some paints, a paint brush and some stickers so they are able to decorate their bowls. Preschoolers are encouraged to be as creative as possible with the painting, using a variety of different colors. Once the bowls are painted they are then set aside to dry. After the bowls have dried, preschoolers can add stickers, or with the help of the preschool teacher, put their name on the centerpiece.
Hand Print Plate
A preschool centerpiece idea that also uses the children's handprints is a large plate or tray featuring the handprints of the preschooler.
Here is a list of supplies needed for this centerpiece.
Large plate or tray made of plastic or other strong, sturdy material.
Finger paints.
An old t-shirt or plastic apron for each preschooler to wear.
To make this centerpiece, each preschooler is given a plate or tray. Next they are given an old t-shirt or wipe-clean apron to wear to ensure their clothes do not get dirty. A note should be sent home beforehand instructing parents to send one with the preschooler, if none are available at preschool, because they will be painting in class.
With the help of the teacher, each preschooler gets to pick out a color of paint. They then put their hands in the paint, and put their handprints on the plate or tray. The tray or plate should be left to dry, and each student's name should be put on it, along with the date.
Making these centerpieces with preschoolers will not only bring out each child's creativity, but also the plates make a great gift to a parent or grandparent that they will treasure forever.
References
Sources Cited: Preschooleducation.com and my own personal ideas.