Knight's Shield Preschool Craft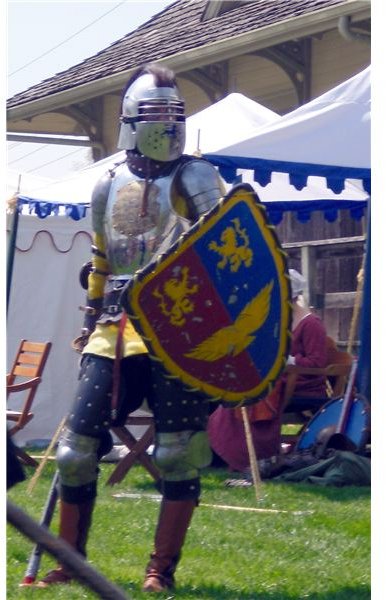 Creating a knight's shield preschool craft is a terrific open-ended art project. There is no need for any special tools or materials, and preschoolers will be able to use their knight shield in dramatic play for days to come. Before beginning this craft project, read Tomie dePaolo's The Knight and the Dragon to your class. Reading the story and studying the illustrations may give children an idea of what they would like to include in their own knight's shield.
Materials Needed
Before beginning any craft project with young children, it is wise to gather your materials ahead of time. For a knight's shield craft, you are bound only by your own imagination. A knight's shield can come in many different shapes. Use tagboard or heavy cardboard to create several different shapes for the children to choose from. Some shields can be round, others shaped like a family crest. Ask children to suggest other shapes that may be appropriate for a shield. You will also need a strap for the back of the shield so that it can be held by the child. Use fabric scraps, leather strips, or wide elastic and staple to the back of the shield. Have crayons, markers, paint, and collage materials available for the children to create a design on their shield. Allow the children to decide on their own design and offer help if necessary. While the children are creating, point out that medieval knights often had two or four different designs on their shields. Help the children divide the face of their shield into two or four sections if they would like to create more than one design. Some knights decorated their shields with the family coat of arms. Others liked to use pictures of plants and animals on their shields.
Extend Your Lesson Plan
Preschoolers are often fascinated with medieval knights and history. Extend your curriculum by providing other medieval knight activities for your preschool class. To piggyback the original knight's shield preschool craft, have children create a surcoat, the clothing worn over a knight's armor. Using a white pillowcase, cut appropriate arm and neck holes. Use fabric paint, glue and collage materials to decorate the surcoat to match the shield. These items can be placed in your dramatic play area to be used as dress-up clothing. For older children, try building a medieval castle with Styrofoam and cardboard tubes. This article has a few good ideas on how to get started building a castle.
There are several appropriate preschool picture books available to extend a knight or medieval lesson plan:
Good Night, Good Knight by Shelley Moore Thomas
The Tale of Custard the Dragon by Ogden Nash
The Bravest Knight by Mercer Mayer
There's No Such Thing As A Dragon by Jack Kent
The Great Dragon Rescue by MP Robertson
Photo Credit: jdurham https://www.morguefile.com/archive/display/678139