Four Bunny Games for Preschoolers: Movement Activities with Props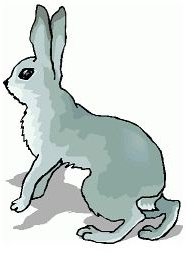 Movement activities are part of a preschool curriculum and super important to help children develop large muscle skills along with balance and body coordination. Teachers should provide opportunities for this type play on a daily basis. Give suggestions such as "How fast can you hop?", "How far can you hop on one foot?" and so on.
What better way to work on these skills than to pretend to be "bunnies" as you play these bunny games for preschoolers? It doesn't have to be Easter or spring to be "bunnies" - rabbits are around throughout the year. Don't forget about props, as these simple costume ideas increase the child's interest in the characters they are about to become in pretend play. Read on for four different bunny game ideas.
Let's Have a Bunny Race
Get ready, get set, and hop! Preschoolers will have fun playing this team game.
Props needed:
You will divide your class into two teams. One carrot will be needed for each child. Take clothespins (the non-spring type) and paint them orange prior to playing this game.
2 cardboard boxes painted green to represent gardens
2 baskets at the end of the relay (opposite side of the gardens)
How to play:
Prepare two "gardens" at one end of the classroom or playground. Do this by setting out two cardboard boxes containing a carrot for each child on the team. Make sure you have the same number of carrots in each garden. Have your teams line up, and explain to the class that they will pretend to be bunnies. Children should take turns running, hopping, skipping, and so on up to their respective gardens to pick one carrot each from the garden. The players will then return in the same movement manner and drop their carrot into their team's bunny basket.
Of course in a relay race the first team to finish is the winner. At this age, however, it's best to concentrate on just playing the game instead of making this a competitive activity.
The Bunny Says
Follow the same rules as "Simon Says" for an action-packed game. This reinforces listening skills, naming body parts, and counting. Here are a few examples of commands:
Bunny says, "Wiggle your knees five times" or "Tap your heels three times" or "Waddle four steps like a duck." Only move when the command starts with "Bunny says." The teacher can be the command caller or the children can take turns being the bunny and calling out commands.
Hopping Through the Hoops
Preschoolers will have a great time jumping (hopping) from one hoop to the next on both feet just like a bunny. This is a good way to challenge your group's boundless physical energy and a fun time to share together. You will need several hula hoops to set on the floor in any design that you like, about one foot apart.
Encourage the children to hop on both feet from one hoop to the next. Do this one by one to contain order and not have the children bumping into each other. After a round, change the design of the hoops and play again.
Peter Rabbit's Dilemma

Start the day by reading the Tale of Peter Rabbit, by Beatrix Potter. Discuss how Peter disobeyed his mother and went into Mr. McGregor's garden to eat vegetables. The farmer began to chase him out of the garden and Peter lost his jacket and shoes while running away. Take this part of the story and create a scavenger hunt game to play in your playground or indoors (if the weather doesn't comply).
Before game time, take clothing from your dramatic play area and hide these items around the yard. At game time, tell the children that Peter has lost his clothes in the garden (playground) and challenge them to find and return the bunny's clothes.
Playing these games is a delightful way to get healthy exercise while children pretend to be bunnies. You can reinforce your lesson on rabbits, spring and Easter at the same time.
References