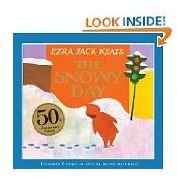 Ezra Jack Keats wrote a book for young children called The Snowy Day. Preschool activities in this article are centered around this book and will teach children some science lessons about snow. The book also shows children that exploration of the world leads to fun and learning. Kids already get excited when it snows. Why not use that excitement to teach them science concepts?
The Snowy Day preschool activities offered here can be used as a stand-alone theme, or incorporated into other winter theme units.
Music and Movement Snow Fun
In the book a little boy wakes up to see newly fallen snow on the ground and spends the day exploring and having fun playing in it. One thing he does is participate in a snowball fight. Preschoolers can have a "snowball" fight indoors. Simply find extra large cotton balls at a local drug store. Kids can throw them in the air and let them fall, or pack several together to make a ball. The large cotton balls actually sculpt quite well and make a great active indoor game. If you add some music to this activity like, "Jingle Bells" or "Winter Wonderland", have the children move and play in the "snow" along with the feel of the music.
Snowball Craft
When centering a theme around The Snowy Day, preschool activities should include some kind of craft. Each child can make their own beautiful, glittery snowball by following a few simple steps:
Mix a bowl of half non-toxic glue and half water. Then, cut up multiple pieces of white yarn and blow up a small balloon for each child. Have the preschoolers dip the yarn in the glue mixture and lay the pieces over their balloons. Then, once they have covered their balloons with as much yarn as they want, let them sprinkle glitter over the yarn and let the balloons dry overnight. After everything dries, pop the balloons with a pin and let the preschool students take home their beautiful glittery creations.
Science Snow Observation
Sometimes, the best preschool activities involve demonstrating science in action. Preschool science should stay pretty basic and simple. The Snowy Day focuses on snow, so teach your preschool children what makes up snow. Explain to them that water molecules combine and freeze in the sky. When the weather warms up, the snow melts. Have the kids go outside and collect a small cup of snow at the beginning of the day. Have them guess what will happen when the snow stays inside all day. Check the cup every hour and see how much snow has melted. This is also a good experiment to show children that a whole cup of snow makes a lot less water.
By using your imagination, you can create many activities, crafts, and games that focus on winter fun as in the story. Preschool students love learning with fun projects and activities. Snow can be fun and educational, even inside the classroom.
Image Credit:
Ricorocks at MorgueFile.com