Preschool is a time of learning, exploring, fun and adventure. Preschool arts crafts are always a hit. Many preschoolers enjoy playing with clay, coloring or even painting. A preschooler's sense of creativity at such a young age is astounding. You will be shocked by how creative your preschoolers can become with a simple art project. I hope I can inspire you and your preschoolers to roll up your sleeves and delve into some fun and exciting preschool arts crafts!
Finger Print Bugs
Supplies Needed:
Your preschoolers' fingerprints
Paint
Paper
1) Place your preschooler's thumb (or finger of choice) into the paint, and have a practice napkin ready and dab gently onto the sheet.
2) Then transfer your preschooler's finger onto the paper and begin forming bug shapes.
**If you have a large group, it may work best if you provide the children with simple sketches of bugs. This way the preschoolers can place their own fingerprint images on the outline of the bug picture.
3) Have your preschoolers create bugs such as a caterpillar, bee, butterfly, ant, or even a snail! When your preschoolers are complete you will have a beautiful and memorable craft! See example pictures below.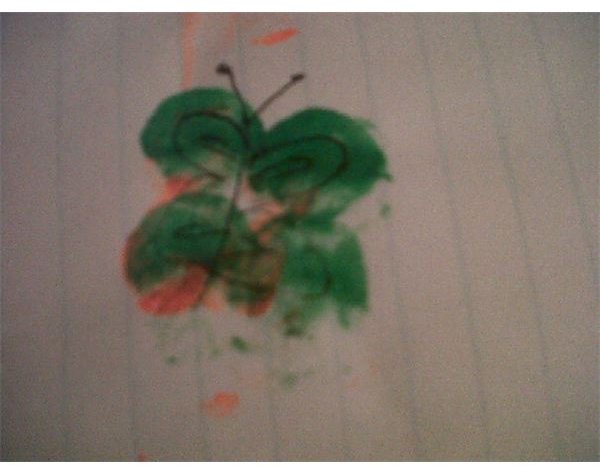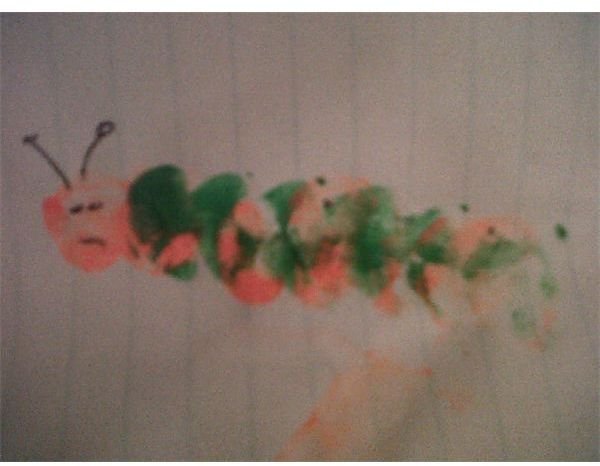 Blow Paint Craft
Blow paint is very simple and also very fun for preschool children.
Supplies Needed:
1) Apply small, quarter size, drops of paint onto your preschooler's paper.
2) Provide your preschoolers with a straw and ask them to blow the paint into different directions forming an object for their own messy masterpiece!
3) Allow proper time to dry and then put on display for all to admire.
Egg Carton Caterpillar
Supplies Needed:
Paint
Empty egg carton
Paint brushes
Googly eyes
Pipe cleaner or straws
1) Pre-cut the egg carton into 3 or more sections , and pre-slice two small holes into the top of the caterpillars head.
2) Allow the preschoolers to paint their caterpillars or decorate them to their heart's desire.
3) Glue on two googly eyes. Cut small pieces of pipe cleaner or straw and weave them into the pre-cut whole to act as antennae.
4) Draw the caterpillars smile with a permanent marker.
See picture below for an example of the finished product.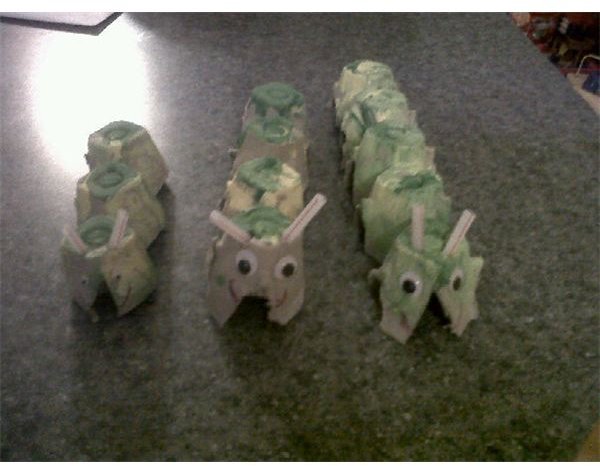 Apple Print Collage
Supplies Needed:
Apple – cut in half
Paper
Paint
Paper plate
Paper towel
1) Cut the apple in half. You can experiment with your apple by cutting it into different shapes, or cutting the apple in different places.
2) Fold the paper towel into four. Place the paper towel into the center of the paper plate. Pour the paint onto the paper towel. The paper towel will act as a sponge soaking up some of the paint and allowing for better transfer onto the apple.
3) Dip the apple half into the paint. Firmly hold and press the apple half onto your piece of paper. Gently and fast lift the apple half off your page to create an apple shaped print.
4) Repeat until your collage is finished, and experiment with different print patterns.
You can use as many colors as you would like! Traditionally I enjoy using "apple colors" such as red, yellow, and green. Your preschoolers can even form a collection of apples onto a tree picture.
This craft can also be created using other fruits such as oranges, plums, lemons, or pears, or peaches! Vegetables can be used such as cucumbers, broccoli, celery, tomatoes or even onions! See picture below for an example.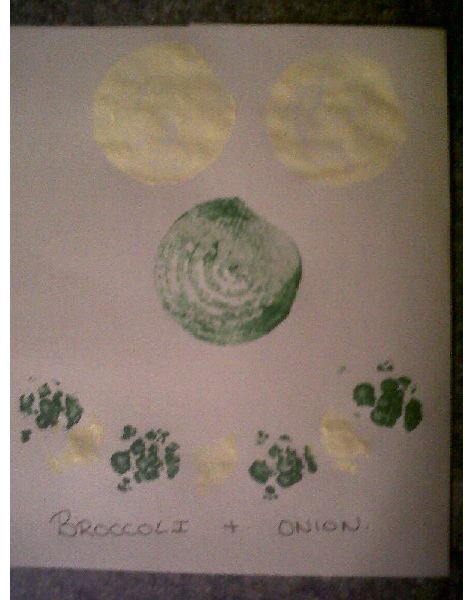 There you have it! Preschool arts crafts for all developmental and mess levels! For more preschool art projects, try Farm Art or another colorful project like Traffic Light Art.