Mother is without a doubt a beautiful and important person in the lives of her family. A mother is like an angel or a fairy; she floats in the background of our lives and supports us like wings. This is why preschool wings projects are a good way to celebrate Mother's Day.
Every year on the second Sunday in July we celebrate Mother's Day. Mother's Day is a set day where we can express the love and respect that we have for our mothers. Its a great time to pamper our moms with gifts and love for everything she does for us throughout the year. As an ECE teacher I spent a lot of time searching the web for new fun, easy, and memorable craft ideas for the wonderful mothers of my students. Here are two of my favorite preschool wings projects:
Dragonfly Craft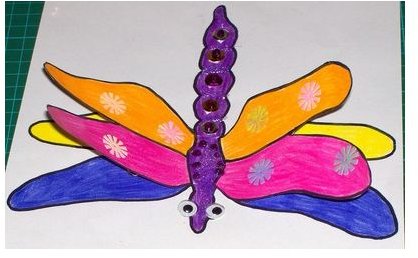 Personally I love the song "Butterfly Kisses," it reminds me how wonderful parents are. Every year with my students I chose to do a wings craft for Mothers Day. Here it is:
Dragonfly Craft
Instructions on how to make this glittery dragonfly with his 3D wings that will brighten up Mother's Day!
Instructions
1) Print off the template for the dragonfly. This can be found at www.craftscope.com/dragonfly-craft-free-kids-preschool-craft/
2) Have your kids or students color the dragonfly in beautiful bright colors. Try and encourage the children to color each wing a different color.
3) Cut out ONLY the spare set of dragonfly wings.
4) Using your glue stick, attach the wings to the dragonfly's body.
5) Attach googly eyes to the dragonfly.
And begin to decorate your 3D dragonfly!
Hand and Foot Fairy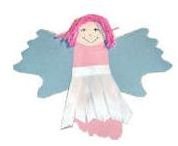 This oh so adorable is truly a "hand-made craft"!! Any preschool child will have fun with this fairy wings project and is a special memory for mom as well!
Materials:
Cardstock – Three different colors, one for the foot, one for the two hands, and one for the face of the fairy
Crayons
Yarn
Ribbon
Glue
Scissors
Instructions:
1. Trace each of the childs hands on one color of cardstock, then trace one of the childs foot on another color of cardstock. Then cut out both hands and the foot. When cutting out the hands and feet remember to only cut out the shape of the body parts – do not cut out the breaks in the fingers or toes.
2. Draw a circle and cut it out. This will become the fairy's head.
3. To assemble the fairy, glue the circle head onto the heal side of the foot. Glue the palms of the hands to the back of the footprint. These hands will act as wings for the fairy.
4. Colour a face on the fairy. Use the yarn as hair. And ribbon pieces to make clothing. Decorate any extra as you wish!
References
Dragonfly Craft and photo: www.craftscope.com/dragonfly-craft-free-kids-preschool-craft/
Hand and Foot Fairy craft and photo: https://familycrafts.about.com/od/fairycrafts/a/HandFootFairyCraft.htm