Begin with a book
Your preschoolers need to learn some fun facts about the Statue of Liberty before you can follow-up with any related projects. The best way is by reading them a book.
A simple book to read for this age group is from the Wonders of America series: The Statue of Liberty by Marion Dane Bauer. It is a Level 1 reader so you may have students who can read this book independently.
Words to discuss:
torch: a portable way to light up an area
sculptor: an artist who makes statues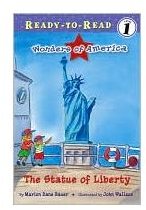 pedestal: the base to support a statue
unveiled: to remove the cover on something
freedom: the power to act, think or speak without restraint
France: a country in Europe; across the Atlantic Ocean from the United States (use a world map to point out both countries)
Facts to review:
The Statue of Liberty reminds us of the freedom we have in the United States.
It greets visitors who come across the ocean.
The statue was a gift from France.
It is as tall as the length of seven school buses (Picture on page 21 of above mentioned book)
Long ago, school children saved pennies and nickels to donate for the cost of the pedestal.
Art and Creativity
Torch Craft:
Materials:
orange, yellow, red non-toxic paint

12"x18" white paper
crayons
Preparation:
Draw a cone shape on the 12"x 18"paper, leaving space at the top
Directions;
Students can color the cone and then, at the easel, use red, orange and yellow strokes to make a flame on the top of the cone.
Team Liberty
Gather a variety of suggested supplies:
old robes, large men shirts, tablecloth with hole cut in it for head and arms
empty paper towel rolls
yellow, orange or red streamers to add for the torch
play crowns
large discs cut from tag board. Cut a hole in the center to fit on a child's head. Students can add triangles to make a crown.
Divide students into small groups. In a fair way, like choosing a name from a hat, pick a student to be the Statue of Liberty in each group. The others in the group need to create a Statue of Liberty costume on the chosen student with the supplies. A fun time should be had by all!
When all groups are finished, all the statues should pose in front of the class. Call on them or other students to share a fact they have learned about the Statue of Liberty.
Statue of Liberty Coloring Page
Have the students color this page:
https://www.supercoloring.com/pages/statue-of-liberty-2/
Homework assignment: Take the finished paper home and tell someone what you learned about the Statue of Liberty.
Children are never too young to build in a sense of pride; for themselves, their friends, their families and their freedom. The Statue of Liberty is a symbol of a nation and the freedom we enjoy. Students should be able to recognize this symbol and know a few facts about it. A preschool art Statue of Liberty lesson will help them learn about this famous landmark and build patriotism.
References
Bauer, Marion Dane. The Statue of Liberty. Simon Spotlight, 2007.