Jesus Is My Friend: 3 Activities for Preschool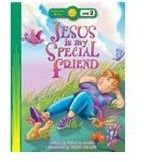 Jesus is my Friend
Teaching our youngsters that Jesus is my friend will help them now and later in life. Preschoolers who learn in church to love Jesus will
most likely become those who rely on him later on in life. Reaching them at this tender age group can be beneficial to their relationship with Christ.
In this article there are three suggested activities that will help to reinforce to young children who Jesus is to them and to introduce to others that He is a great friend to have. In these activities, preschoolers can learn that all of us, no matter what age, can rely on Jesus to help us in times of trouble or when we just want to let Him know that we love Him.
Book: Jesus is my Special Friend
The book, Jesus Is My Special Friend written by Susan S. Balika and illustrated by Vickie Bolling, is a suggested title for a lesson on Jesus and can be found on Amazon.com. This book is a great start for this project.
Jesus Is My Special Friend is illustrated very professionally, and it is pleasing to the eye. This book could be used to introduce the concept and theme for the overall activities on Jesus. It will help the children to relate to the main character in the book. Preschoolers will find the character intriguing and learn that they aren't the only ones who are friends to Jesus.
Activities
Song: Jesus Loves the Little Children
Jesus loves the little creatures,
All the creatures of the world;
Big and small, drenched in slime,
Jesus loves each special kind,
Jesus loves the little creatures of the world.
Jesus loves the little children,
All the Children of the world.
English, Irish, Dutch, and Jew,
And the little Norwegian, too.
Jesus loves the little children of the world. [1]
Jesus and the children coloring page - You can print these coloring pages for your class to color in and have them tell you what they think Jesus is saying to the children.

Prayer to Jesus - Materials: You will need construction paper, hole-puncher, ribbon or cord, scissors for children, glue, and markers.
Prayer: Dear Jesus, Thank you for being a friend to me. Thank you for giving me friends and those that I love. Amen.
Instructions: Print the prayer for each child and paste it to the construction paper. Make one to one half inch strips for a border around the prayer and glue them down. Use the hole-puncher to punch two holes at the top of the artwork. Thread the ribbon or cord through the holes and tie the ribbon for hanging.
All in all, these activities should help your children know that Jesus is their friend. These crafts and activities should help to build a stronger relationship with Jesus as their personal savior as he is a friend to us all.
Cited Sources:
"Jesus Loves The Little Children". DLTK's Growing Together. 1/11/10.
Bible Coloring pages from Jesus' Ministry Online.