Nutrition Activities for Preschoolers: Four Ways to Teach Healthy Eating Habits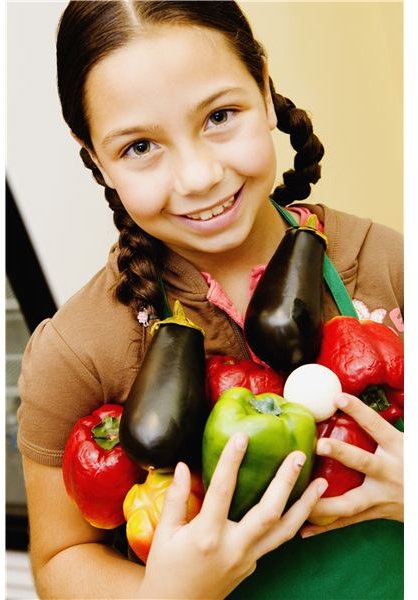 Nutrition for Children
The long-term effects of bad nutrition are evident in modern society. Obesity, type 2 diabetes, heart disease and high cholesterol: The list
goes on and has become a common part of our society putting a huge strain on the medical system and a danger to our health. It has been said this may be the first generation in which the children die before their parents. It is more important than ever that parents and educators explore activities for preschool children about nutrition.
The brain's connections and patterns are mostly developed in the first five years of life, so this is the most important time to develop good eating patterns that will set children up for a healthy life.
Activities to Set a Good Example
Choices
Preschoolers like to make choices and are determined to demonstrate their own independence. Allow them to be a part of decisions when it comes to making food choices, but ensure that the choices they have are healthy. Role model healthy eating habits. Preschool children should not be forced to eat everything on their plate. This can set them up for feeling like they have to eat everything for the rest of their lives and interrupt the natural process of stopping when you are full, which could lead to weight concerns later in life. Encourage them to at least have a taste of everything.
Activities
Build a garden with children, they will be inspired to try foods if they have grown them. You do not need a lot of space. Carrots, lettuce, strawberries, herbs and many others can be grown in a foam, empty egg tray on a window sill. This is a great time to introduce a measurement activity where preschoolers can measure the growth of the plants.

Allow preschoolers to taken part in cooking and food preparation. Be creative and let children build their own smiley face muffin, pizzas, crackers and sandwiches. Although they cannot partake in the dangerous parts of cooking, they can stir, spread, and place the food in place.

Discuss 'sometimes' and 'everyday' foods. No food should be forbidden. Divide a piece of cardboard in half with a line. Label one column with the title, "Sometimes" and the other with the title, "Everyday". Have children cut out pictures of food from magazines and help them decide how the foods should be sorted on each side of the cardboard.

Use books to open discussions about healthy food choices. Two good books to start with are 'Brown Bread and Honey' by, Pamela Allen and 'The Very Hungry Caterpillar' by, Eric Carle. Try this honey theme for preschoolers for some healthy foods that students can help to prepare.
Children need to try foods up to ten times before they gain a taste for them and we all know how quickly children's preferences change. Today they love eggs and tomorrow they won't touch them. So, wait a week and try the food they loathed last week again. This is especially important for students who attend daycare, where there is likely a rotation of food choices for the month.
Good nutrition is a foundation for a healthy body and a healthy life. By taking time to pursue preschool nutrition activities, you are not only setting good examples for the children in your care, whether in daycare or at home, but you are establishing patterns of a healthy lifestyle to last a lifetime.
Read this lesson plan for picky eaters if you find that your preschooler needs more assistance in proper eating and food choices.