Are you searching for ideas to keep the kids occupied on rainy days, holidays or school breaks, or just in the mood for a different craft project? Making your own felt play food is fun and interactive. As a bonus, it develops hand-eye coordination and small motor skills for preschoolers.
What You Need
The following supplies will make a play pizza that is roughly 7 1/2 inches in diameter and lots of tasty toppings:
Piece of cardboard cut into a 7 1/2 inch circle (recycle part of a cereal box)
One piece of yellow Stick-It craft felt, cut in a 7 1/2 inch circle
Scissors (both kid-friendly and adult)
Felt squares: gold, green, red, ivory, and brown
Washable markers in various colors
One felt square per color yields a nice amount of the following toppings with lots of leftover felt for future arts and crafts activities:
Mushrooms
Green pepper chunks
Pepperoni rounds
Cheese strips
The best part of this project is you are not limited by the above colors or ideas. If you would rather have "sausage" on your pizza, or use the color orange for the cheese instead of gold, go for it.
Stick-it craft felt is recommended because it has a peel-and-stick surface that adheres quickly and easily so you won't have to deal with messy glues that sometimes don't stick, or think of ways to amuse your child while the glue dries on the pizza base. Felt sticks to itself quite nicely, so you won't need glue at all for this project if you use the Stick-It craft felt.
If you are making this project for a group or classroom, the most economic choice will be to purchase felt from a bolt. It is available in a 72 inch width and a yard will yield about 50 pizzas. Use any leftover felt for Halloween, Christmas or Thanksgiving arts and crafts.
Here's What You Do the Night Before
Here's an important fact to keep in mind when working with preschoolers; their attention span is roughly equivalent to their age. Therefore, if you are planning to do this project with a two-year old, you have a much smaller window of opportunity than if you are working with an older child.
Try this tip to keep the fun in the project and the frustration at bay. Do as much pre-prep work as possible the night before the project, while keeping in mind your child's small motors skill level. If he or she is adept with using scissors to cut, they may be able to cut out some of the basic circles for the activity. If not, cut these out while you are relaxing on the couch or watching television, and store them in a plastic bag until you are ready for them the next day. Here are some suggestions for shortcuts to take the night before:
Pizza crust:
An average size serving bowl (like those found in most kitchens) is approximately 7 1/2 to 8 inches in diameter, so try several different sizes on the back of the yellow felt until you find one that fits well. Trace the outline of a circle on the backing of the Stick-It felt. Lay the felt on top of the cardboard with the tracing side up. Cut the two pieces out together to save time.
Peel the backing off the felt and lay it on top of the cardboard. Smooth out any wrinkles with your hands. The cardboard gives the felt the stability it needs to serve as the crust and support the toppings.
Mushrooms and pepperoni:
Trace around the outside of a quarter to make 10 circles on the ivory felt, and then lay the ivory piece on top of the brown felt. Smooth out any wrinkles, line the edges up evenly and cut out the circles two at a time.
Tomato paste:
Trace a six inch circle (use a smaller bowl or saucer) onto the red felt and cut it out. This represents the tomato paste and will be the base for the toppings.
Green pepper and cheese:
Measure and mark the remaining pieces of felt. You need a one-half inch strip of both the gold and green felt. Cut the green felt into tiny squares to represent green pepper chunks, and the gold into narrow strips to represent cheese. If you would like additional toppings, use a strip of red to make red pepper chunks and a strip of ivory to make mozzarella cheese strips.
Putting the Pizza Together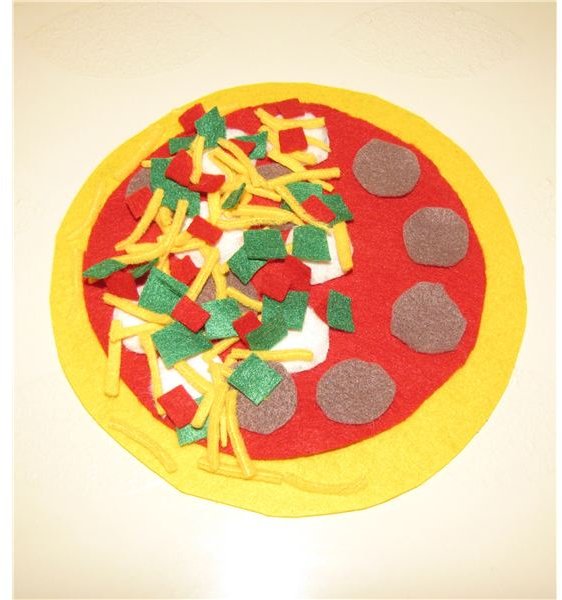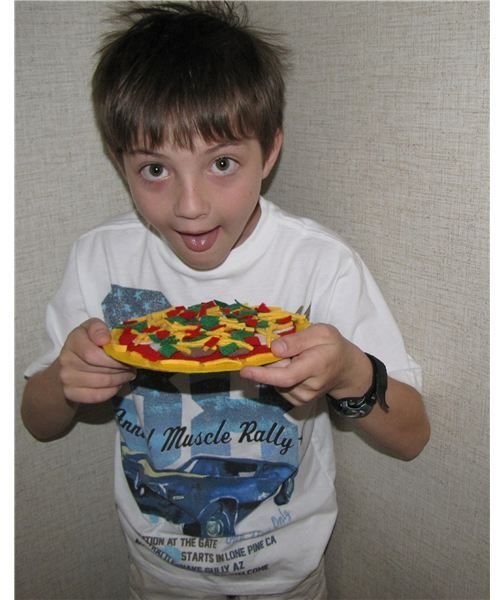 For our purposes here, we are going to assume that you did most of the pre-prep last night, and you have most, if not all, of the individual pieces pre-cut or ready for your child to cut.
Take one of the ivory circles and a marker and freehand draw a simple mushroom shape on it. Show it to your child and encourage him or her to do the same thing with the other ivory circles. While they are occupied with this, lay the red felt onto the yellow/cardboard felt circle.
Admire the child's art efforts. Take one of the brown circles and a black marker and put little dots on it to make it look like a pepperoni or sausage slice. Invite your child to do the same.
If you haven't already cut out the green pepper cubes, and if your child cannot do this step, this is a great time to cut them out. Remember to be lavish with your praise as your child works on his or her mushrooms and pepperoni. When you are finished, all the circles should be decorated and there should be a pile of green felt "green peppers" and gold felt "cheese" shreds.
Separate the various components and invite your child to help you assemble a slice of pizza. Talk about the different ingredients and discuss how they might be placed on the pizza.
When the pizza is decorated to your child's satisfaction, put the play pizza in a pie pan or on a baking sheet and put it into a pretend oven to bake. Set a timer for about 10 minutes and read or tell a story about pizza to your child while you pretend the pizza is baking.
Story and Snack
Enjoy a mini-snack break after making your own felt play food by creating tiny personal pizzas. All you need are English muffins, a jar of pizza sauce and some cheese. Let your youngster spread some of the pizza sauce on the English muffin and sprinkle it with cheese. Microwave in 10 second increments until the cheese almost melts (the food will continue to cook while it stands). Let it stand in the microwave for two minutes, cut into wedges and invite your child to enjoy a snack while you read them a story.
Grandpa and Me: A Lift-the-flap book by Karen Katz or The Little Red Hen Makes Pizza by Philemon Sturges are good reads for preschoolers and either book will have your child giggling in glee. When the timer goes off, take the pizza out of the oven and pretend to eat it with your child.
Safety note: Preschoolers have a tendency to put objects in their mouths, and their ability to discern between pretend play and reality is not fully develop. Caution them not to put the felt into the mouths or try to eat it as doing so could be dangerous.
References
Author's own experience as a pretend pizza maker
All images are the property of the author; all copyrights reserved 2011