Use This Hop on Pop Lesson Plan to Teach Rhyming Words to Young Readers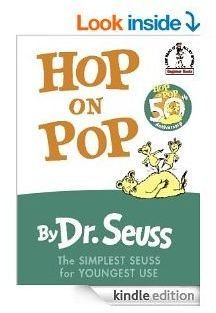 Supply List for Hop on Pop Lesson
This children's book by Dr. Seuss offers many teachable opportunities, from helping kids learn about onset rhymes to decoding
words. This lesson plan focuses on rhyming words, and encouraging emergent readers. This Hop on Pop lesson plan takes about 60 minutes to complete and is age appropriate for elementary grade students.
Here is the supply list for this lesson.
Hop on Pop by Dr. Seuss
Gingerbread men cookie cutters or people shapes
One black construction paper square (5 1/2" x 5 1/2") for each child
Rubber cement or glue
Construction paper
Printed copies of the Hop on Pop Words
Predict What Comes Next
Read the book and ask students to clap their hands when they hear a rhyming word. At the end of the story, talk about the definition of rhyming, and ask them for examples. Read the story again, but this time, stop when you come to a pair of rhyming words. Say the first word, and ask the kids to call out what comes next in the sequence.
Teach Rhyming Words
Use this list of Hop on Pop words to make flashcards. Copy and paste the words into a word processing program, and then print them on cardstock. Give one to each child and let them cut the words out. Students store the cards in plastic bags and use them for independent classroom or homework study times.
other, mother, brother, at, cat, pat, hat, fat, up, cup, pup, day, way, play, say, jumped, bumped.
Here are suggestions for several classroom activities using these words. Kids identify rhyming words, sort, and predict what comes next in a sequence.
Hold up a card and say the word, and then invite the class to call out a rhyming word. Continue through the cards.
Each child chooses a card, and then finds the person with a rhyming word card. They form small groups based on their rhyming words. For instance, there are five words rhyming with cat, so that group should have five children. Let them take turns calling out words, and then collect the cards, shuffle, and play again.
Shuffle the cards, turn them face down on a table, and play the Memory game. Students turn over two cards at a time, exposing the words, and attempt to make matches.
How to Prepare an Art Activity for Hop on Pop
Prior to class, trace around the cookie cutters and make two shapes for each child, and then trace black squares. Print copies of these words: FALL, WALL, ALL, OFF, THE, WALL. If time permits, students cut out the materials, or teachers can cut them out if time is scarce. Print one set of the fall and wall words in Times New Roman font, 72 pt., and the other words in the same font but 36 pt.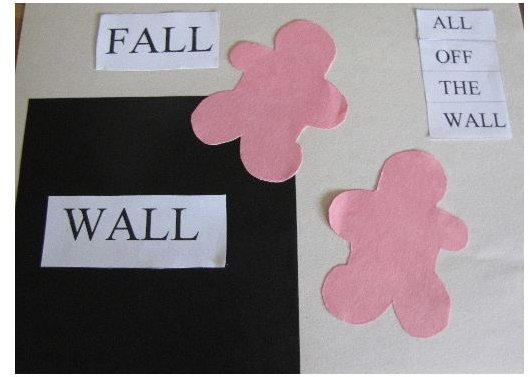 Give each child two people shapes, a black square, and one set of words. Show them the picture on page 12 of the book where all the people are falling off the wall. The kids glue the square to the paper for a wall, and glue the shapes and the words however they choose.
Considering the widespread appeal of Dr. Seuss books, you can adapt these ideas for children from preschool through third grade.
Recommended Reading for Elementary Students
Try some or all of these Dr. Seuss books to extend the learning of this lesson or explore other teaching opportunities. Parents or teachers can use these resources to encourage reluctant readers and support emergent readers.
Horton Hears a Who
Horton Hatches the Egg
How the Grinch Stole Christmas
Green Eggs and Ham
For other lesson plans based on Dr. Seuss books, read Horton Hatches the Egg Homework Help, or Elementary Art Lesson Plans for How the Grinch Stole Christmas.