How the Grinch Stole Christmas Art Lesson: Creating Art Projects With a Green Theme
Overview and Objectives
This lesson takes about 30 to 60 minutes to complete and can be used just as presented here or modified to better suit your needs. Little scientists conduct color mixing experiments in a safe environment. Painting allows kids to express thoughts they may be unable to verbalize, develop self-confidence in their abilities, and experiment with color.
The following objectives are achieved:
Hand-eye coordination is exercised and strengthened.
Prewriting skills are enhanced by the development of fine motor skills.
Observation skills are trained.
Children learn to make predictions and perform science experiments.
What You'll Need
This elementary art project teaches children about mixing primary colors to create other colors and shades. In addition to a copy of the book, you'll want to have the following items to complete this project:
White paper
Painting smocks
Watercolor paints
Paint brushes
Example of a color wheel
Scrap paper
Markers, crayons, or colored pencils
Teaching the Art Lesson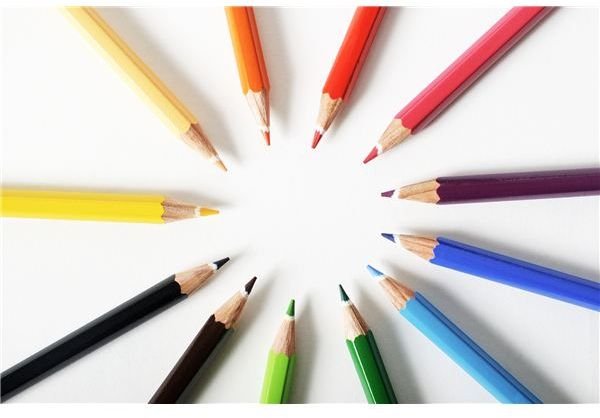 Introduce and explain the color wheel. Ask the class open-ended questions like:
"What do you think will happen if we mix the blue paint with the yellow paint?"
"What would happen if we paint the blue paint on the paper, let it dry, and then cover it with the yellow paint?"
"Which is darker, the blue paint or the yellow paint?"
"Which color is your favorite?"
After explaining the color wheel and demonstrating the color mixing method, let the little scientists experiment with their watercolors. For young learners, the process teaches more than the product, so let the kids experiment and create with minimal adult intervention.
Give each child a clean piece of white paper and a small piece of scrap paper. Show the class how to make a paper printing block by crumpling the scrap paper into a ball, dipping it into the green paint, and using it to make green patches on the white paper. Invite the children to do the same with their paper and green paint. Allow time for discovery learning and creative expression.
Lesson Extension and Recommended Reading
Leave the pictures on tables or easels to dry and instruct the kids to clean up, and then to sit on the floor for story time. Read How the Grinch Stole Christmas by Dr. Seuss to reinforce the lesson (and just because it's a fun story!)
After story time, send the students to find their pictures. Give them crayons, markers, or colored pencils, and encourage them to draw features to make Grinch faces in the green shapes.
Try these green-themed books to extend the lesson. Teachers, homeschool educators, or involved parents can use them to support this lesson:
Blue Hat, Green Hat, Sandra Boynton, [Little Simon, 1984]
Have You Seen a Green Gorilla?, Viki Woodworth, [Child's World, 1992]
Green Eggs and Ham, Dr. Seuss, [Random House, 1960]
References
This post is part of the series: Teacher Lesson Plans - Unit Study of How the Grinch Stole Christmas
These teacher lesson plans form a unit study for the children's book How the Grinch Stole Christmas by Dr. Seuss. These elementary lesson plans include sequencing activities, vocabulary development, and an age-appropriate art project.