Childhood of Laura Ingalls Wilder: House in the Big Woods

Time to Read
As you begin to learn more about the childhood of Laura Ingalls Wilder, read Winter Days in the Big Woods, which discusses the chores the family does to prepare for winter. They gather the vegetables from the garden, father hunts for meat and the children also do their normal chores. Remind the students that Laura is a real person! She can teach us about what life was like for the early settlers. Learning Laura Ingalls Wilder information makes it more relevant for the students by seeing life in the eyes of a child.
Laura lived in Wisconsin. You can show where it is on the map compared to where they live.
New words to talk about as you discuss life for Laura Ingalls Wilder: thimble, mend, churn, fiddle, whiskers
Calendar Time
What chores did Laura and Mary have to do every day? The book says they would make beds and wash dishes but what other things might they have to do? (Making inferences) Have students brainstorm ideas about the kinds of chores there were during the life for Laura Ingalls Wilder. (Help with the cooking, feed the dog, tend to the baby, pick up their toys, set the table, help in the garden)
The family had special chores to do according to the days of the week:
Wash on Monday
Iron on Tuesday
Mend on Wednesday ** What does "mend" mean?
Churn on Thursday ** What does "churn" mean?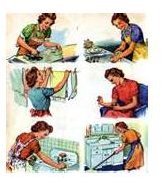 Clean on Friday
Bake on Saturday
Rest on Sunday **Why did they rest?
Provide pictures of the chores (drawn or cut from a magazine). Pictures could include: clothing hanging on a line to dry, an iron to press clothes, needle and thread, butter, mop and bucket, bread, pillow. Mix the pictures up. Use a blank calendar and have individual students add a picture of the chore to the right day on the calendar.
Time for Fun

Life for Laura Ingalls Wider was not all work. The family had fun,too. Father played music for the girls and told them stories. The girls also played with paper dolls and played house in the attic. There is a special book called My Book of Little House Paper Dolls that you can use to accompany the lesson. Or make some handmade paper dolls! Make sure you make some boy dolls, too.
Kids began making beanbags in the 1820's. Have students bring an old sock to school. Fill it with beans or sand. Put a large poster board on the floor. Write numbers scattered on it from 0-9. Divide into two teams. Take turns tossing the bags. The number the bag lands on adds to the score for their team.
Tangram puzzles began in China and appeared in America in the early 1800's. Some pioneers played them especially in the winter. Have students use seven tangram pieces to see how many things they can make. You can make them out of 8-inch square poster board or you may have a set that you use for math activities.
Tangrams
Use a set of 7 pieces: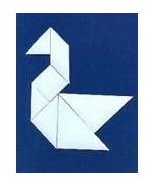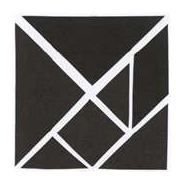 Extra Activities
1. Make small log cabins.
2. Laura collected many kinds of vegetables to prepare for winter. Make a picture graph of the students favorite vegetables.
3. Pioneers played checkers. Use several checkers boards and have a checkers "tournament".
4. The girls did lots of chores. Homework: Make a list of the chores you do at home.
All Children Like a Snug and Cozy Place to Play
Pioneer children and today's children enjoy a winter day when they can play inside where everything is, as the book says, "snug and cozy". Prepare your students for winter and learn something about the childhood of Laura Ingalls Wilder, an author your children will enjoy for many years. Adding more Laura Ingalls Wilder information across your curriculum is an effective way to help students learn about early American life.
This post is part of the series: Laura Ingalls Wilder Activities for Social Studies Lessons
Use the Little House on the Prairie books in your social studies lesson plans for early elementary students. Students will compare Laura's life in the past with their own present lives. Learn about pioneer games, food and homes.