Stars and Stripes Crafts for Preschoolers or Kindergarten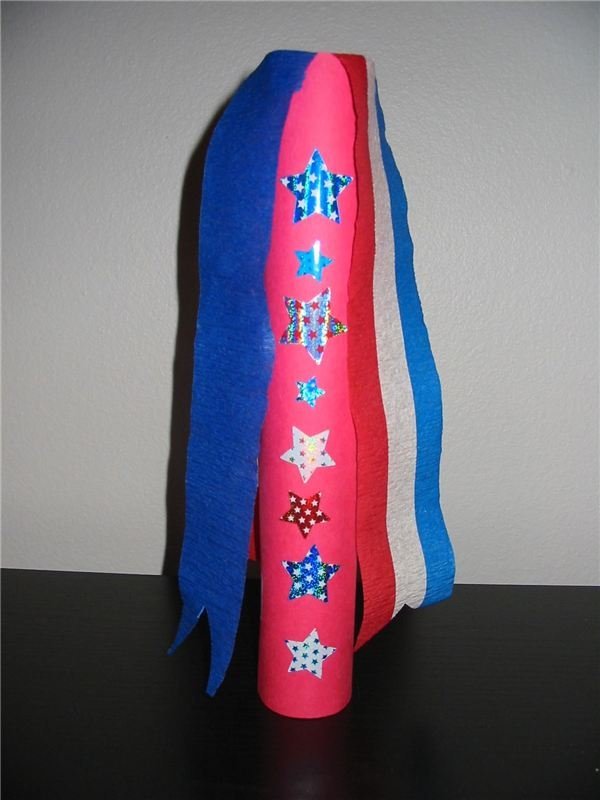 Patriotic Parade Sticks
Kids will have fun making and waving these patriotic parade sticks at key times during your school patriotic parade or at hometown events when they take this craft home for family time.
You will need:
Cardboard paper towel tubes
Construction paper
Crepe paper streamers
Adhesive stars
Safety scissors
Tape
Directions:
Cover the paper towel tube with construction paper (red, white, or blue) and tape it in place.
Adhere patriotic stars down the one side. You could also draw and cut out stars from paper and glue these to the roll.
Cut out lengths of crepe paper and tuck these into the top of the tube. Tape these securely in place.
My Masking Stars
Invite your students to add to the red, white, and blue décor by making these star-spangled paintings.
You will need:
Masking tape
White card stock
Red and blue paints
Paintbrushes
Directions:
Show the children how to make simple stars with three pieces of masking tape per star. Create several on the sheet of card stock.
Invite the students to paint the entire sheet with any combination of red and blue paint.
When the paint dries, assist each child to carefully remove the tape to reveal white stars. "Oh my, I spy stars!"
Outdoors Fireworks Print
Challenge your children to create a spectacular outdoor fireworks scene with paints and a plastic fork. This craft is perfect to do on a picnic table at the park or indoors in the classroom.
You will need:
Plastic forks
Red, white, and blue paint
Paper plate
Black construction paper
Salt or glitter (optional)
Directions:
Place a dollop of paint in each color onto a paper plate.
Invite the kids to dip the plastic fork into one color and print the tines onto black paper.
Continue to add tines of colors until you have completed a burst of fireworks. Make several randomly on the paper.
Sprinkle salt for a shiny effect or glitter onto the wet paint.
Check Bright Hub Education for more patriotic topics:
Patriotic Crafts for Kindergarten: Celebrating America With Red, White, and Blue
Lesson Plan for Pre-K on Patriotism
References
Red, White, and Blue Gala, The Best of Mailbox, Book 2
Personal experience in an early childhood classroom