Pre-K Lesson Plan on the Meaning of Patriotism: Let's March!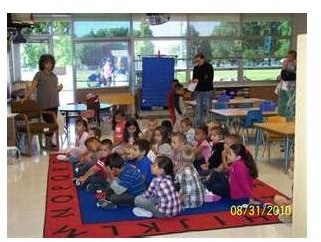 In a pre-k classroom, you may already include elements of patriotism in your morning routine. Your students may be learning the Pledge of Allegiance or singing America the Beautiful. Now you want to do a pre-k patriotism lesson plan so that your students will understand why there is a flag in the room or why you are singing special songs about America.
Objectives:
1. Students will be able to recognize symbols and songs of the United States that represent its democracy and values.
2. Students will begin to understand the terms pride and freedom in the context of patriotism.
Search for Freedom
Begin by discussing the word freedom. Put this in terms that the little ones can understand. For example:
1. How would you like it if Jason (use a classmate's name) was the boss of everything you did? He would tell you what toys you could play with and he would make you pay to play with them.
2.What would you do if you didn't have enough room to play?
3.What would you do if you weren't allowed to color pictures the way that you want?
Long ago people wanted to be free so they bravely faced hardships to find a new land and a new life.
Climb Aboard!
Use area rugs or carpet squares positioned in a few places in the room. These will represent the ships used to transport people to the "New World." Place a map of the United States in the middle. Instruct students to sit on the rugs. Tell them that for days and days the people traveled in ships. There were no televisions, flush toilets or McDonald's restaurants. They could not get off of the ships to take a walk or play on a playground. Many people got sick. When they finally arrived at the shores of the new land, how do you think they felt? They were very happy. They were so proud of themselves. Just like when you learned to ride your bike or write your name.
Then the people had to build homes and other buildings. They helped each other. They started gardens and made clothing. When things got done they were proud. This pride formed our country. Most people today are proud to live in the United States because they worked hard to stay alive. They worked hard to have freedom.
Include a Book and Music
Louise Borden has written a wonderful book that fits well with this lesson. The book is entitled America is… and is illustrated by Stacey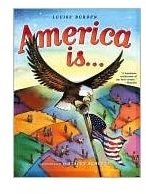 Schuett. The illustrations are large and bright and show many famous landmarks and scenes in the United States. The text focuses on the varied jobs of hard working people that make this land great. Mentioned also are the Native Americans, famous founders and important holidays.
Wee Sing America by Pamela Conn Beall and Susan Hagen Nipp comes in the form of a CD and a book. It is a remarkable collection of early Americana and patriotic songs that will delight children and adults. Add some percussion instruments and some movement and the children will demonstrate their patriotic pride!
Follow Up
You may want to follow up with another book and craft featuring a famous landmark like the Statue of Liberty. There are also many crafts ideas to make a flag. Then add streamers to some of your percussion instruments and march around the room to some lively patriotic music.
Include a printable flag paper for the children to color.
This pre-k patriotism lesson plan will be a success if you include music, a craft and an appropriate book. Your efforts will help instill pride, patriotism and respect for our country.
Resources
Wee Sing America: https://www.weesing.com/single_product.cfm?product_id=30
America is… Image: barnesandnoble.com
Image of students: https://thegarnerfamily.blogspot.com/