Kindergarten Tree Theme Art Projects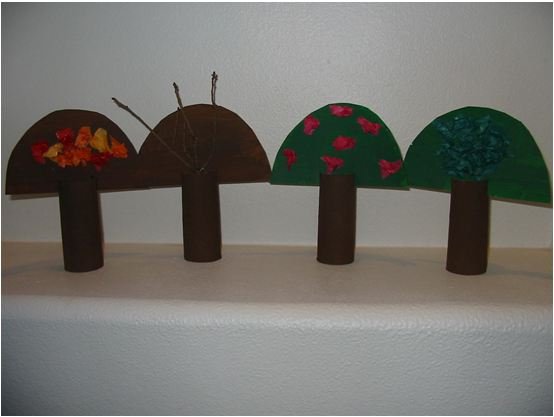 Four Seasons Trees
How well do your students understand the four seasons? Using trees as tools, make this craft to show the children how trees look during the weather changes.
You will need:
4 cardboard toilet tubes
Poster board
Tissue paper in colors
Glue
Safety scissors
Brown paint
Green paint
Paintbrushes
Small twigs
Directions:
You may want to do this as a group project or individual activity if you have enough materials.
Paint each of the four toilet tubes brown to represent the tree trunk. Set these aside to dry.
Cut four semi-circles from poster board. Paint two brown and two green. Also, let these dry thoroughly.
Take each cardboard toilet tube and cut a small slit on each side of one end. Insert a treetop inside the slits on each brown tube.
Now, have the children cut or tear small squares from tissue paper. You will need red, yellow, and orange for fall leaves; a pink shade for spring blossoms, and green leaves for summer.
Take each square and crumble it into a wad and glue this onto the appropriate treetop.
Adhere small twigs onto the winter tree.
Line up your four seasons tree props and then discuss each season's weather and trivia facts.
Spring Tree Sponge Painting
Your students will truly enjoy this sponge painting activity using tree shapes and spring colors.
You will need:
Cardboard sheet
Pencil
Sharp scissors (adult use only)
Tempera paints in spring colors
Household sponge cut into squares
Paper plate
Blue construction paper
Brown construction paper (or grocery bag)
Glue
Directions:
Draw several tree shapes onto the cardboard. An adult can carefully cut out the shapes.
Place this template onto a sheet of blue construction paper. You may need to tape this down on the paper.
Squeeze a small amount of paint (a spring color) onto the paper plate.
Show the children how to dip the sponge square into the paint and press it down through the template to make prints. Continue to sponge print all the trees on the template. If you change colors you will need a new sponge per color.
Let the paper dry and carefully lift the template off the blue background.
Cut small tree trunks from brown paper and glue these in place.
Craft Stick Button Tree
Young children love to play with buttons. This craft constructs a tree shape with the sticks and then your students can decorate it for either spring or fall with buttons.
You will need:
Four wooden craft sticks
Green paint
Brown paint
Green felt (craft foam or fabric)
Buttons (pastel colors for spring blossoms or fall colors for autumn leaves)
Heavy-duty glue
Paintbrushes
Directions:
Have the children paint three sticks green and one stick brown.
When dry, glue these in a triangle shape. Glue the brown stick as the tree's trunk.
Lay this triangle on top of the green fabric and glue it in place. Trim off the excess.
Decide whether you are making a spring tree or fall tree. Invite the kids to glue on buttons in the appropriate colors.
For more theme units on trees, check out these articles from Bright Hub Education:
Kindergarten Science Lesson Plan: Trees and the Four Seasons
Season and Tree Unit: Lessons All About Trees Through the Seasons for Primary Grades
References
Craft photos courtesy of Tania Cowling, all rights reserved
Spring Trees adapted from Arts & Crafts All Through the Year by Rozanne Williams
Craft Stick Button Tree adapted from Crafts for All Seasons: A Hands-on Celebration of Seasonal Craft Activities by Tania Kourempis-Cowling (1997)