Bee Activities for Preschoolers or Kindergarten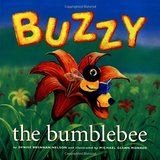 Bee Books
Here is a short list of popular books on bees.
Buzzy and the Bumblebee by Denise Brennan-Nelson, 2003
What If There Were No Bees? A Book About The Grassland Ecosystem by Suzanne Slade, 2010
The Bee Book by DK and Emma Tennant, 2016
The Life and Times of the Honeybee by Charles Micucci, 1997
The Honey Makers by Gail Gibbons, 2000
Next, get out the art cart and engage your students in these bee crafts.
Buzzy Bee Puppet
This cute cardboard puppet can be manipulated by inserting two fingers into the tube. Use this while singing songs or acting out finger plays.
You will need:
Cardboard toilet tube
Yellow paint
Paintbrush
Black tape
Heavy-duty glue
White paper
Black marker
Safety scissors
Directions:
Invite your students to paint the cardboard tube yellow. Think about using a spring-type clothespin as a holder while painting. Let this tube dry thoroughly.
Fold in the sides of the one end and glue these ends shut. This will become the bee's face.
Make two sets of stripes on the bee's body. Use black adhesive tape for this part.
Take white paper and cut out a small rectangle. With the black marker, draw two eyes together. Then, draw and cut out two wings. Glue these body parts to the bee puppet.
A Nectar Necklace
Bees are well known for collecting nectar and pollinating flowers. Engage the kids in stringing a necklace with flowers and bee beads.
You will need:
Art foam in a variety of colors
Wooden or plastic beads in yellow
Black permanent marker
Yarn
Safety scissors
Hole punch
Tape
Directions:
Make flowers using the art foam. Trace around a flower template and then cut out these shapes. Punch a hole in the center of each flower.
Take yellow beads and draw black stripes around the circle with a permanent marker. Now the yellow beads look like bumblebees.
For the necklace, cut a length of yarn to fit around the child's neck with extra length to place this circle over the head easily.
Take plastic tape and wrap a small piece around the one end of the yarn to replicate a needle. This makes stringing the beads and flowers easier.
String on a few flowers and then a bee bead, then more flowers. Continue this process until the necklace is as full as the child would like.
Tie the end with a knot and a bow.
Finger-Painted Bees
Watch the bees travel in and out of their hive with this picture. Have your students use their fingertips to make bumblebees.
You will need:
Blue cardstock or heavy-duty construction paper
Yellow paint
Paper plate
Green, brown, and orange construction paper
Black fine-tip marker
Glue
Safety scissors
Directions:
Begin by drawing and cutting out a brown tree trunk and green treetop. Glue these onto the blue cardstock.
Next, cut out a beehive shape from orange paper and have it hanging from the tree or near the tree trunk. Glue this in place.
Place a dollop of yellow paint into a paper plate. Instruct the children to dip their fingertip into the paint and then press it onto the blue paper to make a print. Make several prints around the beehive.
The black marker can make bee stripes and wings on each yellow print.
Use these crafts in conjunction with other bee-related activities this season. Check out these bee theme articles on Bright Hub Education.
Busy Bees: A Theme for Preschool Students
Sweet Ideas for a Preschool Honey Theme
References
Craft photos by Tania K Cowling, all rights reserved
Personal experience teaching in an early childhood class
Book photo courtesy of Amazon.com