How to Prepare Your Teen for the New Sat, Spring 2016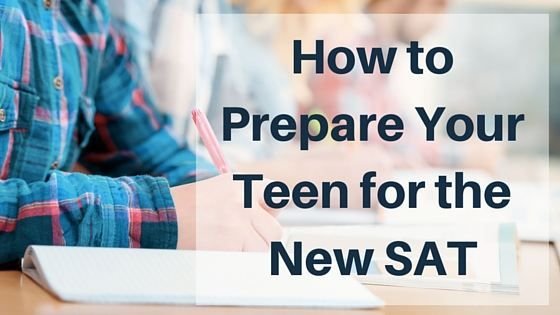 The SAT is one of two standardized tests that colleges consider when determining which students to admit to their institutions. Although other factors, like your extracurricular involvement and overall GPA, are also important in the admissions process, doing well on the SAT is crucial. However, students taking the SAT in 2016 will not face the same test as students do now.
Starting in March of 2016, the College Board will launch a new SAT, one redesigned to better focus on the skills and knowledge that students need to succeed in college. If you are a parent wondering how to best prepare your teen for the new SAT, here are several pointers:
1. Know what to expect
Although the redesigned SAT still tests math, reading, and writing, elements of the exam will be changing. First, the new SAT will revert back to a maximum score of 1600 on the math and reading portions (as it was before 2005). The essay will now be optional (though some colleges may still require it), and it will be an evidence-based assignment.
Knowing what to expect can best position you to reduce your student's stress and help him or her better prepare for the new exam. If you know that the penalty for guessing has been dropped, for example, you can encourage your student to answer every question – even if he or she is unsure of the answer. Your teen should also make educated guesses rather than skipping problems.
If your student will be taking the essay exam, understanding the changed focus of the essay – from a more opinion-based, subjective style to evidence-based argumentative writing – can help him or her strategize on test day. Plus, knowing that the time allotted for the essay has doubled, and that the essay's score will not influence your teen's overall SAT score, can help put him or her at ease.
2. Have your teen take practice tests
Looking over the College Board website can be a helpful next step, since the College Board administers the SAT. Their website includes SAT Questions of the Day, practice tests, study guides, and more. The College Board has also teamed up with Khan Academy to provide free online prep for the new SAT. There are a number of other companies that provide practice tests, test prep services, or specialized help for trouble subjects. Speak with your teen about his or her needs, strengths, and weaknesses while preparing for the test, and do your part to ensure he or she has everything necessary to succeed on test day.
3. Promote daily reading
Although the SAT will now have fewer obscure vocabulary words and more relevant terms, the vocabulary tested is still quite extensive. The best way to prepare for this college-bound vocabulary is to read extensively. Also encourage your son or daughter to prepare flashcards, to make SAT studying possible while on the go.
4. Encourage guessing
Since the SAT no longer has a penalty for guessing, tell your teen to guess if he or she is unsure of an answer. Your teen's chances of getting it right are also greatly increased if he or she can narrow the choices down to two answers.
5. Look into requirements at prospective colleges
Even though the College Board no longer requires students to take the essay portion of the SAT, check whether or not your teen's top college choices require it. Even if it isn't required, taking the optional essay portion can help your teen stand out to college admissions teams. Since the essay portion is scored and reported separately, taking the essay portion won't hurt your student's overall score. Plus, your teen doesn't have to report the score to colleges if he or she scored lower than he or she had hoped to.
6. Do not stress
Although the SAT can be an important part of your teen's college admissions package, it is only one part of a whole. Your child will perform better if he or she is not stressed about it, and it is always possible to try again if his or her score is lower than hoped. Stress can come from both a lack of preparation and from too much pressure to prepare. Help your child to find the right balance.
The SAT was created to give colleges a way to compare students from different school districts across the country. The bulk of your teen's preparation for the SAT has come from his or her time in school. Knowing what to expect from the test, taking practice exams, attempting all the questions, and being physically and mentally ready for a three to four hour test will also give your teen the edge he or she needs to do his or her absolute best.
About the Author: Dana Elmore is a contributing writer for UniversityTutor.com, the world's largest global marketplace for finding independent tutors.