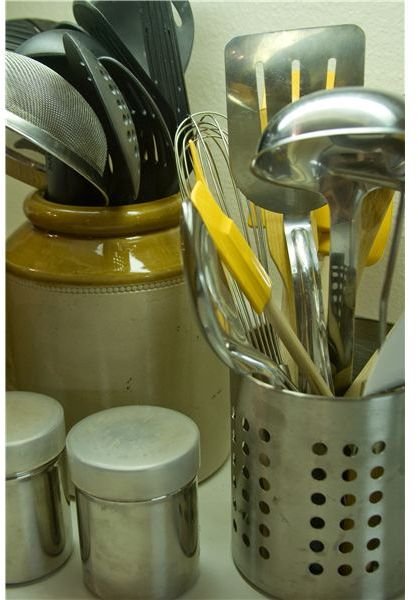 Observing young children as they play in the kitchen will show you that cabinets are full of learning. Sometimes the best learning tools are right at your fingertips or better yet near the floor in lower cabinets. Below are some fun kitchen activities that are sure to amuse your child and teach them developmental skills at the same time.
Teachable Moments in the Kitchen
Designate one lower cabinet for kitchen play. Stock this place with some kitchen utensils and see how they will amuse your child and how you can have teachable moments with these items.
Playing with pots and pans is a basic, but did you know that this play builds reasoning and coordination skills when children match the pots with their lids. Encourage your preschoolers to line the pots from largest to smallest for seriation practice. They can also nest the pots inside one another for this practice as well.
Plastic containers especially in bright colors are great teaching tools. Provide ones in different colors, shapes, and sizes. Children can explore shape and size as they match tops and bottoms. These lightweight containers stack nicely and when they fall – it's fairly quiet. Practice sorting the containers by colors, shape, or size. Think about sorting by attributes such as "place the small round ones here and the large square containers there." Measuring cups make nice nesting cups and teach children about size.
Collect other containers with screw-on lids to practice eye/hand coordination skills. Be sure to find ones with differences in sizes and shapes. Suggested containers are peanut butter jars, a small soda or water bottle, a detergent bottle, plastic bottles from mouthwash, a half-gallon milk jug, spice jars, and so on. Each lid should fit only one container. Put the containers and lids into a box or bin and let the children match the containers and lids through trial-and-error screwing on the lids. Unscrewing the lids is just as much fun and will leave this toy ready for the next time. As with any new game, show the children what to do first and help them to understand the concept.
Make a kitchen utensil puzzle by gathering a variety of small objects. Think about spoons, a frosting spreader, jar lid, cookie cutter, and so on. Outline each item with a marker on a sheet of cardboard. Invite the children to match the items to the outlines. Children also enjoy tracing jar lids, spoons, and other utensils on paper. They can use these shapes to create other pictures. Plastic lids make great picture frames and can also be used to make other crafts.
For a fun make-it-yourself snack, offer dry cereal and dried fruit in several plastic containers. Let the children use spoons to put small amounts of each into a zipper lock sandwich bag. This makes for great eye/hand coordination practice. Close the top of the bag and shake. Your children will enjoy saving this "snack-in-a-sack" to eat when you go on errands.
As you look at your kitchen with new eyes, you'll see it's a laboratory for learning. These simple preschool learning activities from the kitchen cabinet can grow as your children grow. There are plenty of math activities, science experiments, and even cooking itself that will reinforce skills that are so important for your child's development.
References