Get a Jumpstart on the School Year: Tips for Parents & Kids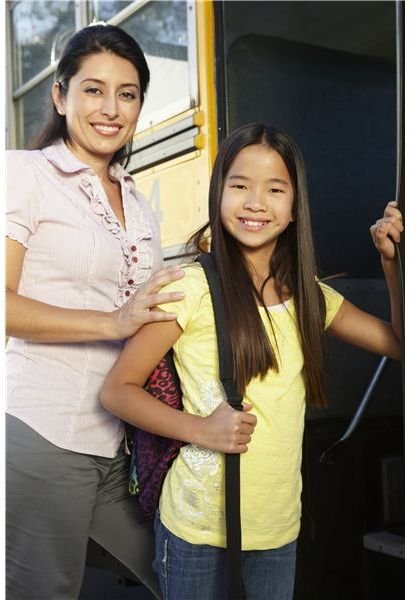 Tips for Parents
**
1) Attend "open house" and any important events the school has so you can get to know your child's school and teacher before it begins.
2) Buy school supplies ahead of time, to avoid the store rush.
3) Ask for a copy of goals or the state frameworks, so you will know what your child is learning, and a possible timeline or "scope and sequence" chart on when the learning with occur.
4) Have a positive attitude toward the school and teachers, when possible.
5) When there is a problem, talk to the teacher first.
These tips will help make your relationship with your child's school a more positive experience and increase your credibility with school officials. Despite what you might think, schools love parents to get involved. If you are positive and perhaps even offer to help from time to time, they will appreciate it.
As a former teacher, I can tell you that I loved to see parents come to the school because I built a positive relationship with them from the beginning. But parents can also take that first step, in the event the teacher doesn't. It will go a long way toward making the school year a positive experience for your child and everyone involved.
Tips for Kids
1) Be prepared. Have your school things together at least two nights ahead so you can grab your stuff and go the first day of school.
2) Make a good first impression. Teachers scope out the classroom the first day and try to size up who will be their best students. If you can make an impression that first day, it will help you to be more credible in their sight. You don't have to butter them up. Just be interested in what they are saying, and sit close to the front when possible.
3) Ask questions. Teachers love involvement because it means you are in tuned to what they are teaching. Ask important questions or make comments about something meaningful. Just try not to overdo it.
4) Ask for help when needed. It's better to ask if you need help than to wait until you have failed a test to get help. Good teachers are always happy to give extra help. But they have to know you need it. So communicate with the teacher.
5) Tell your teacher if you have problems with other kids. Bullying and harassment are two problems kids experience from time to time. But teachers are trained to deal with it. Encourage kids to report any incident of bullying to both their teacher and to you, their parent.
These are just a few tips that may help your child get off to a positive start. Do you have any tips to share?
References
This post is part of the series: How to Have a Successful School Year
Parents have a large role to play in the education of their children. Read the tips in this series to make this the best school year you've had so far!