Writing in Home Ec
Using writing prompts for home economics will get your students thinking about the many ways that home economics applies to their lives.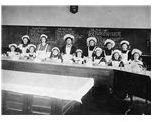 School-taught home economics has come a long way since the last century. Commonly known today as family and consumer sciences, home economics is a class for every student, not just the girls. Life skills such as planning meals, balancing checkbooks, and even buying a car are topics of discussion. In addition, students learn about consumerism, volunteerism, human development, and wellness.
How does writing fit into this curriculum? When used as a means for students to reflect on their learning in journals, writing prompts become a guide for scaffolding.
As students learn and discuss various life skills, scenarios from their own lives can surface. If they have a family background where keeping house, balancing a budget or shopping is problematic, they will either feel ashamed to say anything in class or fabricate a dream family to compensate for their feelings of inadequacy. Providing a means for them to reflect on what they are learning helps them to see things differently. Writing also gives them a means to ask questions without having to stand before their classmates.
Why Writing
The objectives for utilizing a reflective writing journal in home economics by providing students with writing prompts is to
Focus their writing,
Enable them to reflect on specific areas and
Develop their ability to write coherently on a topic.
Keeping journals in home economics class scaffolds what is taught as well as allows students a means to voice their inner thoughts on the given subject.
Download the Writing Prompts for Journaling
Students in a home economics class are assigned daily/weekly reflective journal writing using prompts. Click on this downloadable list of Home Economics writing prompts; they should be relevant to what is being taught.
Assessment of the writing journals is informal. Students' writing is not corrected for a grade but rather, teachers respond to what is written in a positive mentoring style. Reflective journals are a tool for both student and teacher, as they will show what has been learned, how it has been absorbed and how the student feels about the topic. Teachers can take note of topics that seem to mystify the majority of the class as well as those struggling with a particular concept.
Sample Assignment
One of the common topics of today's home economics class is balancing a budget. After the class has been shown how to figure out a budget and what is entailed in keeping it, they would be assigned their reflective journal writing prompt. This could be as follows: You and your partner have excess cash of $200 that is slated for your savings account. Before a deposit is made, your partner uses the money for a shopping spree, leaving only $20. How do you feel about this? What ways can you think of that will avoid this from happening in the future?
This writing prompt will allow students to
Think in real-life terms,
Express their feelings on a situation they might face in life,
Allow them to problem solve prior to ever facing such a situation.
This writing prompt will give them the opportunity to practice the skills they have been taught in class as well as develop strategies that they can utilize in their own lives.
By reading and commenting on the journals, teachers can help students who may have problems guiding them to resources before they become adults who act irresponsibly.
We've Come a Long Way
The home economics class of yesteryear with the aprons, ovens and sewing machines has morphed into high tech classrooms with computers, lessons on safety in the home as well as the kitchen and life skills taught by experts in the field. While home ec may have grown up to be family and consumer science, the students in the class are still teenagers who need more than facts and figures thrown at them. Reflective journals that use writing prompts for home economics classes provide a means for the students to develop their skills in order to become capable, responsible adults.
Resources:
American Association of Family and Consumer Sciences (AAFCS.org)
FamilyConsumerSciences.com
Photo 1 – Public domain-via Wikimedia Commons
Photo 2 – By Nightscream-creativecommons licenses-via Wikimedia Commons