Pop Art Lesson Plans With Pizzazz: Hamilton, Lichtenstein, and Warhol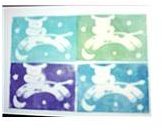 An Overview of Pop Art
Pop art takes a creative look at the ordinary through mediums such as photography, comic book art, silk screening, collage work and
sculpture. Building on the themes of perspective that developed out of cubism and abstract art, pop art took shape in the United States in the middle of the 20th Century. Some of the most famous pop artists include 1950s British collage artist Richard Hamilton and 1960s American pop art legends Roy Lichtenstein and Andy Warhol. While both of these artists dabbled in a variety of mediums, Lictenstein is best known for his brightly colored comic graphic art and Warhol is best known for his silk screens.
A wonderful illustration of pop art in the not-too-distant past can be seen in the images that make up the intro to the popular ABC televisions series Desperate Housewives. Included in this is the famous Grant Wood piece "American Gothic". It is animated to include another woman, the man's response and a disgruntled wife. This is a perfect example of pop art as the familiar is turned into an entirely new artistic impression. While students may not be the intended audience for this evening drama, the introduction to Desperate Housewives could be used in these lesson plans to introduce the topic to a middle school or high school audience.
A more well-known reference among students may be the character of Spencer in the popular Nickoledeon show iCarly. This adult figure representing the main character's older brother makes his living as a pop art sculptor. His art is often included in the sub-plots of this half-hour comedy. Spencer has created such pop art pieces as a giant pair of pants and a larger than life coffee cup. This reference may help students see the boldness and ordinary nature in much of pop art.
Pop Art Collages
The easiest option for incorporating an art project into pop art lesson plans is to capitalize on the use of collage imagery in this art form.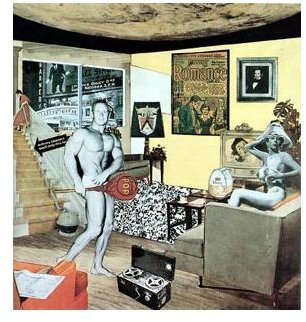 Students can then build off the work of English artist Richard Hamilton. Hamilton's most famous piece Just what is it that makes today's homes so different, so appealing? demonstrates his use of magazine clippings to create an entirely unique artistic impression. In this piece, Hamilton uses clippings of a body builder and a burlesque model to represent the occupants of the home. The articles in the room are made from clippings from advertisements, blown-up photos and magazine images. The most recognizable image makes up the ceiling. It was a popular magazine image of the planet earth taken from outer space.
When teaching students how to do this type of pop art, it is important to emphasize originality. The object of pop art is not to replicate another individual's perception, but to find something ordinary and bring it to life through your own perspective. Building on Hamilton's theme, students should be encouraged to consider different venues around them such as a classroom, a movie theater, a kitchen, a bedroom, or a department store and then explore the details of those spaces as representative of today's popular culture. A brainstorming session with the entire class might help inspire students to think creatively about what to include in their pop art collages.
Supplies for this project include a large number of magazines, photographs, and advertisements as well as appropriate adhesives such as glue sticks or double-sided tape runner.
Pop Art Silk Screening
Andy Warhol's iconic images of Marilyn Monroe and the Campbell's soup can are a great way to begin pop art lesson plans focused around silk screening. Students who are ready to attempt a silk screening pop art project should be encouraged to select a simple subject matter which can be easily converted into a negative image for silk screening. Any popular item could be considered for this project. Students should be encouraged to think about images that are meaningful in their lives and represent contemporary living. Some possible suggestions might include a soccer ball, an iPod, or, like in the Marilyn Monroe piece, a simple picture of a well-known person. In keeping with the pop art tradition, it may be interesting to change the typical color of the subject matter in a unique way.
Supplies for this project include fabric, a silk screening press, paper for original drawing and silk screening color fluid. If a silk-screening press is not available, a computer graphics program might be used instead for manipulating the images.