Collages: Ideas For Short Art Lessons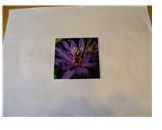 Project 1) Extended Collage
To create this collage, begin by describing what a collage is. Show several example of collages made from torn magazines, flower pictures,
material, leaves, buttons, tissue paper, or letters from a newspaper. Then explain that this type of collage, although made from pieces, is made in a controlled way by cutting apart 1 main picture.
Materials:
Magazine pages such as National Geographic
Ruler
Pencil
Glue stick
Scissors
12 x 18 cm paper to mount collage
Procedure:
1. Find a picture of an animal or object and cut it out of magazine.
2. On the back of the picture use a ruler to divide picture into even pieces approx. 1 cm apart. Lines can be diagonal, horizontal curved,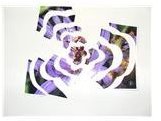 wavy or u-shaped to expand the picture in the direction wanted. Number each piece in order.
3. Cut apart pieces carefully and flip them over.
4. Glue them on to the paper measuring them so they are equidistant apart. This will extend the picture so that the animal in it looks larger.
Hints and Tips
Try to use a picture with a clear background.

Bird pictures can be extended upward so they appear to fly higher on the page, so cutting the picture in a u-shape will achieve this.

Animal pictures can be cut apart into quarters and extended outwards from the center in all 4 directions to make them appear larger.

Diagonal lines work well for objects that are diagonal in the picture.

The distance apart of the pieces should be smaller than the width of the individual pieces.

Display all the extended collages in one display. Place them in different directions but at eye level so that viewers can get a close up view. Viewing the pictures from a distance also aids this type of art.
Unexpected Collage
---
Another collage can be made from material scraps, glue and paper. It is called the unexpected collage.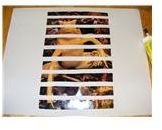 Describe the art of pop artist Claes Oldenburg who made sculptures called Soft Fur Good Humor Bars. They were large, stuffed with foam and made with zebra and cheetah patterned fake fur. He did the unexpected. Examples of his sculptures are found at Claes Oldenburg Sculptures in the Metropolitan Museum of Art or the National Gallery of Art in Washington.
Use this concept to create popsicles, ice cream or snowmen out of soft fleece or felt. Use unexpected colors or complementary colors on a color wheel. Use many small pieces instead of 1 large piece for the collage.
Easy To Follow Procedures
Students can draw the basic shape of the popsicle on the paper then fill in the space with the material. Glue on a popsicle stick and title the art. Ice cream cones can be made of pink felt rather than brown waffle cone colors.
Ice cold watermelon can be made with green instead of red fruit, white instead of black seeds, and red instead of green rind. Warm colors such as red, orange and pink can be used to replace cool colors of water or ice.
Cool colors such as purple, blue and green can be used instead of reds and oranges to make spaghetti and cheese collages.
Green felt which we like to think represents grass on a golf green can be used for snow on a snow scene.
Collection Collages
---
Use all the materials in your classroom and have the students create their own picture of spring or summer. Material, tissue paper, pipe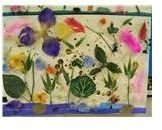 cleaners, buttons, string, google eyes, glitter, tinfoil, leaves, flowers, magazine pictures, and any other materials may be used. You can use a theme of reusing all things such as bottle caps, old pencils, paperclips and scraps of paper from the classroom as a clean up project. Students can create a scene or make a random pattern of all the materials given.
Younger grades can cut out letters from newspapers to create an object made out of that letter. For example, cut out all the letter "T" from a news article and glue them into the shape of a train. Letter "B" can be made into a bee shape. Each student can do a different letter from the alphabet. Draw an outline of the shape you want them to fill on the paper.
Collages can be done any time of the year or as a wrap up activity in the classroom. Collections can be made all year long. Cutting or ripping apart pieces of paper to create collages is common. Teachers can also use hole punches to create colorful circles. Many examples of digital collages can be found on the computer. Collages are interesting and easy to create. Students will enjoy these short art lessons.