South Pacific Art Botanical Sketching & Teaching Ideas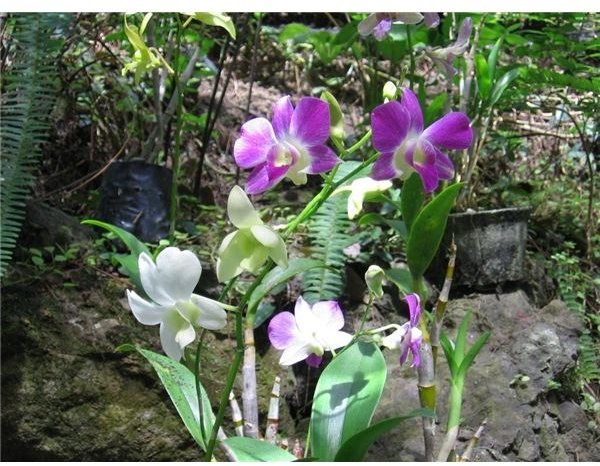 About the South Pacific
The South Pacific region takes in a string of tiny countries, all of which are drastically at risk from the threats of climate change and global warming. Although billed as being tropical havens, in truth many countries in the region are faced with the same issues that confront people the world around. Rubbish and waste management, population pressures, coral reef degradation, welfare, land use and competing interests, economic hardship and poverty are hard concepts to envision sitting alongside what we love to perceive as a tropical oasis.
Sandy beaches do stretch forever, and warm ocean waters do lap at the feet. But the reality of the region also needs to take in the other part of the picture, where human existence sit alongside a frail and at risk environment. Explore as many or as few of these issues with your students as you choose and then grab your pastels, pencils and inks and get into some botanical sketching which is inspired by the tropical plants of the South Pacific!
For an in depth discussion of all things South Pacific (including useful eco info), try the South Pacific book published by Lonely Planet as a good starting point. This gives you the basics about all the countries in the region - Fiji, Tonga, Vanuatu, Samoa and the like, without the need to painstakingly Google search every topic. This book is a good resource for teachers, and could be handy if you plan a holiday in the region at some point too!
South Pacific Tropical Plant Images - Artwork by Robyn Clarke, Bendigo Australia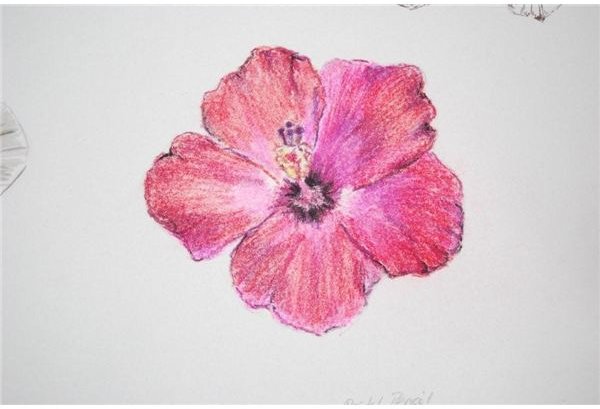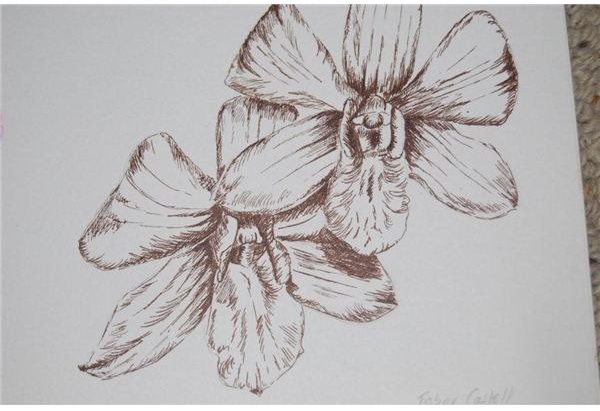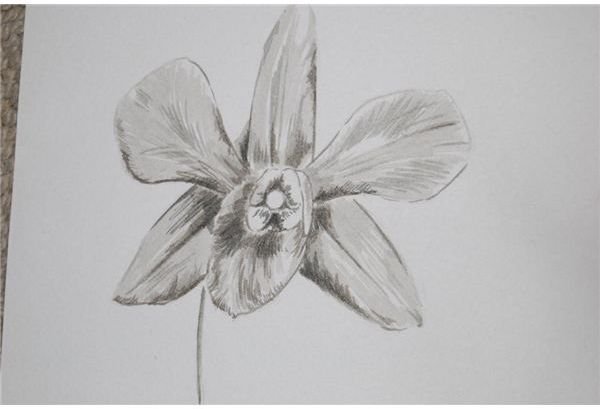 Pressing Lightly on Paper and Earth
If you're after a link to make your students think, try this:
We need to step lightly and carefully upon this fragile environment of ours, just as we need to press our tools ever so gently and carefully upon our artist's paper to create our art works.
Encourage your students to choose their colors with care, experiment with blending and shading, and to discover hand positions and pencils grips which work for their own needs and skills. Often, a prompt to rest the wrist when sketching works wonders, as does taking a break and wiggling the fingers for a moment. Remind students to sit well at their work bench and to avoid hunched or slouched sketching positions.
Botanical Sketching with a Real World View
Offer students some real life flowers if possible, or source high quality large size images from books or magazines, or online. Provide each student with a range of choices and encourage them to experiment with reproducing the same flower several times over using a number of mediums. They could experiment with a graphite pencil, use some muted pastel tones or perhaps try a sepia coloured artist's pen. Once they have completed a few sketches they are happy with, allow them to spend some time preparing some information about both their art work and its inspiration. This could be presented as a Powerpoint presentation or as a short talk to other students. Alternatively, divide students into small groups and have them discuss or debate a contentious issue for the region based on the region. Some examples could include:
Global warming and climate change - what to do before it is too late
Fishing and marine conservation - what is happening at a local level to manage and preserve fish stocks for the future?
Land use, agriculture, housing and tourism - how do competing interests work together for the good of the environment?
Indigenous plants and animals - what is being done to preserve habitat and maintain indigenous populations and eco systems?
Sharing Work With Others
As a neat footnote ot this activity, try communicating with a school in the South Pacific region to share your learning experiences with real students. Many schools have at least some internet access, and most have a postal address which is available with a little determined online research. Reach out the hand of friendship across the globe and perhaps our world will become a slightly better place as a result.
This post is part of the series: Multicultural Learning and Diversity
Lesson Plans and ideas to promote diversity and multicultural learnign