A Review of Classic Tunes & Tales by Tod Kline: Teaching Classical Music to Children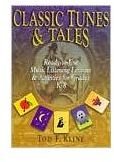 An Excellent Resource
Introducing your students to classical music can be quite the chore because they may find listening to it a bit boring. However, with the help of Tod Kline's compendium of music activities and lessons, Classic Tunes & Tales, your music listening nightmares will be over. Your students will grow to appreciate and maybe even love the "classics" and the stories behind them.
Content Description
This resource is a collection of short, easy music listening activities that consist of 50 classical music tunes and 50 tales with accompanying music listening worksheets that are all organized into sections by grade level categories. Therefore, children in grades K-8 can listen to the classical pieces that best apply to their age and complete the included classical music activities. However, all of these songs and lessons can be modified to work with any grade level.
Purpose
This book will provide your students with an opportunity to take an interest in famous classical composers and the masterpieces they have created while also learning some important elements of music. The activities in this book are organized for ease of use by both teacher and student and are geared toward a variety of age levels.
Features
This book includes many features that that you and your students will enjoy. Here are a few:
Table of contents- The contents of this Music resource are listed by level (which are subcategorized into grade levels. For example, the songs and activities in Level I in the book is suggested for students in grades K-2. In the table of contents, the song is listed as well as the composer and what page it begins on as well as where you can find the lesson plan, the musical excerpt, and the activities that accompany the selection.
Level/Section title page- At the beginning of each level, there is a title page that lists musical elements that each lesson plan focuses on, the concepts taught overall, and the page where to find each one in the book.
The levels- In each level, you will find several popular classical tunes and activities. For each of these songs, there will be a short 3-10 minute lesson plan, the story of the piece itself, a musical excerpt in notation format, and an activities page that will either contain cutouts, a listening activity, a worksheet, etc. for your students to do as part of the lesson. At the end of each level, there is a level test that covers everything the students have learned thus far.
Supplementary Materials section-This section can be found towards the back of the book and includes a few follow up activities for the students. It includes such activities as; tunes for the recorder, games, a game show review lesson plan, word-searches, coloring pages, a historical composer timeline, bulletin board ideas, and a reference chart of objectives for each unit.
Pros and Cons
My favorite thing about this book is that it makes learning about composers and classical music fun for my students. I love how it is broken down by levels and the amount of ideas and activities you can use is incredible. I am very impressed with the amount of musical elements and concepts that are incorporated into the lessons as well. My students have really listening to some of the selected pieces (especially William Tell Overture, that is there favorite) They love putting together the story sequence that goes with it and dancing to it as well.
The supplemental materials are great to use as class fillers as well if you have a few minutes to spare. It is always good to review what they have learned.
The one thing I suggest and I know the author does as well, is to make sure that you as the teacher engage your students in the stories for optimal results and entertainment. Keeping their interest is the key. For example, using props, and having them create skits from the stories are great ways to dramatize what the are listening to, and the material will stick with them longer, trust me it works.
The only down side (if there is one) is that I wish there could be more wonderful classical tunes included, but then again, there is an infinite list of great composers and classic pieces. If you used them all, you wouldn't be able to close the book!
Price
The price I paid for this resource is $29.95 but I have now seen it for as low as $17.69.
Where Can I Purchase It?
Overall Rating (5 out of 5)
Overall, this Music resource is a phenomenal piece of literature that can be used for all grade levels all year long. If you are looking for a great way to introduce classical music into your Music or general classroom and are looking for some great listening and classical music activities, then go out and buy this book. You won't regret it!
This post is part of the series: Music Teacher Resources in Review
Here are some great Music teacher resources that I thought I would share with you. Whether, you are a new teacher or veteran, you can always use fresh ideas for your Music or general classroom. Enjoy!