Engaging and Cute Halloween Stories and Books for the Children in Your Classroom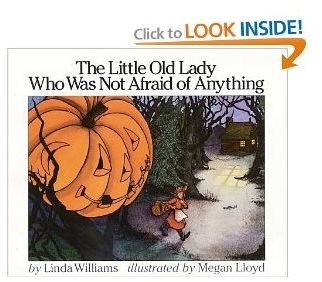 Halloween Literature for Sound Creation
Encouraging reading in all parts of the curriculum is valuable to our students which is why I have chosen these Halloween books to share. Many of them have great sound effects and silly words that can incorporate various musical instruments and singing. I read these Halloween stories for my kids every year and they never get old. That is the great part about books, you can NEVER date them! Enjoy!
The Little Old Lady Who Was Not Afraid of Anything
This book by Linda Williams, is a very cute Halloween story about a little old lady who goes out for a walk in the woods for she is not afraid of anything (according to the title). As she walks, she hears different pieces of clothing following her and she tells them she is not afraid of them. As the sounds grow and the amount of clothing grows (shoes, pants, shirt, pair of gloves, top hat, and pumpkin head) she begins to get scared and runs into her house and slams and locks the door. She uses her wit though to cleverly outwit her follower, and she turns out alright in the end.
I first read this story aloud for my class to hear. I then ask them to repeat all of the clothing pieces she hears and we chart them either on paper or on the board. I then divide my students into groups of six, having each group representing a different article of clothing from the story. I then assign each group a set of instruments to play when they hear their article of clothing mentioned in the story. For example, the shoes will use the drums for "clomp clomp", the pants will use the jingle bells for "wiggle wiggle", the shirts will use the maracas for "shake shake", etc. After we practice having each group play in order, we add it to the words of the story. In this way, the students are actively participating in reading and music simultaneously as the story becomes interactive. They love it!
There Was an Old Lady Who Swallowed a Bat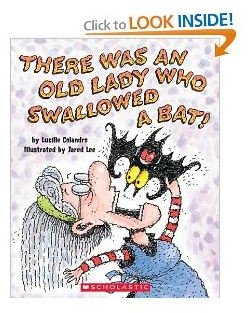 Lucille Colandro has created a spin-off of the classic song and book, There Was An Old Lady Who Swallowed A Fly, only this time her menu differs. It is based on Halloween characters such as: a bat, an owl, a cat, a ghost, a goblin, some bones, and a wizard. This book can also be ordered with an accompanying audio CD which aids in the students' singing. It teaches memory skills by using sequencing and it also uses backwards sequencing as well to make it more challenging. I have a lady puppet that I use for the "Fly" version, so I use her for this one but I have the students make the Halloween characters out of paper or foam. They then love to stick these items in her mouth and down her throat. It is kind of gruesome story but cute and hilarious in nature. Your kids will enjoy it too!
These Halloween stories will give you "monster-ous" results from the kids in your class for they will have gained reading comprehension skills and have made literary and music connections.
References
Williams, Linda. The Little Old lady Who Was Not Afraid of Anything. HarperCollins, 1998.
Author's own teaching experience
Colandro, Lucille. There Was an Old Lady Who Swallowed a Bat. Scholastic Inc. 2005.
Images courtesy of Amazon
This post is part of the series: Halloween in Music: Songs, Activities, and Books for Classroom Use
Looking for some "spooktacular" Halloween songs and activities to use with your elementary Music students? Well, here you go…use them if you dare!