The History
The War of the Roses began in 1455 and ended in 1485. However, the timeline has its roots in 1399, the year the Duke of Lancaster, Henry Bolingbroke, ousted his cousin, King Richard II, from the throne. The House of Lancaster and the House of York were rivals from that point. Competing families with similar symbols, sibling rivalry, madness and murder were all part of the War of the Roses. Battles were clashes in a series of civil wars between the House of Lancaster (Red Rose) and the House of York (White Rose), and so the conflict is often called the Wars of the Roses as well.
Both houses could trace their ancestry back to King Edward III and the royal Plantagenet family and Richard, Duke of York would have been in line for the throne had it not been for Henry VI and his son Edward. During the Hundred Years War, in 1436, York was made Lieutenant of France and, as such, funded the service of the English army in France. This fact would become a thorn in York's side years later when, in 1445, King Henry VI appointed Edmund Beaufort, Duke of Somerset to York's position in France and provided him with the funds to pay the army. The thorn was shoved deeper when, on Somerset's advice, York was exiled to Ireland as Lieutenant of that country.
Somerset was an incompetent officer and France soon won strategic towns and eventually Normandy. Disliked by his subjects, Henry VI still held Somerset in high esteem. Further loses in 1451 (Bordeaux and Gascony), made the king and his cronies extremely unpopular. This unpopularity, the military defeats, and the first onset of madness in the king-which caused a type of paralysis-afforded York the chance to remove Henry VI and arrest Somerset.
The stage was set. York becomes Protectorate of England in 1454 and the following year the Battle of St. Alban's is the opening salvo in the War of the Roses.
Use the timeline and battles lesson below for your War of the Roses lesson plans. Primary dates and War of the Roses battles are included.
War of the Roses Lesson Plan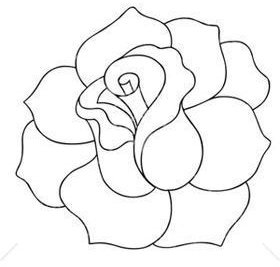 Lesson Focus: War of the Roses battles
Grade Level: 7-12 (easily adapted to most grade levels)
Prior Knowledge: none
Materials: Rose Outline Print Outs
Lesson Outline:
Assign half the class as the House of York (White Rose) and half as the House of Lancaster (Red Rose). Note-printables are black and white. Coloring in the petals is optional – but fun at any age!
Using the War of the Roses Battles below, have each student label their petals with battles that were a victory for their side. (Students need more than one rose each so have extras available).
The Battle name, date, and outcome should be required. Details, such as why it was significant or who the major figures involved were, can be added depending on grade level. In this case, a rose print out may be required for each battle.
War of the Roses Battles
First Battle of St. Albans, May 22, 1455

Battle of Blore Heath, September 23, 1459
Battle of Ludford Bridge, October 12, 1459
Battle of Northampton, July 10, 1460
Battle of Wakefield, December 30, 1460
Battle of Mortimor's Cross, February 2, 1461
Second Battle of St. Albans, February 17, 1461
Battle of Ferrybridge, March 28, 1461
Battle of Towton, March 29, 1461
Battle of Hedgeley Moor, April 25, 1464
Battle of Hexam, May 15, 1464
Battle o Edgecote Moor, July 26, 1469
Battle of Losecote Field, March 12, 1470
Battle of Barnet, April 14, 1471
Battle of Tewkesbury, May 4, 1471
Battle of Bosworth Field, August 22, 1485
Battle of Stoke, June 16, 1487
Timeline of Other Key Events
The above War of the Roses Lesson Plan can be adapted to include key events in the conflict. Students can make a War of the Roses timeline with their rose, or can list events beneficial to either the House of York or House of Lancaster.
Richard, Duke of York comes back from Ireland, August 1450.
Henry VI has his first attack of insanity, December 1453.
York starts his first appointment as Protectorate of England, April 1454.
York's Protectorate comes to a close, February 1455.
Henry VI dies on May 1, 1471.
An ill Edward IV names his brother, Richard, Duke of Gloucester Protector following his death. Spring 1483.
Edward IV dies on April 9, 1483.
Edward V, a child, becomes king. His Uncle Richard, Duke of Gloucester has him stay in the Tower of London with his brother, Prince Richard, until the coronation.
Edward V's coronation canceled, June 16, 1483.
The two princes are deemed illegitimate by Parliament. They never leave the tower and are widely believed to have been murdered. June 25, 1483.
Gloucester is made King Richard III on June 26, 1483.
King Richard III is killed at the Battle of Bosworth Field.
The Tudor Dynasty begins with Henry Tudor in 1483.
War of the Roses Ends, June 16, 1487.
References
Image Credit, www.jetpens.com
Medieval Life and Times, www.medieval-life-and-times.info
Wars of the Roses, www.warsoftheroses.com
Image Credit, www.mappery.com
This post is part of the series: World History in A Year (or 10 Months) Part 4
A series of World History Curriculum ideas. Contains lesson plans and activities for use in a World History Class.