John Henry: Steel Driving Man - Using a Railroad Legend to Teach Westward Expansion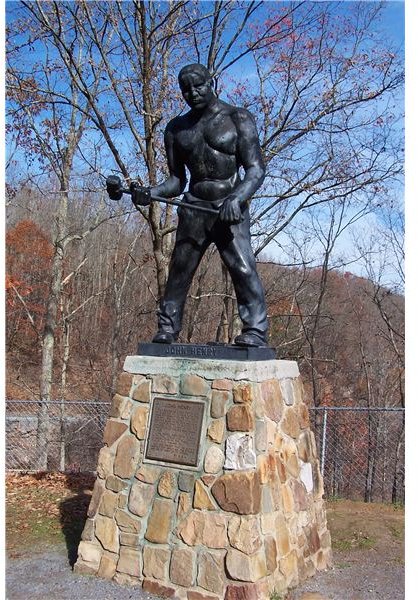 When teaching Westward Expansion in the United States to middle school and high school students the information can often become dull and tedious. Wagon trains and cattle marches are not the topics that fascinate today's youth. After all, they are not a generation that grew up with Laura Ingalls in her "Little House on the Prairie." However, by using interesting standout topics, such as the Donner Party, the Mormon Migration, Railroad building and hands on map skills, you may be able to capture students' attention in this period of history. Read on to see how you can use the legend of John Henry in your classroom setting.
Lesson Procedure
Ask your students if they have any idea how railroads were built to go Westward? Do they know that bridges and tunnels were dug, by the hands of thousands of workers, using picks and axes? Do they know that working on the railroad was considered a highly dangerous job? Do they know that laying railroad track took years and years of hard labor? Introduce your students to John Henry, an American folklore icon and let them use his story as a jumping off point to learn not only about railroad expansion but about the perils of hard manual labor.
Start off by using the downloadable power point on the life and legend of John Henry. Explain to students that this legend is so well-known, even the United States Postal Service paid it homage by creating a postage stamp with Henry's image imprinted on it. Further discuss how the legend of John Henry has been captured is song by folk singers and explain how his story can be an inspiration to students today to rise up against what is blocking their path to success.
Then distribute the lyrics to the folk song (lyrics available at this website) about John Henry and assign different groups of students different stanzas to memorize. Give them a week and then ask them to present the stanzas in an imaginative and creative performance. Once they have done that, visit youtube.com to listen to a recording of the song so they can hear another interpretation. Discuss the impact the song may have had on generations of Americans, especially minorities. Distribute copies of an image of a blank pick axe (a paid download is available here, or you could easily create your own) and ask students to complete the reflection assignment from the power point. Display the axes around the classroom for constant inspiration.
Assessment
Have students apply what they learned about American legends and folklore to create an original folksong about an American icon you assign. Let them work in groups or on their own and then have them present to the class. You'll be singing praises for their high grades!
References
This post is part of the series: Westward Expansion
This unit is great for grades 7 through 10. Teach your students about westward expansion in the U.S. with primary source documents.