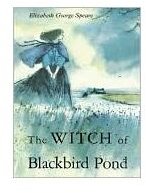 "The Witch of Blackbird Pond" is an award-winning historical fiction piece authored by Elizabeth George Speare. It depicts life in a small colonial town in 1687 when tensions are high between the royalists and the colonists. The main character is a sixteen-year-old girl who has come to live with relatives she has never met. There is a sharp contrast between the life she led with her grandfather in Barbados to the life she is living now with her aunt's family.
There are three articles in this series: One is a chapter summary and one includes research activities. This article contains a writing assignment about a book character and vocabulary from the novel.
Unit Objectives
To analyze a character from the novel and write using the character's point of view.
Acquire new vocabulary by using context clues and dictionaries.
To use research techniques to gather information about specific parts of colonial life in New England.
The Book Characters
Katherine (Kit) Tyler – The main character; sailed from her late grandfather's property in Barbados to live in Connecticut
Nathaniel (Nat) Eaton – First mate and son of the captain of the Dolphin, a sailing vessel
John Holbrook – Coming to Wethersfield to study medicine with Doctor/Reverend Bulkeley, a renowned scholar in medicine and theology
Rachel Wood – Kit's aunt and obedient wife and mother
Matthew Wood – Kit's uncle, strict Puritan
Mercy Wood – daughter of Rachel and Matthew; calm, humble, physically impaired
Judith Wood -daughter of Rachel and Matthew; longs for marriage and the finer things
Hannah -old woman who lives by Blackbird Pond and thought to be a witch
Goodman Cruff – husband to Goodwife Cruff and father of Prudence
Goodwife Cruff – wife of Goodman Cruff and mother to Prudence; nasty disposition
Prudence – neglected and abused child of the Cruffs; eager learner
William Ashby – from a rich family of Wethersfield
Character Study
1. The student will either choose a character from the list before they begin reading the book, or you can randomly assign a character.
2. Have the student take notes on the specific character as they read or listen to the book. By the end of the book, he or she should be prepared to write an autobiographical (first person/character's point of view) paper on the chosen character.
3. Questions the student should answer about the character:
What events occurred in the past that molded the personality and characteristics of your character?
What decisions did your character make that changed the lives of others in the book?
What influenced your characters decisions?
For example: Mercy does not tell John that she loves him because her sister wants to marry him. She puts her sister's happiness ahead of her own.
Vocabulary from the Novel
The page numbers are given from the edition of the book with 223 pages. Use the pages to find context clues for unfamiliar words.
Relating to ships:
brigantine – page 7
longboat – page 10
pinnace – page 8
prow – page 11
ketch – page 26, 220
hawser – page 11
Related to colonial living:
trencher – page 48
pillory – page 52, 168
paduasoy – page 41
breeches – page 31
gruel – page 39
board (table) – page 45
turret – page 51
hearthstone – page 59
The Charter – page 67 (explains the issues between the colonialists and the royalists)
husking bee – page 122
hornbook – page 105
militia – page 159
Miscellaneous
frippery – page 43
cuff – page 12
popish – page 50
timorous – page 62
docilely – page 103
blasphemy – page150
Vocabulary Activities
Use the vocabulary word list for student assignments such as:
Write dictionary definitions.
Write sentences using the words.
Create a picture dictionary.
Play word matching memory games by matching the word with a short definition.
Use blank bingo cards and have students fill in the words on the card randomly from the word list. Read a definition and students place a marker on the word that matches. When a row is filled: up and down, across or diagonally, the student wins.
Now that your goals are set for "The Witch of Blackbird Pond" Unit, and students have become familiar with the book characters and new vocabulary, move on to article two in the series list at the bottom of this article for more activities.
If your students enjoyed this novel by Elizabeth George Speare, you may want to encourage them to read The Sign of the Beaver.
This post is part of the series: The Witch of Blackbird Pond by Elizabeth George Speare
This series includes chapter summaries, activities and more for cross curriculum work in language arts and social studies. The Witch of Blackbird Pond is an award winning historical fiction piece by Elizabeth George Speare.