Research Poster Project for The Cay by Theodore Taylor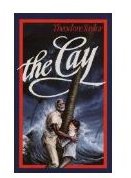 Introduction
As a middle school English and Reading teacher, I have found that adding technology into the curriculum has many benefits. I teach
using technology as often as possible.
My love for Theodore Taylor's novel, The Cay, stems from when I was in elementary school and read the book no less than ten times because it was easily amongst my favorites. When I teach this novel now, I share my love for the book and incorporate technology into my teachings. My students will tell you it is among their favorite novels, as well. I attribute that partly to the projects I conduct while reading the book. Here, you will find one of the research projects. It is meant to be conducted once the reading of the novel commences and continuing on throughout the reading of the novel. You will find that it has cross-curricular tie-ins, specifically with social studies and science, although it is meant as an English or Reading project.
Activity
This project is in the form of a webquest. Your students will access the Internet to gain information on a specific topic–in this case, survival. Students will need a copy of the webquest and should be assigned to groups of three or four students. As mentioned earlier, the project is designed to occur throughout the reading of the novel; therefore, the length of time it takes is only approximate. Plan for it to take around four weeks, give or take a week. Webquest pages are as follows:
Introduction to the Project
Task
Process
Evaluation
Conclusion
All material is originally authored by me, with credit going to The Webquest Page, which is where I got the template, and to Rubistar, which is where I created the rubrics. Bear in mind that the project places students in a futuristic setting, where they must learn to survive using only materials around them, just as was the case with Phillip and Timothy when they went ashore the cay. This project is divided into two parts, so be sure to read both articles, as the evaluation tools are listed in the second article.
Materials Needed
Each group of students will need the following materials:
folder with pockets
access to computers and Internet
25 index cards (You may want to have some extras for groups that finish early or lose their supplies.)
5 rubberbands (for sorting the index cards by category)
markers, colored, pencils, or crayons
one posterboard
a research assignment organizer (shown on page 5)
rubrics (should be handed out and reviewed prior to beginning each portion of the project)
group evaluation form (shown on page 5)
presentation guide (shown on page 6)
Introduction to the Project
Provide your students with the following scenario:
It is the year 2042 in the summer, and World War III is raging throughout the lands. Everyday when you listen to the radio, you hear news of some bombing or that the death toll is on a continuous rise. You and your family live in a large city, where there is always something happening. Typically, you and your family enjoy the city life. You have things to do, you have friends your own age, and you enjoy the environment. But, things are really about to change. The war is moving closer and closer to your home. Your mother decides to take you and flee to a safer place. Your father must stay behind to continue his research on weaponry for the Allied forces. So, you and your mother pack a few things and decide to leave the city. Things go awry! The opposing forces in World War III invade your city as you and your mother are on the way out. In all of the hustle and bustle, screams and gunshots, you are separated from your mother. While you are trying to find her, you are hit very hard on the head and pass out. When you wake, things are much different than before.
You find yourself lying along the curb of a street you have never seen. Nearby is a large Jamaican man, who introduces himself as Timothy. Timothy explains that he rescued you from the all the chaos and the invaders and that he does not know where your mother is or if she is even alive. He is a homeless man and he promises to share his knowledge of life on the streets with you. Your head throbs from the pain, and you black out again. Things continue like this for days, until one day you wake and cannot see at all. Timothy takes care of you, though. As you and Timothy look at your new surroundings, it becomes more and more evident that no one else is around. You are completely alone. Since there is no one to work in the factories or power plants, there is no access to purified water. All of the restaurants and grocery stores have been torn up and salvaged by the people who invaded your city. You have nothing but the clothes on your backs.
How are you going to survive? What will you need to learn in order to survive? Is there any hope for you and your newfound friend? These are all questions that you must answer.
Research Poster
This project is tri-fold.
First, complete a research portfolio. This portfolio will accurately describe the information you and your team members gather by researching a series of websites.
Write facts that deal with survival, wildlife, shelter, food, and other resources.
Cite the information gathered.
Create a poster that is centered around the research you did on island survival. This poster will include at least one picture from each of the five categories you choose. Stick figures and clip art are not allowed. All artwork must be the original work of the team members. Poster board will be provided. Your artwork must accurately portray the techniques used to survive on the deserted island. Make sure the poster is top-notch!
Upon completion of the posters, you and your team members will present your research and the poster to the class.
The Process
You will be assigned to a group of three to four members, who will act as your team. Days 1-7 of the project are designated as research days. You will receive a folder with pockets and 25 index cards. These cards are for you to write down facts. You will also receive a Research Assignment Organizer to be completed prior to conducting the research. Follow the steps below to complete your research portfolio.
On day 1 of the project, you and your team members need to choose 5 categories to research. Your choices are: food, shelter, protection, animals, plants, trees, dangerous things, and weather. Please note that some of the categories can overlap. For instance, you can use trees for shelter, for food, to build a fire, and to build weaponry for protection. You can use animals and plants for food. You can use plants to make weaponry or to build your shelter. Once you choose your 5 categories, write them on the sticky notes in your folder.
Complete the Research Organizer pages in your folder. Do this as a team. Everyone must participate; the writing should not be left to one individual. After your team completes this step, go to step 3.
Here is where you and your team will begin the research portion of this assignment. The following websites have been approved for you to view:
T Sons. Native Habitat Trees and Shrubs, on Ezines.
How to Make a Water Filter for Survival. On NatureSkills.com
Edwards, Roger. Tornado Safety Guide. On the NOAA website.
Davies, Alexander. How to Build a Survival Shelter. On News.Discovery.com.
Interactive Survival Games on Discovery.com.
Preventing Injuries After a Disaster, CDC.gov.
You can also search using your favorite search engine. Some keywords you may want to choose include: "survival skills in the city," "city animals," "trees in the city," "survival in postapocalytic times," "natural food resources in the city," "edible plants," "fruit trees in the city," "hunting skills," and "natural water filtration."
The Process
As you are researching, choose 5 important facts for each of your 5 categories (25 facts in all) that will help you survive on the deserted island. List one fact per index card. You must also cite the website where you acquired the information by writing the complete site address on the back of each card. Remember that you must only write facts. Each fact must provide some valid information that will aid you in your survival. Some of the websites contain opinions. Opinions are not facts, and therefore will not be helpful to you. Also, you must choose your information carefully. Simply stating a fact is not enough–you must state a fact that will help you survive.
When you are finished with your research portfolio, create a list of all your sources. Remember that you are required to write down the web addresses for each fact that you wrote on your index cards. To create the Works Cited page, simply list each of those websites on a sheet of paper and title that paper "Works Cited." This page will need to be typed.
**This completes your research portfolio. The rubric for this portion of the project is the first one listed under Evaluation. Follow the steps very carefully to optimize your chances for a high grade. Be sure to view the rubric to see what is expected. This portion of the project is due by ___________________________.
Now that you and your team have conducted the necessary research, you are ready to start working on the poster. Please see your teacher to obtain a poster board.
You and your team must relay the information gathered during the research process. Select a minimum of one fact per category to depict on your poster. All artwork will be the original work of each group member. Computer graphics are not allowed. Each member must participate in drawing. You may only draw things that are relevant to the research you conducted. For example, if you have an index card that is about the marine animals around your island, you may draw a picture of those animals. If you do not have the card, you may not draw the picture. Each of your five categories must be represented on the poster. Please not that you should not have much, if any, "white space," or blank space, on the poster. You will also be expected to color the pictures. Your instructor will have supplies for this portion of the project.
**This completes the poster portion of your project. The rubric for the poster is the second rubric listed under Evaluation. Follow the steps very carefully to optimize your chances for a high grade. Be sure to view the rubric to see what is expected. Your completed poster is due by _____________________________.
Now, you and your team members are ready to work on your presentations. Each member of the team will be required to speak. You and your team will present your poster to the class. You will each tell something interesting about your poster. You will be required to tell the class what your picture is and why it is important. Basically, you will tell us what fact is represented and how it will help you to survive.
Write down what part you are responsible for presenting and practice what you are going to say. Remember that you will be expected to demonstrate proper presentation behavior (voice level, standing up straight, not chewing gum, not moving around, etc.) Practice makes perfect, so practice a couple of times. You will not be required to turn your presentation notes in; however, your classmates and your instructor will be able to tell if you practiced and if you completed this step.
We will hold presentations on ________________________________. You and your team must be ready by that date, even if your team does not get to present on that day. Presenters will be chosen first on a volunteer basis, and then at random.
As an audience, you will be expected to listen to the presenters, look at the presenters, and to give praise when it is due. Being a good audience is just as important as being a good presenter.
**This completes the presentation portion of your project. The rubric for the presentation is the third rubric listed under Evaluation. Follow the steps very carefully to optimize your chances for a high grade. Be sure to view the rubric to see what is expected. Your completed presentation is due by ____________________________.
Last but not least, you will be given an evaluation sheet to evaluate each of your team members. This will be used to determine if all members did their fair share and participated equally. Honesty is imperative!
Please note, you should have your students fill in the dates according to your timeline. Doing so will help them stay on track and give you dates when grades will be taken. Taking additional progress grades as the students work on each section is recommended.
This post is part of the series: Research and Technology Applications Using The Cay by Theodore Taylor
Implementing technology into curriculum has become an essential part of education. The beloved book, The Cay by Theodore Taylor, deals with World War 2, blindness, deserted island survival, and acceptance. Using these concepts, I have comprised several research activities that use technology.