In these Charlotte's Web activities, students will make a character poster and complete activities to learn about farm life. Charlotte's Web by E. B. (Elwyn Brooks) White is a lovely chapter book that is a Newberry Winner and most students in grades three through six will enjoy. Wilber, a pig, is befriended by Charlotte, who happens to be a polite and sweet spider.
This unusual connection between a farm animal and an arachnid offers themes of friendship and loyalty that elementary students can explore. For these activities, students will need a copy of Charlotte's Web to read. Most of the following activities are to be completed after the students have read the novel.
Charlotte's Web Character Posters
Before beginning the character poster, students need to know the types of characters or character trait definitions and be able to apply the terms to the characters in the novel. You may need to teach students the terms or review them depending on the age or level of the students.
If this lesson is for lower elementary students, you only may want to teach them static and dynamic. These types are easily understood and easy to apply to characters in books.
Students should know before beginning the posters that the posters will be assessed on the criteria of creativity, correctness, and neatness. Teachers may want to make a rubric to assess the posters.
Review or Teach Character Type or Character Traits
Flat character: A character that seems to have only one side. This type of character tends to be a minor character that usually has only one personality trait; however, the flat characters are usually essential to the story.
Round character: A character that is multi-dimensional. This type of character is very developed and has many emotions and personality traits.
Static character: This type of character never changes. This character does not develop into a better person; he or she just stays the same.
Dynamic character: This type of character undergoes a major change. The character will develop into a better or sometimes a worse person because of a change he or she makes.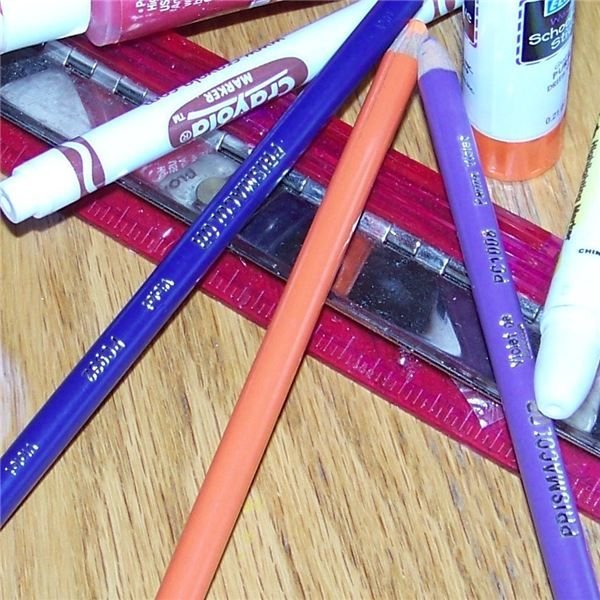 Steps for the Charlotte's Web Activity
Step 1: Students should choose one of the main characters from the novel to create a character poster.
Step 2: The character's name should be neatly written at the top of the poster.
The main characters who are animals are as follows: Wilbur the pig, Charlotte A. Cavatica the spider, Geoffrey the goose, Templeton the rat, and Uncle the pig who is Wilbur's competition at the fair.
The main characters who are human are as follows: Henry Fussy, Mr. and Mrs. Arable, Mr. and Mrs. Zuckerman, Avery Arable, and Fern Arable.
Step 3: Students should include the following on the poster:
a picture of the main character that the student draws
a passage that describes the character's personality and/or physical description
the page number where the passage was found
identification of type of character: round, flat, static or dynamic
This activity will allow students to learn about character traits. In addition, students will be able to showcase their creativity and art skills. Teachers should hang up all the character posters and ask students to present them to the whole class to wrap up the lesson.
Other Charlotte's Web activities available at Bright Hub will help increase the students' vocabulary. And, there are teacher guides and a summary.
Research Farm Life
Because most students do not live on a farm, this is a great opportunity to connect the science concepts of farm life to the novel. In addition, students can learn about farming from primary and secondary sources. If students do not know the terms (primary and secondary), teachers may need to teach or review them.
Farm Life and Charlotte's Web
By bringing in a farmer as a speaker and completing research, students will learn how to use primary and secondary sources to learn new material.
For secondary sources, students can learn what real farm life is like by completing research and watching the farm life videos. The Edtech website "Farm Life and Farm Animals" has many links that students can check out to find out about farm life. For a primary source, teachers can try to bring in a real farmer to tell what he or she does on a daily basis so that students can ask questions.
A great additional lesson to add to this Charlotte's Web activity is the "Farm Life" lesson by Ohio Trek in conjunction with Bowling Green University & WBGU-TV. It includes vocabulary, video, handouts, etc.
Farm Life Mural
For a closing activity, students can make a farm life mural. They can plan as a class what should be drawn on the mural that depicts what they have learned. Each student should be assigned a small part of the mural to draw and color.
Students can learn a great deal about character personalities and farm life by completing the Charlotte's Web activities included in this lesson. In addition, students can showcase their creativity and maybe even ask a farmer how he collects his morning eggs.
References
Farm life. (2001). Manuscript submitted for publication, WBGU-TV, Bowling Green University, Toledo, Ohio. Retrieved from http://www.nwoet.org/ohiotrek2/pdf/farmlife.pdf
Photo by Kellie Hayden
Cheek, J. (2002, May 10). Farm life and farm animals. Retrieved from http://edtech.kennesaw.edu/web/farmanim.html