"Walk Two Moons" by Sharon Creech: Ideas for Classroom Activities That Focus on Literary Themes in the Story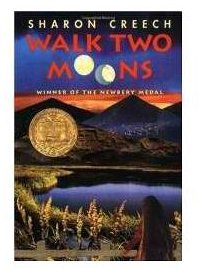 The novel Walk Two Moons by Sharon Creech, a Newbery book, delves into themes that are quite challenging for students to grasp. Here are some of the activities you can do in the classroom to start your literature unit on Walk Two Moons.
Walk Two Moons Activities
1. One of the novel's central themes is empathy—walking in someone else's shoes and understanding how it feels like to be in another person's situation. Introduce this theme by having this activity I call "Relay Delay":
Divide your class equally into two groups. Each member will be given a strip of paper with a question or a task which s/he needs to do. One by one per team, they will go to the front and give the answer/perform the task based on what is written on their paper. In order for a group to be declared the winner, all of its members should be able to accomplish all the tasks. No one is allowed to share what is written on his/her strip of paper. Each member will just go to the front and do the task or answer the question. Announce to the class that the activity will be graded as a quiz, and that the grade they will get is either an A (for the winning group members) or a C (for the losing group members).

The Catch! Unknown to the students, you will be giving some group members tasks, which are extremely difficult to do. These tasks could be giving very tough questions that are impossible for them to answer or performing tricky moves.

What always happens in my classes in this relay is chaotic confusion that leads them to question, and even judge, their group mates' delay in tasks. This is a perfect opportunity to teach them empathy by reversing roles—have another round of relay and this time, give the hard tasks and questions to those who had easy ones during the first round.

Process the students by eliciting answers from them about how they felt both after the first and second round. Explain to them how sometimes, we tend to think certain ways about our friends without really understanding them and what they are going through. Relate this to the theme of the book you are about to read together by saying that what the students learned in the relay is one of the things that the main character in the book also learned.
2. Another theme in the novel is coping with the loss of a loved one. To introduce this theme, do this activity called the Heart Chest Hunt:
Give each student a heart chest and ask him/her to think about the person closest to their heart. Have them bring a picture of that person to class. During your writing laboratory session, use guide questions to lead them into writing their reasons why that person is very important to them.

Then, tell them to place both the picture and their short composition inside their Heart Chest. Showcase the chests by having everyone roam around and discover the treasure hidden inside each of their classmates' chest.

Have everyone settle down in a sharing circle and ask them one main question: "What would you do? How would you feel if you lose the treasure you have inside your Heart Chest?" Elicit answers and process their thoughts after summarizing them. Then, tell them that their answers are just some of the things that Sal, the main character in the novel, felt when she lost a loved one.
Student-Centered
A good way to get the students into a novel is by tugging at their emotions and whisking their hearts away into the world of the main character. And in a novel such as Walk Two Moons by Sharon Creech, awakening the students' capacity to feel with the characters is an essential step to making them appreciate the plot. What is essential in classroom activities such as these is your capacity to lead the students into learning these themes on their own. A student-centered approach always does the trick to faster and more efficient learning.
This post is part of the series: Classroom activities for Walk Two Moons by Sharon Creech
These series presents ideas on differentiated activities, group dynamics, and assessment guides that you can use as you discuss Walk Two Moons by Sharon Creech–a Newbery book popular among our young readers today.