So Much To Learn
Whether fifth grade is the start of middle school or the end of elementary school, it is a pivotal year for many students. The expectation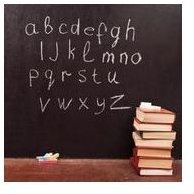 that students will be more responsible for themselves leaps forward both at home and at school. Teachers push harder and many students have to step-it-up just to keep up.
This list of fifth grade school supplies should help teachers, parents and students be prepared for the academic expectations and have a great year.
The Basics
Here is a list of items every fifth grader should have: (Note: Crayola is specified because its products tend to last longer and the colors tend to be brighter and easier to see on paper than their less-expensive competitors. Good sales make these products very affordable during back to school shopping. The company also offers an awesome website for educators.)
Crayola Markers – the 10 pack of basic colors.
Crayola Crayons — the 24 count pack.
Crayola Colored Pencils — the 12 pack or the 24 pack.
Glue — large bottle or multiple small bottles for throughout the year. Glue-stick is another alternative.
Scissors – One pair of medium-sized sharp-edged scissors. These should be the right size for most 5th Graders.
Pencils — at least two 12 packs of #2 pencils.
Red Pens — These are used for grading papers.
Pencil Cap Erasers — the erasers on the pencils wear down quickly, these are a life-saver for students
Pencil Sharpeners (2) — one for the student's desk and one for at home during homework time
Pencil Box — A plastic box will help contain some of these supplies. Two boxes might be necessary.
Basic Calculator –– not a scientific calculator, just a simple one for basic math skills
Ruler – The kind that bend are good because they do not break easily, preventing the need for a mid-year replacement
Lined Paper (4-6 packs) – College-lined is usually preferred at this age. Generally one pack per quarter is a good rule of thumb.
Clipboard – This is very useful for students as they try to balance books and workbook pages on their desks.
Folders — One for each subject. Pocket folders with clasps for notebook paper are best. This is a good item to stack up on, as sale processes are usually very good and the paper folders tend to tear with use. It might be nice to refresh these at the mid-year point.
Backpack – A large backpack with a solid black base is best. If you can see through the bottom when you hold it up to the light, the bag will likely tear before the school year is over.
A Few Special Items
In addition to these basic elementary school supplies, some students might need a few more items, especially if they are responsible for a locker and changing classrooms throughout the day. Here are a few things that might need to be added to the list:
A folder-organizer such as a Trapper Keeper. This is useful because all of the different subject folders can fit inside one organizer and the only thing that has to be brought to class is the organizer. In most cases these folder-organizers require specially designed folders that go along with the system, so be extra careful when shopping to get the right pieces.
Another option for folder-organizers is a pencil bag rather than a pencil box. This is very useful if students are moving from class to class, as it helps keep things organized.
A closer look at backpacks reveals that some come with multiple organizing pouches. If students are carrying their materials from room to room, this sort of bag becomes very useful.
Locker decorations are a must if fifth grade students will be using lockers. A magnetic mirror and a few magnets go a long way toward personalizing this home away from home.
Off to a Good Start
Whether your kids are finally the upperclassmen of the elementary school or they're learning the ropes of middle school, this school supply list should help any fifth grader get off to a bright start.