Teaching Charlotte's Web Vocabulary With Activities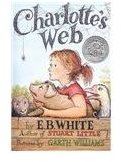 Why Worry About Vocabulary?
The days of teaching vocabulary words with tests and dictionaries are pretty much over, but it is still important for students to learn new
words and try to use them in discussion and writing. One of the best ways to do this is when reading real literature, especially a classic like Charlotte's Web by E. B. White. Students can enjoy a story with a loveable character while also learning new words and improving their vocabulary. They can also make connections between words they learn in a book with words they hear in everyday conversations or that they may even come across in a content area like social studies or science.
This article provides some words you may want to focus on in the novel, listed by chapters. Then it also provides a way to teach vocabulary skills to your students and to get them to use the new words. You can use these activities with any literature book or list of science or history words.
Vocabulary words
Here are some Charlotte's Web vocabulary words that you may want to focus on when reading the novel. You can give students a list of the words, typed on a bookmark, so they can find them as they are reading. When students find one, ask them to write down the page number, so they will be able to find it easily when you are discussing it in class.
Chapters 1 to 3:
runt, injustice, captivity
Chapters 4 to 6:
gosling, salutations, glutton, detested
Chapters 7 to 9:
spinnerets, sedentary, campaign
Chapters 10 to 12:
idosyncrasy, mercy, radiant
Chapters 13 to 15:
monotonous, versatile, ascend
Chapters 16 to 18:
humble, genuine, stowaway
Chapter 19 to end:
You can also ask students to make a list of their own Charlotte's Web vocabulary while they are reading. On the same bookmark you gave them at the beginning of the novel, you can ask them to flip it over and write five new words they find while reading, for example.
Vocabulary Activities
Vocabulary activities should teach children to use these words in their own writing or their own speech. Although it will take a while for students to learn the words, the ultimate goal of Charlotte's Web activities should be for students to use the vocabulary words.
1. Allow students to choose their own vocabulary words: Like spelling, some children will be on a higher level than others when it comes to vocabulary terms. If you want to individualize or differentiate your vocabulary lessons, then you can use this activity. While students are reading Charlotte's Web, they use post-it notes to write down words they do not understand. They also make a note of the chapter and page number. After finishing a chapter, they review their post-it notes. In their reading response journals, they write down each vocabulary word, the chapter, and the page number. Then they use the context of the novel to write a definition of the word and use the word correctly in a sentence. It is important for you to check these journals often to make sure students have the correct definitions. To make the activity clear for students, give them a set number of vocabulary words they need from each chapter or reading assignment.
2. Create spider webs for new words: A fun activity for students is to take a vocabulary word (or more than one word) and create a spider web with this term in the web (like Charlotte does in the book). To define the word, the student should draw pictures (or cut them out of magazines) of items that the word could describe. For example, if the student's vocabulary word was "triumph," then the student would have a large piece of paper and draw the word "triumph" in the spider web at the top of the paper; and then underneath the spider web, he could draw a blue ribbon, a person crossing a finish line first, an A-grade on a spelling test, and so on.
3. Finding examples in the text: Assign a pair or small group of students a few vocabulary words. Ask them to find quotes or events in the novel that exemplify that word. They CANNOT use the sentence in which the word is introduced. For example, if they are assigned the word "radiant," they would find two or three events or quotes that show Wilbur as radiant and write these down.
Hopefully with these creative activities, students will have fun with new words and start using them in conversations and during other subjects, such as writing workshop.
References
White, E. B. Charlotte's Web. HarperCollins, 2001.

Author experience as an elementary classroom teacher
This post is part of the series: Charlotte's Web for Elementary Teachers
Teaching and reading Charlotte's Web by E. B. White with your elementary students is one of the best language arts units! This series will give you ideas to use when you study Charlotte's Web.