Create a Magazine of "Bridge to Terabithia": Lesson for 4th or 5th Grade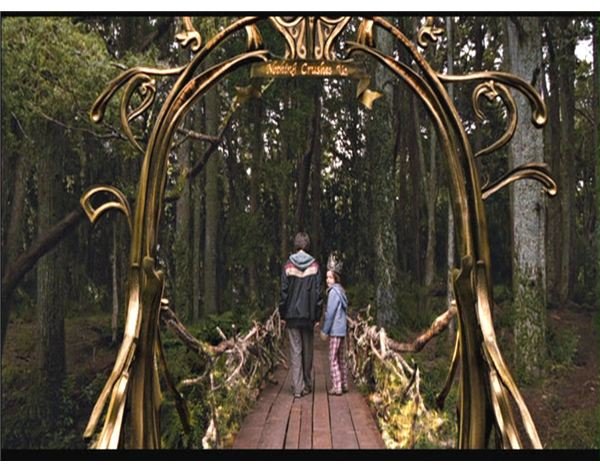 I will often use this activity as an open-house display project because of its visual impact, creative nature, and use of synthesized material. The activity blends more traditional writing activities with creative interpretations of the novel's characters, events, and settings.
Learning Objective: Students will re-imagine the novel Bridge to Terabithia in the format of an original magazine containing a summary, character interviews, and many more creative elements contained in real magazines.
Materials:
The novel Bridge to Terabithia
Notebook paper
White construction paper
Pencil
Colored pencils
Crayons, or markers
Lesson Procedure
1. After a complete reading of the novel, brainstorm with students a list of features contained in magazines, i.e. articles, interviews, advice columns, questionnaires, advertisements, etc. (I keep this list on the board for the duration of the project for student reference).
2. Since I require that students have at least two large-scale writing components in their magazines, I will have them write rough-draft versions of a summary and a 10 question interview with their favorite character (they will later write the final drafts inside their magazine by hand or paste in word-processed documents).
For the article (summary), students should re-tell the novel's main events in chronological order. Typically for a novel, the summary will be at least two pages in length.
For the character interview, students write 10 questions for their favorite character and then write the character's answer. Remind students that questions and answers should coincide with actual events in the novel or remain in sync with the character's personality. Additionally, open-ended questions tend to work best to engage student's critical-thinking.
3. Fold in half two or three sheets of stacked white construction paper for the magazine. The front will, of course, be the cover, but I suggest requiring students to write the final drafts of their writing assignments inside BEFORE proceeding to any of the artwork.
The remainder of the magazine gets to be filled with the "fun stuff." Students will love creating advertisements for products that could be used by characters in the novel. Advice columns based on character's problems are always interesting. Many students include horoscopes, puzzles, and even "reader's" letters-to-the editor. The options are virtually unlimited.
Assessment: I will typically grade the written portions of the activity based on clarity and accuracy of content, sentence structure and variety, as well as mechanics. Effort put into the artistic component lends itself to a fine-arts grade.
This post is part of the series: Teaching "Bride to Terabithia"
The series of four lesson plans will help you teach "Bridge to Terabithia" to your elementary class. The book is suitable for grades 3-5.