Draw What Amelia is Thinking
Read excerpts from Amelia Bedelia books and then ask students to do some Amelia Bedelia art before reading the rest of the book. One great book to use for an activity like this is Amelia Bedelia Goes Camping. Here's a small excerpt:
They rode for a long time.
Finally Mr. Rogers stopped the car.
"Wake up, Amelia Bedelia," said Mrs. Rogers. "This is it."
Amelia Bedelia looked all around.
"But where is the camp?" she asked.
"The camp is in the car," said Mr. Rogers.
"In the car!" said Amelia Bedelia.
After reading this Amelia Bedelia excerpt to your students, ask them to draw or paint a picture of what Amelia Bedelia is thinking when Mr. Rogers says, "The camp is in the car." Make sure students remember that Amelia Bedelia is a literal-minded housekeeper and that what she is thinking might not be what everyone else is thinking. For example, right before this short passage, Amelia Bedelia picks up a stick and hits the road with it because the Rogers tell her it is time to hit the road and go camping!
Plant Some Paper Mache Lightbulbs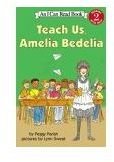 One of the funniest excerpts from Amelia Bedelia in the book Teach Us, Amelia Bedelia is when the regular classroom teacher writes a list of instructions for the substitute teacher, which is Amelia. One of the instructions is for Amelia Bedelia to plant bulbs with the class, but she doesn't know anything about gardening or flower terms, and so she plants light bulbs with the class. Your students will have fun with this Amelia Bedelia art activity.
Make paper mache lightbulbs using a small oval-shaped balloon, newspaper strips, and paper mache paste. Your students can paint it to look like a lightbulb after it dries. They can also paint a clay pot and "plant" their light bulb into their pot, just like the kids do in Amelia Bedelia. What a fun art activity and different paper mache project to go with a literature unit!
Create Mirrored Star Ornaments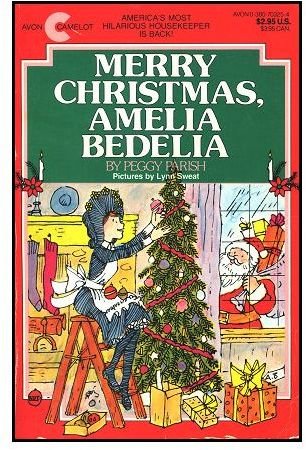 You and your students make "Be the Star" ornaments for a Christmas tree to go with one of the excerpts from Amelia Bedelia's Christmas book. In Merry Christmas, Amelia Bedelia, she doesn't understand Mrs. Roger's instructions about putting a star at the top of the tree, so Amelia Bedelia puts a mirror with a sign that each person who looks in the mirror can be the star at the top of the tree. In this Amelia Bedelia art project, children are making a smaller version of Amelia Bedelia's tree topper.
Purchase small, lightweight mirrors from craft stores (The Dollar Tree sells them as well). With a hot glue gun, decorate the mirror with red or green felt or other Christmas items. With puff paint, write "Be the Star" on the mirror. Using the hot glue gun, attach a string or ribbon for hanging. These make great gifts too.
References
This post is part of the series: Amelia Bedelia Books
This series of articles offers some activities and lesson plans to go with Amelia Bedelia books. You can use the ideas for the individual titles listed or in general for different Amelia Bedelia stories.