Halloween celebrations won't be complete until you add this endearing literal minded housekeeper to your plans. Happy Haunting,

Amelia Bedelia activities can include the study of multiple meaning words, which always seem to get Amelia in trouble. Then use suggestions from the book to create revolting recipes for your Halloween party. Also compare and contrast the two authors of the popular series. Complete the lessons with an assignment, "What Would Amelia Do?"
Magnificent Multiple Meaning Words
Our famous housekeeper delights and baffles her understanding employers, Mr. and Mrs. Rogers, by using the wrong meaning of certain words. This often causes trouble in the household. In this book when Mr. Rogers asks Amelia to "crack" the window he means for her to open it. Instead she hits it with a hammer to crack it. Then when she is asked to add "leaves" to the table to make it bigger she gathers leaves from the yard and dumps them on the table.
Activity
Supplies:
Slips of paper allowing one slip for each student
Container in which to put the folded slips of paper
Plain or lined paper for each student
Write one multiple meaning word on each slip of paper. Each student should choose a slip of paper and write at least two sentences using the word in two different ways. Then illustrate each sentence. Provide a few examples first as you present the activity. Most often the word is used in one way as a noun and in another way as a verb.
For example:
My comb is black.
Please comb your hair before going to school.
Here is a list of word choices:
dress, dust, bend, report, brush, store, swing, tire, color, place, point, name, fit, pet, cut, bat, post, fire, break, bank, leaf, might, pack, open, taste, camp, spy, spell, crack, shape, trap
Author! Author!
Peggy Parish began the Amelia Bedelia series, the stories of a delightful housekeeper who took everything literally, in 1963. When Peggy died in 1988, her fans continued to write letters asking when the next book would be written. It was after much thought that Peggy's nephew, Herman Parish, decided to take over the writing of the beloved series. He is the author of 19 additional books in the Amelia Bedelia series.
Activity:
Use one of the early books by Peggy Parish and this Halloween book by Herman Parish to compare the two styles. Are there as many multiple meaning words that get Amelia mixed up? Are the illustrations the same?
Revolting Recipes
Mrs. Rogers and Amelia come up with some fun ideas for Halloween food, both tasty and gross at the same time!
Divide students into small groups and instruct them to plan a treat for the Halloween party. Make sure they divide the responsibilities and put in writing the ingredient that each student should bring to complete the recipe.
What Would Amelia Do?
The assignment for your students is to scan the media: television, magazines, radio, newspapers and product packaging for one week to find as many advertisement slogans that could be misinterpreted by Amelia. Keep the information in a journal. Then, in class, students should mark the top few favorites to present to the class. The audience must then decide what Amelia would do if she heard the slogan.
Here are some examples:
"Cut your heating and cooling costs"
"Talk to the hand"
"Walk on water"
"Add drama to any space."
"Camp like a rock star!"
"Shop till you drop"
"Shake and Run" (drink mix for bottled water)
Story Understanding
For a writing assignment, instruct the students to answer the following questions about the story:
1. How did Mr. Rogers hurt Amelia's feelings?
2. List the ways that Amelia tricked Mr. Rogers at the end of the story.
Scratch It!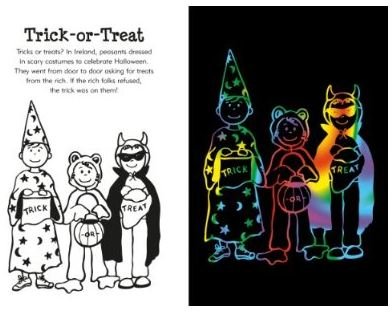 For a book-related art project, try a crayon scratch!
Supplies:
Heavy white construction paper or tag board for each student
Crayons
Black tempera paint, bowls and brushes
Liquid dish soap
Newspapers for spills
Each student should use a variety of bright colors to fill up the entire white surface of the paper edge-to-edge. Place a sheet of newspaper under the white paper to keep crayon marks off of the desks or tables.
Next thoroughly mix a few drops of liquid soap with some black tempera paint and place in bowls. Instruct students to cover the entire surface of their colored paper with black paint.
When completely dry, students can use toothpicks, paper clips, keys or other items to scrape paint away while drawing a picture. Use ideas from the book like a graveyard scene or a haunted house.
Happy Haunting, Amelia Bedelia activities will provide a wide variety of spooky fun for your students while they are learning something, too. Nothing scary about that!
References
Parish, Herman. Happy Haunting, Amelia Bedelia. Green willow Books,2004.
Image Source: Zschock, Heather. Spooky Scratch and Sketch: An Activity Book for Spooky Artists and Trick-or-Treaters of All Ages. Peter Pauper Press, 2007.
Image Source: Maricopa County Library District, Arizona
Multiple Meaning Words Website: https://sb058.k12.sd.us/multiple%20meanings/multiple_meaning_words.htm
Author Bio: https://www.authorsillustrators.com/parish/bio.htm