Learn French Online using BBC's Fun, Interactive Resources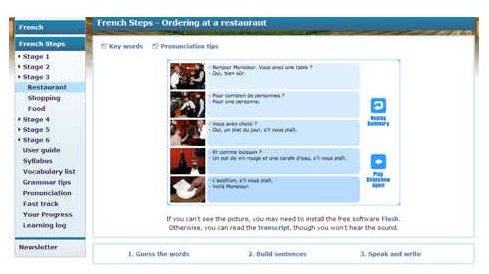 (4 out of 5)
Overall, BBC offers a plethora of fun and helpful language learning resources, especially for French. The only negative aspect of their offerings is the slightly disorganized format in which the resources are presented. For example, one resource offered by BBC is "Ma France," an interactive video series for intermediate level French students.
There are three separate links to "Ma France" on BBC's main page, making the interface a little confusing. But once you get the hang of how to access your favorite elements of their site, BBC can provide you with hours of French learning through listening, reading and evaluating your progress with the tools they offer.
French Steps: a 12-Week Beginner's Course (5 out of 5)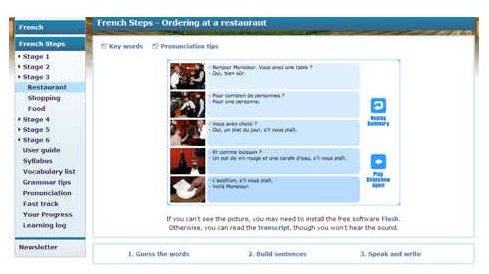 French Steps is one of BBC's resources featured on the main French page. It is an excellent tool for jumpstarting your French language learning, used either alone or in conjunction with other resources. On the left sidebar of the French Steps webpage, you'll see the curriculum is divided into six "Stages." Each of these stages includes several lessons, organized by domains of life and vocabulary. For example, Stage Four includes the lessons "Restaurant," "Shopping" and "Food."
Each lesson in French Steps offers a video for you to watch (the "video" is simply a series of screen shots, each with optional French and/or English subtitles) and several exercises to reinforce the content taught in the video: these exercises are: 1. Guess the words, 2. Build sentences, and 3. Speak and write. Once you have completed all twelve weeks of lessons, you will have a good beginning grasp on the French language, as well as having developed a good ear for French pronunciation, thanks to the video/audio content.
Talk French: a Supplemental Video-based Course (4 out of 5)
Talk French is another video-based resource offered on BBC's website. Although it supplements a BBC program, many people will not have access to this program (since it's not broadcast in the U.S. and many other countries). However, this web resource is useful in its own right.
Talk French is divided into nine different sections, each of which contains several clips, an interactive word game and a printable worksheet for further practice. The video clips show you French speakers in their daily locales; as the video clips progress, you can pause and stop the video whenever you wish or go backwards or forwards. Subtitles in French and English, which appear on the right, can be turned off if you don't prefer to see them. The interactive word games let you play with the French concepts that the video clips introduced to you; you will be able to match pictures with phrases, put things in correct columns or rearrange words. Finally, the worksheets can be printed out; they give you a chance to write your own sentences and do more written practice of the French concepts you're learning.
Ma France: An Intermediate Video (5 out of 5)
If you already know some French and simply want to brush up on what you know and improve your French language skills, BBC's 24-video series Ma France might be perfect for you! In these videos, which were shot in Lyon, Provence and the Alps region, Stéphane Cornicard will serve as your French-speaking guide. Each video is accompanied by downloadable English and French transcripts and by fun activities, such as various card games, interactive roleplays, and cultural quizzes.
Other Resources (3 out of 5)
Besides the three video-based courses offered on BBC's website, there are a number of other resources you may want to take advantage of. One is an interactive test that gives you immediate feedback on your level of competency in French. Another resource is the Quick Fix page, which offers you lists of useful phrases in mp3 format, along with a text version of the phrases that you can download and print; the Quick Fix phrases are divided into various domains (accommodations, food and drink, beach, etc.). In addition to these resources, the BBC page also offers more language games, grammar tips, an online French/English dictionary, and external links to other French language-learning resources.
Overall Review of BBC's French Language Site (5 out of 5)
Overall, the BBC's French language learning site is an excellent resource. While French vocabulary lists, online dictionaries and grammar tips can be found elsewhere, BBC offers three great video courses that are definitely worth the investigation of any serious self-directed student of the French language.
This article has been placed in our archives.
This post is part of the series: Learning French Online
If you want to jumpstart your French language learning, the internet offers many excellent resources. These reviews of web resources will help you decide which ones may best help you improve your French grammar and vocabulary and enhance your knowledge of Frenchlanguage and culture.