Review of New Hero/Quantum Prophecy Series: Book 1 The Awakening and Classroom Ideas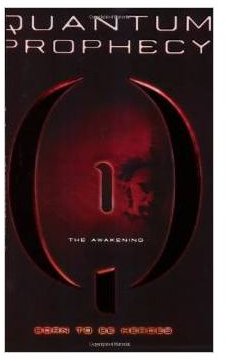 Review of The Awakening
Review of The Awakening
The books The Quantum Prophecy: The Awakening [Philomel, 2007], The Quantum Prophesy: The Gathering [Philomel, 2008] and
The Quantum Prophecy: Born to Be Heroes [Philomel, 2009] are part of the New Heroes/Quantum Prophecy series authored by Michael Carroll. Superheroes exist in this fiction science fiction/fantasy novel. Actually, they existed 10 years ago when a huge battle erupted between the good and evil masked fighters until a machine took all their powers away. Now, Colin Wagner and Danny Cooper are learning about their inherited powers and drawn into an action packed plot.
The Awakening
Book One of the series sets up a complicated group of characters. The plot rests on a prophesy that involves Danny, who is currently in middle school. The story starts with a flashback of the battle between good and evil. All the superheroes and super villains lose their powers. Flash-forward to the thirteen-year-old boys: Danny and Collin. Their powers are just starting to emerge, and the boys have trouble controlling them.
Their life up to this point has been a lie. Danny's father was formerly known as the superhero Quantum. However, Danny did not know his father was a superhero until his super powers started emerging. To complicate matters worse, Facade, who was an evil super villain who could morph into other shapes or people, had actually been pretending to be his father for much of his life, unbeknownst to Danny's mother. Collins' parents are both former superheroes. Now, they are being drawn into another conflict with a new evil villain who has super brain powers. Plus, there is a scary prophecy that involves Danny, from which all of the other books in the series are tied.
Awards
Books in the series have been on the Ottakar's Children's Book Prize shortlist 2006, the Golden Duck Awards: Hal Clement Award Finalist 2008, New York Public Library Book for the Teen Age Reading List 2008, Inglass Teen Read Award: 2008/2009 and the Young Adult Library Services Association Spies and Intrigue Category.
Classroom Ideas for the New Heroes/Quantum Prophesy Novels
Classroom Ideas for the New Heroes/Quantum Prophesy Novels
Students in middle school or even high school who like the Alex Rider Series by Anthony Horowitz, Artemis Fowl series by Eoin Colfer or Maximum Ride series by James Patterson will probably enjoy the Quantum Prophesy/New Heroes series. The main characters are teenagers, and the books in the series are full of action-packed drama.
Teen Boys & High Interest
This series is a fun and exciting read, especially for middle school boys. It is not too violent and the adult language is kept to a minimum. The characters are likable and act just like other teenagers. There is of course a sidelined love interest for the girl reader, but the focus in on the action. These books will probably not be classified as classics any time soon, but they are a high interest read.
How to Use in Classroom
This book could be assigned as a literature circle book or as an Accelerated Reader book choice. Or, it could be part of a Science Fiction unit.
Make Own Graphic Novels
For students who enjoy drawing or reading graphic novels, this book lends itself to students creating their own graphic novels or comic book using the characters. Students could develop their own book based on a scene or chapter. If students are completing more than a scene, place students in small teams.
Comparison of Superheroes
Students still enjoy reading about superheroes, just as many readers before them. They could choose any number of superhero groups, such as the Legion of Super-Heroes, and write a comparison and contrast paper. Or, students could create a graphic poster using a Venn diagram showing the similarities and differences between the two superhero groups.
PowerPoint of Powers
Students could create a PowerPoint presentation explaining each character's super power and tragic flaw. They could focus on the literary element of the hero within this presentation. In addition, the students could include a flow-chart showing how each character is connected to the others.
When looking for a high interest book, try this series. Once students read the first book, they will probably be hooked and read the rest of the series.
This post is part of the series: Young Adult Novels Reiviewed by Middle School Teacher
The novels in this series are ones that upper middle school students tell me that they enjoy. There is a mix of fantasy and action novels in this series. I teach grades 6-8 at a middle school in the midwest.