Chapters 1-4
Chapter 1 – The novel begins at the church graveyard on Christmas Eve. Pip informs us that he is an orphan and lives in the marsh country. An escaped convict appears and threatens Pip. He commands Pip to bring him a file and vittles (food) or he'll cut Pip's throat.

Chapter 2 – Pip returns home and we meet his sister, Mrs. Joe Gargery, who's raised Pip "by hand." Mrs. Joe, as she is called, is an abusive guardian who bullies Pip and Joe. Joe, the town blacksmith and Pip's only friend, informs Pip that Mrs. Joe has the tickler, a stick used to beat Pip when he's been bad. Mrs. Joe returns and swats Pip several times. Pip runs to Joe for protection. They sit down to dinner and Pip, although hungry, does not eat so he can sneak food to the convict. Pip snags some food and sneaks into Joe's forge to steal a file.

Chapter 3 – It's Christmas morning. Pip awakes early and runs to the churchyard. On the way he spots another convict who tries to strike him. Pip runs. He meets the original convict and gives him food, drink, and a file. Pip tells the convict about the other convict. The chapter ends with the original convict filing his leg iron and Pip running back to his house.

Chapter 4 – The Gargerys have guests for Christmas: Mr. Wopsle, the church clerk; Uncle Pumblechook, an arrogant corn merchant; and Mr. and Mrs. Hubble. The guests harass Pip about being ungrateful. Mrs. Joe brings Pumblechook some brandy. He drinks it and chokes on it (Pip had replaced the brandy with tar water). Mrs. Joe fetches the pork pie, which is missing. Pip runs in fear. The door opens and a party of soldiers enter.
Chapters 5-8

Chapter 5 – The soldiers inform the Gargerys they are hunting an escaped convict and need a blacksmith to fix a pair of handcuffs. Joe obliges. Joe, Wopsle, and Pip accompany the soldiers on the hunt. They capture both convicts. The original convict confesses to stealing a pie from the blacksmith.
Chapter 6 – The Christmas feast ends and Pip is taken to bed, relieved of not being found out and feeling guilty for not telling Joe the truth.
Chapter 7 – Pip goes to school in the village. He writes a letter to Joe, who can't read. Pip is determined to teach Joe. Joe narrates to Pip his background. Joe's dad was a drunk who beat him. Joe had to work to support his mother and was never able to learn. Mrs. Joe enters and announces that Pip has been requested to play at Miss Havisham's, an eccentric old lady who lives up town.
Chapter 8 – Pumblechook escorts Pip to Havisham's house. Miss Havisham's snooty, beautiful daughter lets him in and insults him. Pip marvels at the dark corridors and Miss Havisham's appearance. She wears a wedding dress and sits in a candle lit room with all the clocks stopped at 8:40. Pip and Estella play cards. Estella insults him the entire time. Miss Havisham gives Estella permission to break Pip's heart. Pip waits in the courtyard for lunch and cries. Estella brings him his lunch and insults him again.
Chapters 9-12
Chapter 9 – Mrs. Joe and Pumblechook pester Pip for details about his visit to Havisham's. He lies. He tells Joe the truth later. Pip expresses his disappointment in being common. Joe teaches Pip that lying is no way to become uncommon.

Chapter 10 – Pip, determined to become uncommon, asks Biddy to teach him. Biddy begins immediately. Pip fetches Joe at the Three Jolly Bargemen where Pip meets a strange man who rubs his leg, stirs his drink with a file, and hands Pip two pounds.

Chapter 11 – Pip returns to Miss Havisham's. He meets Sarah Pocket, Camilla, and Raymond, who flatter Miss Havisham in hopes of getting her money when she dies. Estella escorts Pip to Havisham's room. Estella insults him and slaps him. Havisham has Pip walk her in circles in a room across the hall. The room contains a wedding cake covered in cobwebs. It will serve as Havisham's tomb. Pip is let out, prowls about the courtyard, and meets a pale young gentleman who challenges Pip to a boxing match. Pip knocks him down three times and is declared the winner. As Pip exits, Estella lets him kiss her on the cheek.

Chapter 12 – Pip returns to Havisham's regularly. She requests that Pip return with Joe Gargery so he can be officially apprenticed to him.
Chapters 13-16
Chapter 13 – Joe accompanies Pip to Miss Havisham's. Joe looks and acts ridiculous. He marvels at Miss Havisham's eccentricities. Joe does not answer Havisham directly, but gives his answers to Pip. Estella looks on scornfully. Miss Havisham gives Joe 25-guineas for becoming Pip's apprentice.

Chapter 14 – Pip begins his apprenticeship. He hates it. He stays only out of loyalty and love to Joe.

Chapter 15 – Pip continues his instruction of Joe. Joe proves to be an extremely dull student and learns little. Pip requests a half holiday so he can visit Estella. Orlick finds out and wants a half holiday too. Joe grants it. Mrs. Joe, eavesdropping, curses Joe for wasting wages. Orlick and Mrs. Joe get in an argument. Joe beats up Orlick. Pip goes to Miss Havisham's and discovers Estella has gone to school in France. Pip returns home and learns that Mrs. Joe has been struck in the back of the head and is lying unconscious.

Chapter 16 – The crime is not solved, although Pip suspects Orlick. Biddy is hired to take care of Mrs. Joe. Mrs. Joe communicates by writing and requests the presence of Orlick. Pip does not know why.
Chapters 17-21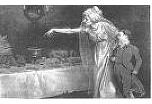 Chapter 17 – Pip continues his apprenticeship. He tells Biddy of his desire to be a gentleman and his love for Estella.

Chapter 18 – Four years into Pip's apprenticeship, he and Joe are visited by Mr. Jaggers at the Three Jolly Bargemen. Jaggers informs Pip that he is to be educated as a gentleman and shall inherit a large sum of money. He instructs Pip to come to his office in London the next week and gives Pip money to buy clothes.

Chapter 19 – Pip prepares for his departure. He buys a suit and visits Miss Havisham. Pip acts boorishly toward Biddy and accuses her of pride. Pip departs for London.

Chapter 20 – Pip arrives at Jagger's office in Little Britain. Jaggers arrives followed by clients and wannabe clients. Jaggers informs Pip about his living arrangements at Barnard's Inn. Wemmick, Jaggers' clerk, escorts Pip to his new home.

Chapter 21 – Pip is disappointed with his living arrangements and considers London "overrated." His roommate at Barnard's Inn is Herbert Pocket, the same pale young gentleman who Pip boxed at Miss Havisham's.
Chapters: 22-27
Chapter 22 – Herbert Pocket, formerly the pale young gentleman, tells Pip the story of Miss Havisham. She was a proud heiress. Her half brother wasted his inheritance. The two hated each other. Miss Havisham got engaged and received money from Miss Havisham. Havisham's fiancee encouraged her to buy the brewery from her half brother for an outrageous price. Matthew Pocket tried to persuade Miss Havisham to be careful. She disowned him. Miss Havisham received a letter at 8:40, the morning of her wedding, at which time the clocks remain.
Chapter 23 – Pip meets Mr. Pocket, his tutor, and other students.

Chapter 24 – Wemmick invites Pip over for dinner and mentions Jagger's housekeeper as being a tamed beast.

Chapter 25 – Pip ventures to Wemmick's house, where he meets Wemmick's aged father. Wemmick shows himself to be completely different at home than he is at work.

Chapter 26 – Jaggers invites Pip and his fellow students for dinner. Jaggers admires Bentley Drummle, whom Pip hates.

Chapter 27 – Pip receives a letter from Biddy announcing a visit from Joe. Joe's visit is not desired by Pip, who is becoming a snob. The awkward visit ends with Joe telling Pip that Miss Havisham wishes to see him and that Estella has come home.
28-35
Chapter 28 – Pip resolves to go to his town and stay at Joe's so he can visit Estella. He rationalizes and stays at the Blue Boar without even seeing Joe. On the same coach as Pip are two convicts, one of which gave Pip two 1-pound notes years ago at the Three Jolly Bargemen. Pip discovers the two notes were a gift from the first convict he met on the marshes as a child.

Chapter 29 -Pip visits Ms. Havisham and Estella. They go through the same exercise that Pip did as a child. Ms. Havisham asks Pip all sorts of questions regarding Estella's beauty. Ms. Havisham encourages Pip to love Estella. As a result, Pip refuses to visit Joe because Estella wouldn't approve of him.

Chapter 30 – Pip advises Jaggers to have Orlick removed as Havisham's doorman, which he does promptly. He returns to Barnard's inn and confesses to Herbert his love for Estella and his guilt at not visiting Joe.

Chapter 31 – Pip receives a letter from Estella asking him to meet her the next day.

Chapter 32 – Pip arrives hours early to meet Estella. Wemmick spots him and takes him on a tour of Newgate prison.

Chapter 33 – Pip returns, somewhat despondent after seeing the prison, and greets Estella, who treats Pip with disdain. Estella leads Pip to believe that there is an "arrangement" for the two.

Chapter 34 – Pip and Herbert chronicle their debts and devise a plan to eliminate them. Pip feels guilty about his treatment of Joe and Biddy. He receives a letter that Mrs. Joe has died.

Chapter 35 – Despite the lack of affection for his sister, Pip is emotional at her funeral. Pip vows to visit more often. Biddy is skeptical. Pip leaves, somewhat irritated by Biddy, but in retrospect acknowledging her wisdom.
36-43
Chapter 36 – Pip turns 21 and begins receiving an annual salary of 500 pounds. He anticipates learning about his benefactor, who he assumes is Miss Havisham. Jaggers tells him nothing.

Chapter 37 – Pip decides to help Herbert establish his business. Wemmick makes the arrangements.

Chapter 38 – Pip visits Estella at her London home where he continues to endure humiliation. He discovers that Bentley Drummle is courting Estella. Pip objects. He also witnesses a conflict between Estella and Miss Havisham, noticing that Estella is just as cold-hearted to her as she is to her suitors.

Chapter 39 – Pip's benefactor arrives. It is not Miss Havisham as he supposed. It is the convict he met as a young boy on the marshes. Pip is devastated by the news. Despite his shock, Pip feels obligated to help the convict, Abel Magwitch or Provis, who will be hanged if discovered.

Chapter 40 – Pip trips over a man who was lurking on the stairwell, who disappears. Pip decides to call Magwitch Uncle Provis. Pip finds Provis' manners embarrassing.

Chapter 41 – Herbert returns. The two devise a plan to get Magwitch out of the country. Pip decides to no longer take his money.

Chapter 42 – Magwitch narrates his life story. He sought revenge on the second convict for testifying against him and setting him up. The second convict, Compeyson, is the man who abandoned Miss Havisham on her wedding day.

Chapter 43 – Pip travels to Miss Havisham's to see Estella. He encounters Bentley Drummle at the Blue Boar.
Chapters 44-50
Chapter 44 – Miss Havisham admits to Pip that she led him on falsely and takes pity on him. Estella reminds Pip that she had been honest from the start. She tells Pip that she will marry Bentley Drummle. Pip walks back to London. Upon arrival the doorman hands him a note from Wemmick telling him not to go home.

Chapter 45 – Pip meets Wemick who has learned that Compeyson is pursuing Magwitch, who is staying at Clara's house.

Chapter 46 – Pip visits Magwitch and feels for him. He discusses a plan for Magwitch's escape.

Chapter 47 – Pip's debts pile up as he refuses to spend Magwitch's money. Pip and Herbert await a signal from Wemmick to transport Magwitch down river. In an effort to forget his problems, Pip goes to the theater. Mr. Wopsle notifies Pip that Compeyson was behind him during the performance.

Chapter 48 – Pip dines with Jaggers and notices his housekeeper Molly's strong resemblance to Estella. Pip feels certain that Molly is Estella's mother.

Chapter 49 – Pip visits Miss Havisham who apologizes to Pip. Pip wanders through the garden one last time. He returns as he sees Miss Havisham light herself on fire. Pip burns his hands saving her. Miss Havisham becomes an invalid.

Chapter 50 – Pip learns that Magwitch is Estella's father.
51-59
Chapter 51 – Pip confronts Jaggers about Estella's parentage. He admits Molly is Estella's mother but had not realized Magwitch was the father.

Chapter 52 – Wemmick notifies Pip that Magwitch would be ready to move in two days. Pip receives a letter regarding Uncle Provis. It tells Pip to meet secretly in the marshes.

Chapter 53 – Orlick meets Pip on the marshes, ties him up, confesses he murdered Pip's sister, admits an association with Compeyson, and accuses Pip of harming him. Just as Orlick is about to murder Pip, his friends rush in and save him.

Chapter 54 – Pip and Herbert accompany Magwitch on his escape. Just as they're about to board a steamer for Germany, a rowboat appears. A man on board orders Magwitch's arrest. The arresting officer is Compeyson, whom Magwitch attacks. They wrestle under water and are struck by the steamer. Compeyson drowns. Magwitch is badly hurt and arrested. Pip accompanies him.

Chapter 55 – Pip remains loyal to Magwitch even though the state has taken everything, including Pip's money.

Chapter 56 – Pip remains loyal to Magwitch and visits him daily. Magwitch is sentenced to death. As he is dying, Pip tells Magwitch about Estella.

Chapter 57 – After Magwitch's death, Pip becomes ill. Men come to arrest him for unpaid debts. Joe nurses Pip back to health and pays his debts. Pip learns that Joe knows how to read and write, of Havisham's death, and that Orlick has been jailed for robbing Pumblechook.

Chapter 58 – Pip returns to his boyhood home. Satis house has been torn down. Pip arrives and discovers Joe and Biddy have been married. Pip then decides to move to Cairo to accept a job working with Herbert. He works as a clerk for Clarriker's and Co.

Chapter 59 – Pip returns from Cairo eleven years later and marries Estella, whose husband had treated her poorly and has died.
This post is part of the series: Great Expectations
I trust you have great expectations for this study guide.