Nine African-American Writers Who Changed History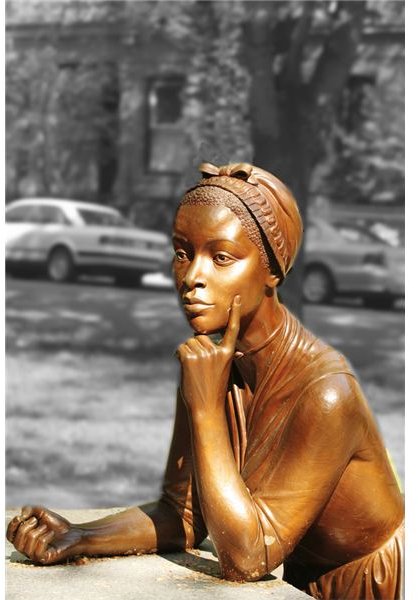 Phyllis Wheatley (1753-1785)
Wheatley was brought to New England and purchased as a slave in 1761. She learned English by the age of nine and was soon studying Greek, Latin, the Bible and literary classics. She began writing poetry at thirteen, including On the Death of Rev. Mr. George Whitefield, which was published in Boston, New York and Philadelphia.
Her book Poems on Various Subjects, Religious and Moral was published in London in 1773, making her the first African-American to publish a book. She received international acclaim for the poetry. In court, she had to defend herself against accusations that no Black could have written such refined poetry.
https://www.poets.org/poet.php/prmPID/431
William Wells Brown (1814?-1884)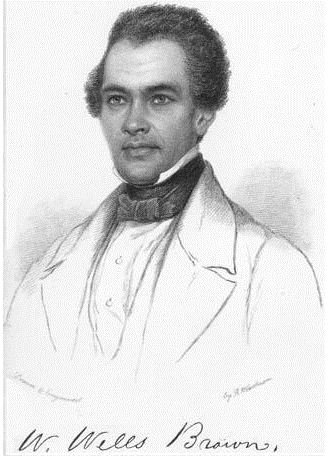 Brown escaped to freedom in 1834 and worked on a Lake Erie steamboat helping other fugitive slaves into Canada. He was an active abolitionist lecturer and friends with Frederick Douglass. A prolific writer, he published a narrative of his life, a play, novels and numerous anti-slavery pieces.
His Clotel was the first novel published by an African-American. Also known as The President's Daughter, it tells the story of Thomas Jefferson's illegitimate daughter, highlighting the hypocrisy of America's leaders and tremendous inequities for mixed-race children.
https://docsouth.unc.edu/fpn/brownw/bio.html
Frederick Douglass (1818-1895)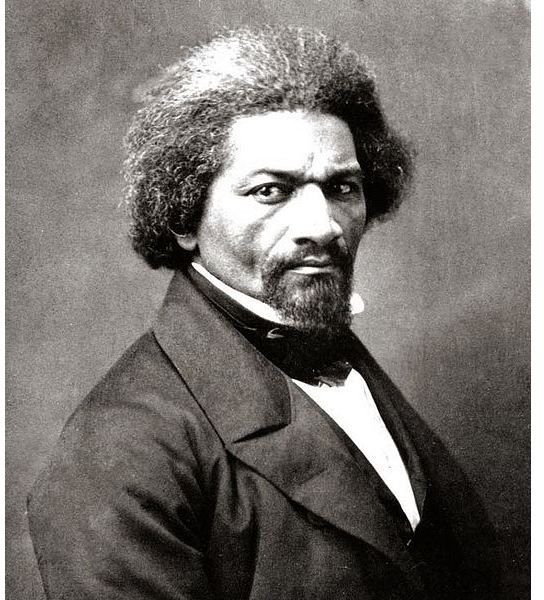 One of the most influential orators of his time, Douglass was an escaped slave who came to advise Abraham Lincoln. He was a strong supporter of the Civil War, working as both a propagandist and recruiter. For sixteen years he published The North Star, a powerful anti-slavery newspaper.
His best know works are his three autobiographies. They detail his slavery, escape and growth as an abolitionist. These books are considered among the finest slave narratives and embody his indomitable spirit. The first volume reveals the name of his slave owner. He was forced to take a two year tour of the United Kingdom after the book's release to avoid recapture by his former owner.
https://www.history.com/topics/frederick-douglass
Langston Hughes (1902-1967)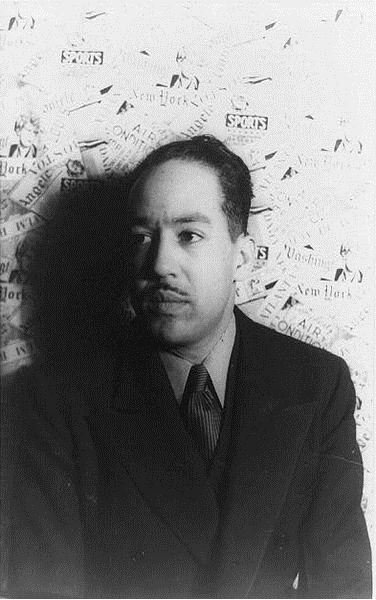 Jazz lover and poet, Hughes was a driving force behind the Harlem Renaissance of the 1920s, when numerous writers and musicians became prominent. He wrote novels, short stories, poems and plays about the Black experience in America from the Twenties to the Sixties. His home in Harlem has been designated as a historical landmark and the street renamed in his honor.
His best known work of prose is his novel Not Without Laughter, a semi-autobiographical story about a boy growing up in rural Kansas in the 1910s. His grandmother struggles to keep the family together through poverty and racism. The book studies school, music and religion.
https://www.poets.org/poet.php/prmPID/83
Alex Haley (1921-1992)
Son of teachers, Haley was a gifted student. He graduated high school at fifteen and excelled at Alcorn State before quitting school for the Coast Guard. He diligently pursued a career as a freelance writer. His big break came when Playboy contracted him to write interviews on prominent figures such as Miles Davis, Sammy Davis Jr., Martin Luther King Jr., and Malcom X.
After achieving celebrity status for The Autobiography of Malcom X, as Told to Alex Haley, he embarked on a most ambitious project. Through a decade of research over three continents, Haley retraced his own family's path from slavery. He slept on a board in the hold of a ship from Liberia to America in order to gain perspective on a slave's experience. The resulting genealogical novel Roots, published in 1976, won a Pulitzer prize.
https://www.biography.com/people/alex-haley-39420
James Baldwin (1924-1987)
Baldwin was a passionate reader and talented writer from an early age. However, he spent his early years working to support his eight younger siblings. In 1945, a fellowship allowed him to write for a living in New York. Another fellowship took him to Paris, where the shift in location allowed him perspective on his life, including his atheism and homosexuality.
His best known work is his semi-autobiographical novel Go Tell It on the Mountain, which tells the story of a young Harlem man resolving his issues with religion and his father. He says it is the story he had to tell if he was ever going to write anything else.
https://www.biography.com/people/james-baldwin-9196635
Maya Angelou (1928-2014)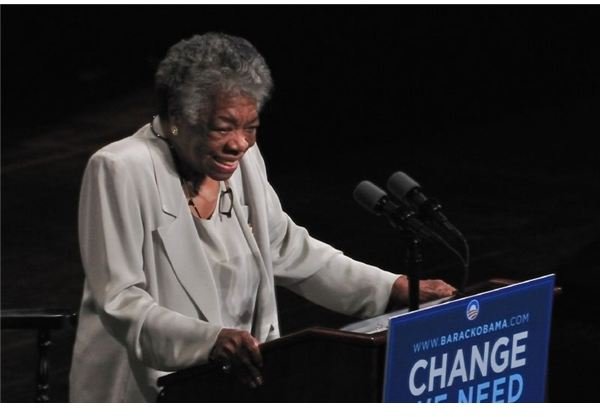 Dr. Angelou is a distinguished novelist and poet, as well as an actress, dancer and civil rights activist. She writes from her experience with racism growing up in Missouri and Arkansas. She is perhaps best known for her autobiography I Know Why the Caged Bird Sings, published in 1969. The book contains elements of both fiction and memoir. In it she touches on controversial issues such as racism, feminism, single motherhood, rape and sexuality. Due to the graphic nature of some of the book's themes, it has been banned in some schools.
Toni Morrison (1931-present)
Her first job was teaching English at Texas Southern University, where she learned that Black culture could be a discipline and not just family pride. She became involved with a small writing group, initially as a social escape. She eventually worked as an editor at Random House and after aiding enough authors with their books, chose to get to work on her own.
In 1988 she won the Pulitzer prize for her novel Beloved. A woman who chose to kill one of her children rather than let her be taken back into slavery is then haunted by her ghost. The book explores mother-daughter relationships and the long-term psychological damage of slavery.
https://www.distinguishedwomen.com/biographies/morrison.html
Alice Walker (1944-present)
Walker is a teacher, lecturer and social worker who was very active during the Civil Rights movement. She is famous for her poetry, short stories, novels and children's books. She continues to be politically active, working to provide voices for women in Africa and the Middle East.
Her most influential work is her novel The Color Purple about a woman in the early 1900s who suffers horrible abuse from her father and then her husband. The book received a Pulitzer prize. The movie received 11 Academy Award nominations. A Broadway musical was adapted from the novel. The Color Purple taught a generation about the continuing struggles of Black women in the decades after slavery.
https://www.biography.com/people/alice-walker-9521939?page=1
Editor's Note: David Klenda, also known as Eighty Six, is a poet, journalist, cook and cocktail maker. He supports his wife and sons with a combination of freelance writing and hospitality. Flexible and adaptable by nature, he accepts all writing challenges. https://eightysixthepoet.blogspot.com
References
Photo of Frederick Douglass (Collection of the New-York Historical Society) [Public domain], via Wikimedia Commons
Photo of Phillis Wheatley statue by *clairity* under CC BY 2.0 via Flickr
Photo of Langston Hughes by Carl Van Vechten [Public domain], via Wikimedia Commons
Photo of Maya Angelou by Rusty Darbonne under CC by 2.0 via Flickr
William Wells Brown. (Project Gutenberg) [Public domain], via Wikimedia Commons