Organization Is Key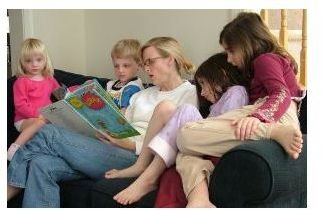 Before listing any other tips, I want you to take a deep breath. You're already successful. Your child is a bright, intelligent individual, and you care very much about his or her well-being. As single parents, it's easy to fall into a cycle of doubt, but remember that you're doing a great job. Adding homeschool teacher to the list of job descriptions you already fill is nothing more than making sure it's an organized effort.
Before any of the other tips I have for you can fall into place, I'd like to discuss organization. I think the biggest challenge I face as a single parent who homeschools is juggling the roles. I'm chef, maid, teacher, accountant, self-employed professional, mother, friend, the list goes on. The first thing I want you to do is write down the roles you play in your own home. Give each role a color. From now on, when something goes on your calendar or your action-item list, it's getting a color. You might also wish to assign a color to each child. That way, at a glance, you can see what obligations you have for which roles.
Make peace with a personal productivity system. There are lots of great ones out there. I use a modified version of David Allen's Getting Things Done. It doesn't really matter which system you use, but it should be something that works and makes it so that you never forget deadlines or important tasks that need to be completed. Use it consistently. Every day, when I come to my computer, I open Microsoft Outlook, where I keep my action item lists and calendar, and I look over what needs to be done. As soon as there is an appointment, I enter it in. I have a wall calendar. It's not on the current month. I never use it. It doesn't work for me, but Outlook does. Find what works for you and stick with it.
But I Have to Work!
The need to bring in an income is what keeps many single moms from homeschooling. There are different ways you can work around the need to work when it comes to homeschooling your child.
1. If you have a kid-friendly environment, bring your child to work with you. This is actually what I did. I was a graduate student at the time when I started homeschooling six years ago. I took my son to classes, office hours, and seminars with me. He enjoyed the experience; the professors didn't mind. He was always quiet, and he'd work on math problems or a worksheet during the class. During my office hours, if I didn't have students visiting me, I would give him a lesson before grading papers. Of course, not every business is open to this.
2. Bring work home. I'm lucky. I built a business as an editorial consultant that I can do anywhere. I can work at home, at a coffee shop, at the library. As long as I have a computer, I'm good to go. Working at home and running my own business is hard! I put in a lot of hours doing work for my clients. I have to be self-motivated each day and follow through on my promises to others. Working at home is not for everyone, but if your job has an option to work at home – even for part of the hours you are scheduled for – take it.
3. Family or friends can be a great resource. If working from home is not an option, ask for help from family or friends. You know what the awesome thing about homeschooling is? Your hours are flexible. You don't have to have "class" from 8am to 3pm. You do, however have to have someone stay with your child, especially if the child isn't yet old enough to be at home alone. Tap into friends or family for help. Better yet – do you know a group of homeschooling single moms? Consider forming a co-op where each mom takes a turn to watch the other children.
It's important to remember that there are options – no matter what your schedule is like. If you have to work from 7am – 3pm, you can homeschool when you get home. If you don't have family close by, rely on good, trusted friends who support your decision to homeschool. Don't be afraid to ask others for help when you need it.
The Curriculum Question
Now that you've got your system of tracking important stuff, and you've figured out the whole bringing in money while homeschooling thing, it's time to turn your mind to another quandary for single moms: Finding affordable curriculum.
Before you blow your top when you look at the prices, make a mental note: Throughout the year, set a portion of your weekly or monthly income aside for the following year's curriculum. Stick to your budget. It might be very tempting to buy lots of supplemental books and activities, but I'm going to give it to you straight: I went hog-wild on science kits at first only to realize that not only did we not have a chance to finish even a quarter of the kits, but that the curriculum I bought wasn't working for my son's learning style. Now, instead of buying everything at once, I purchase books and workbooks, supplies, science kits, etc. only as we need them. There's one caveat: I try to have one extra ink cartridge for my printer at all times. It's inevitable, you'll run out of ink right as you need it the most.
At the beginning of the year, make a list of what you will need. Look at garage sales, used book stores, and library sales. You can often find suitable curriculum choices at these places. Get what you can – any book that will be read once – from the library. Join online homeschooling groups – often moms will be selling or giving away their no-longer needed books. Paperback Swap is another good resource for finding what you need, cheap. Curriculum Share is another great resource.
You don't have to have an expensive homeschool curriculum to be successful. Repeat that over and over again. Your child will learn because of you and the effort you put in.
Note: K12 is a curriculum company that supplies public online schools with their books. It may be tempting to use this route to homeschool – and that's great if it works for you – but because it is a public school, be aware that many of the problems you had with public schools beforehand will still be there. You won't have control over your child's curriculum, and in some states, you may still need to meet with a teacher.
Have Your Student Work Independently
The classic image of the homeschooling family involves a parent sitting at a table all day hovering over a student. When the student is young and learning to read – this might be okay – while you're giving the reading lesson. But, your student will benefit if you encourage him or her to work independently as much as he or she is able. (Your sanity will benefit too, trust me). While your student is completing math problems, writing a narration, or working on a handwriting workbook, you can be doing something else. At the end of the period, check the student's work to ensure it was done properly – and of course, be available for questions. By allowing the student autonomy, you can help build his or her confidence.
For older students, try this approach: Go over what the student needs to complete with the student at the beginning of the day. Make sure the student knows you're available to answer questions. Have a folder. Each thing completed can go in the folder for your review. This is especially helpful if you've taken your student to work, you have a babysitter, or you're pushing a client deadline that day. It also helps your student learn to be accountable.
Socialization Schmocialization
Okay, so, you've got your books – you've even assigned a colored folder to each child for each subject to keep completed work in if he or she works independently. As a busy single parent, it can be really hard to figure out when there will be time for activities. Choose only one or two. Don't choose so many that you're running all over the place or spending all of your cash. Have one-on-one friend time at least once a week. If you're part of a religious organization, take advantage of their Sunday school or youth programs. As far as dance, acting, art, music, etc. classes go – don't try to keep up with everyone else. Do what's best for you and your family. Pick one, and stick to your guns on it. When that class or sport is done, the student can pick a different activity. Many places offer scholarships for classes and sports – check to find out what might be applicable to your situation.
Time to Escape
Finally, if you are spending every day with your child – all day – you're going to get burned out. It's not a sign that you don't love your child. It's a sign that you need to do adult things! Whether you lock yourself in the bathroom and sit in the tub for an hour or you get up an hour before your kid(s) it's important to have alone time every day.
It's also important to get out, sans children, once a week. Hire a babysitter, call on a friend for a favor, have Grandma come hang out with the child for a while. You will be able to be a better and more present parent! Remember to take care of you so you can take care of everyone else.
References