Public Speaking Lessons & Opportunites For Your Homeschooled Student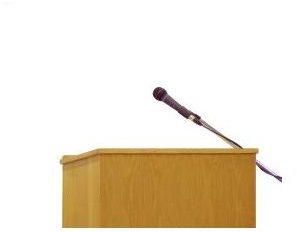 Why Public Speaking?
Many homeschoolers excel in the basics of academics and the arts. It can be easy to overlook improving public speaking skills, yet an ability to communicate in a formal setting can open doors that strict academic preparation alone cannot.
Most homeschooled kids have good social skills in personal interactions, both with peers and adults; however, these skills don't necessarily transfer to a feeling of confidence when faced with speaking to an audience, whether large or small. Mastering the art of public speaking requires the use of academic skills, but also tempers character, and challenges a student to do his or her best.
Consider this short list of benefits homeschoolers can reap from mastering the art of public speaking:
memorization
courage to overcome fears
poise and self control
maturity and equanimity from listening to feedback
leadership skills
dramatic techniques such as voice control and effective use of gestures
expression of ideas
writing skills
organizational thinking skills.
Creating Local Opportunities
With a bit of effort, you can create your own course of study in public speaking. To avoid overwhelming your child, try approaching the subject gradually with increasing levels of formality. Beginners may wish to organize a show and tell, poetry and short prose recital, or academic report event with a local homeschool support group. If there is great reluctance to speak in front of others, consider using a reader's theater as a non-threatening approach. Be sure to communicate ground rules for polite listening and to keep things informal, avoid criticism or feedback on the performances. Follow the sharing time with snacks or playtime to keep the mood light.
For an easy next step, seek a larger audience to prepare and practice an informative speech. Churches are a great resource for supportive audiences. Approach your church leader to see if there is an opportunity for students to recite memorized passages of sacred books, or to present to a youth group on a relevant topic. Within your church, your youth group or religious education class may hop on the idea and enjoy putting together a program or series for church members.
To find audiences in your regional community, approach volunteer coordinators at local museums, historical societies, zoos, or service organizations. If your older homeschooler has achieved basic public speaking skills and confidence, he or she could speak to younger peers or give information to the public. Younger students may be able to give short presentations as a group event on a specific day.
Make your meeting with staff efficient by sticking to a list of topics for your proposal, such as the scope of the idea, training needs, time commitments, and the responsibilities of students and adults. For younger students, ensure a feeling of safety by developing an emotionally supportive atmosphere among the group of speakers, and having enough adults present at the event to provide an anchor.
Teaching Resources
Through the 4H youth development program, parents can find tips for guiding a young speaker, and a sample feedback form for constructive corrections, or a guide with lesson plans for activities and classes. Both publications incorporate facing feelings of discomfort when speaking to audiences along with strategies for building confidence and self-esteem as a speaker.
Find free tips and resources through Toastmasters International, a membership organization dedicated to the improvement of public speaking skills. Although they don't offer memberships for people under 18, consider joining a club to improve your own skills so you can be a better teacher to your children. Having role models within a household can spur motivation and make learning more impactful. Memberships and materials are low-cost, making it easy for adult children to participate with parents or siblings for lifelong learning.
One Toastmasters member designed a unique homeschool speaking club in the Southern California area which serves students ages 10 and up in a formal but engaging system. By running the group themselves and practicing in a supportive atmosphere, children gain leadership skills while they hone their speaking abilities. Browse videos showing the club in action, or learn how to start your own homeschool speaking club from the site's detailed e-book, priced at $29.95. Use the link in the references section below to find out more.
Other Resources
Many states have provisions allowing homeschoolers to participate in public school extracurricular clubs and contests. Check with your school district about access to National Forensics League, which runs local, regional and national speech and debate competitions. Students usually meet after school to work with a coach, typically a high school teacher. Expect serious topics and intense competition in a formal setting, excellent for college prep or aspiring lawyers.
Most public schools will have information about speech competitions sponsored by service or political organizations in which participants win money prizes or scholarships. These contests can offer great opportunities in public speaking for homeschoolers. Some allow students to choose a topic while others require speeches on one set topic. Contact high school speech or communications teachers in districts near you or search your local phone book for service organizations to ask if they offer such a program for youth.
For a Christian focus, Communicators for Christ offers programs for training in speech and debate, along with summer camps and local workshops and tournaments. Their emphasis is on developing Christian speakers starting as young as age 6 and upwards through young adult. Public speaking techniques are studied within the larger context of communicating one's beliefs to others.
Resources
Image courtesy of sxc.hu/gallery/tvvoodoo
Free materials and lesson plans for parents and students:
University of Wisconsin Extension: A Parent's Guide to Public Speaking
Wisconsin 4H Community Clubs: Getting Ready for Speeches and Demonstrations