Many homeschooling parents want to teach their children about the Bible, but they don't want to spend tons of money on Bible curriculum and workbooks. The Internet has free study-at-home Bible resources for kids, materials such as printable coloring books, work pages, music and radio shows, all geared toward teaching children about the Bible.
Art
Younger students in particular enjoy coloring pictures in coloring books. Instead of handing your child a coloring book featuring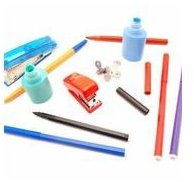 characters from a popular movie or television show, give her crafting options and coloring pages depicting scenes from the Bible or scenes from God's creation. As she makes the craft or colors the picture, tell her the story behind the picture. Point out facial expressions of the people, or things in the picture that are different from today. For example, when coloring a picture that depicts the crossing of the Red Sea, point out how many Israelites crossed at the same time, or that the ground wasn't soggy from the water, but that it was dry just like the Bible describes it. Websites such as PapaJan.com offer many free Bible coloring pages.
Science
Some homeschooling parents choose to homeschool their children to allow them to learn about creation as opposed to the theory of evolution. The book "Evolution of a Creationist" by Dr. Jobe Martin discusses the wonder of God's creation in animals, and explains how evolution of animals is impossible. Students will not only learn interesting facts about animals, but will learn Scriptures that will help defend the principle of creation found in the Bible.
Bible
Many places offer a free Bible curriculum online in order to help propagate the gospel. For example, CalvaryChapel.com provides 325 completely free online materials that teach elementary age students about both the Old and New Testaments. Calvary Chapel's first lesson on the Creation features several pages of Bible materials including a coloring page, memory verse, true/false questions, fill in the blank questions, a crossword puzzle and more.
Music
Students are more apt to remember things that are set to music. That is why Christian music and memory verses set to songs are so easy for children to memorize for years at a time. Sources such as eBibleTeacher.com and HubbardsCupboard.org have lyrics and music–and sometimes suggestion motions–to many Christian songs and verses, sometimes set to traditional songs such as "London Bridges".
Story Time
The Adventures in Odyssey radio program, published by Focus on the Family, produces high-quality Christian radio programs that teach biblical principles and character. If the radio show is not available in your market or if your schedule conflicts with its air time in your area, you can listen to the show online for free. Currently the website lists the last 10 episodes, which can allow you to catch up on what is happening in a series. Allowing your homeschool students to listen to the radio show over the Internet not only gives homeschooling parents a much-needed break, but also allows them to use their imagination while still learning about God's Word.
These free study at home bible for kids and home study bible materials are sure to assist Christian parents in their efforts to teach the Bible to their children during homeschooling Bible time.