The Best Homeschool Scheduling Software to Fit Your Needs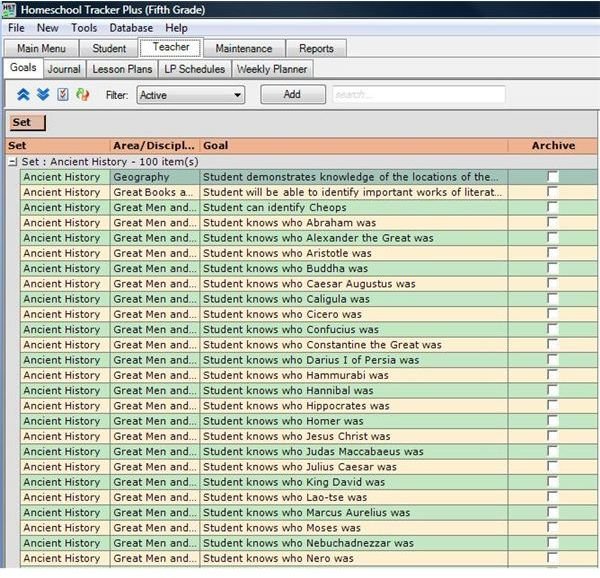 A Scheduler Could be Just What You're Looking For
If you've been homeschooling for many years or you are just getting started, there is homeschool scheduling software that can help you. Whether you tend to plan out your entire year at once, or you only plan one week (or one day) at a time, by using software you can greatly expedite the amount of time it takes you to plan - and reschedule student assignments in your homeschool. Moreover, much of the homeschooling scheduling software available on the market is set up so that you can track attendance and even create a report card or transcript. Outline each class offered in your homeschool for maximum success. Track the books used for each course. If your homeschooling student falls behind, you can easily adjust the plan, without creating a problem in your tracking methods.
What are the available programs for homeschool scheduling, how much do they cost, and what will work best for your family? Find out here.
Homeschool Tracker (HST)
Homeschool Tracker's (https://www.homeschooltracker.com) basic edition is free to use or $49 for the Plus edition. This program is possibly one of the most popular of the scheduling programs for homeschoolers. With Homeschool Tracker (HST), you can customize the program (so that you're using only the features you need), use the scheduling method that works best for you (lesson planning, weekly planning, or daily assignments), easily reschedule assignments, track the work of multiple students, plan out by year or by day, assign grades, record field trips, print a transcript, and more. Some of the most outstanding features of HST include:
The ability to share lesson plans with other HST users
A very helpful support forum
Track your library and the books your student reads outside of assignments
Have all of your records in one place
Create professional-looking reports
Students can log in and use the database to view and check off assignments as they are completed, and they can view their grades.
Upgrades are free
The only downside of HST is that if you want to share the program across computers, you need to save the tracker file onto the shared drive - this works, but you can only have one copy of the file open at a time, so if your student is reading her assignments, you cannot access the file to update assignments.
Home School Inc., PER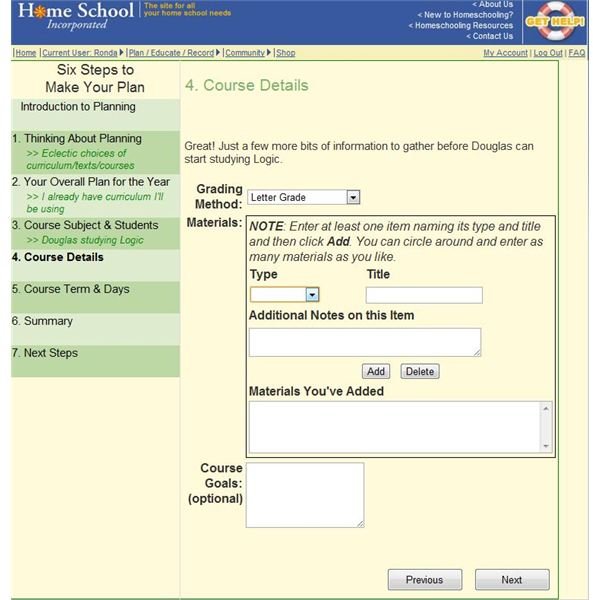 Home School, Inc.'s PER planner (www.home-school-inc) solves the problem parents may face if they want to use the program at the same time as the students, and the problem that may occur if multiple students want to access the database at once. PER is available through the internet, for free. This program allows the instructor to keep records, maintain assignments, grade and evaluate assignments, and create reports. Here are some of the most notable features of the PER planner:
Students can submit assignments through PER
Should a student have a question, he or she can enter it in and submit it
Very easy to use and learn
The ability to schedule field trips and enter details for the field trip in
Community pages to gain support in your homeschooling endeavors
PER is not as detailed a HST, but it does offer a great free alternative, that can work well for you and your students. It's a great option for the work at home parent who homeschools as your students can manage their assignments from a separate computer while you work.
Homeschool Skedtrack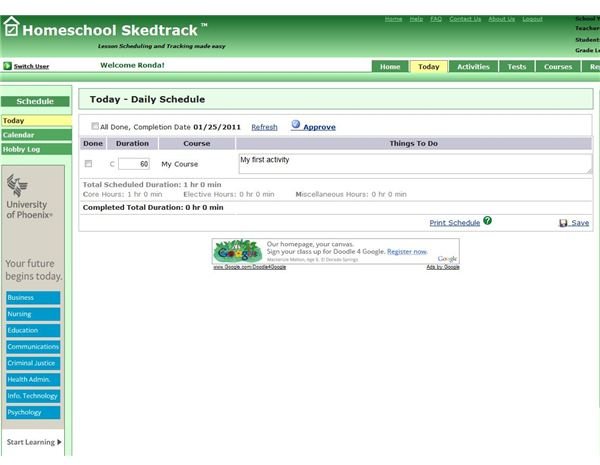 Another option for homeschool scheduling software is Homeschool Skedtrack (www.homeschoolskedtrack.com). Homeschool Skedtrack is a web-based program that allows users to log in, create lesson plans, distribute the plans, and record test scores in one place. Like PER, Homeschool Skedtrack is free. The program also allows you to:
Customize your resource list for each course
Schedule vacations and holidays
Calculate grades
Access your records from any computer an any region
Generate transcripts in PDF form
A separate login for students
A hobby log
While Homeschool Skedtrak is a great resource, and it maximizes the use of the Google Chrome browser, there are advertisements to contend with.
Homeschool Reporting Online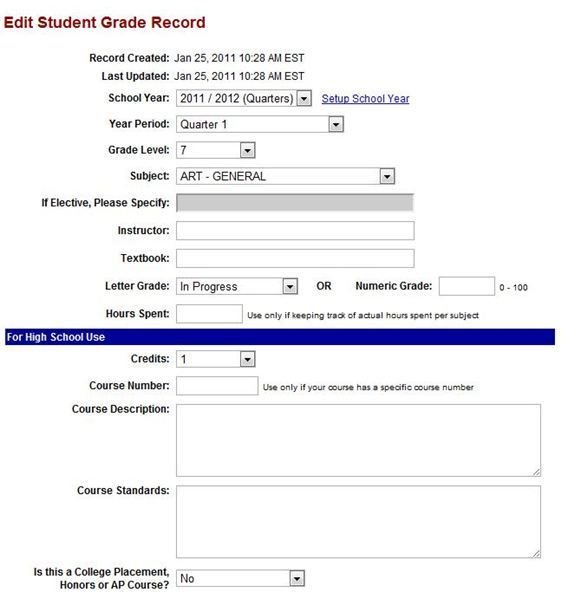 Homeschool Reporting Online (www.homeschoolreporting.com) is another scheduling program available to parents online. If you're looking for a no-frills homeschool scheduling program this is it. Track your students' courses, plan lessons, and share your records. Homeschool Reporting Online is $20 annually. If you are a member of the Homeschool Legal Defense Association (HSLDA), then you may qualify for a 15% discount. Features of Homeschool Reporting Online include:
Tracking credit hours and courses
Super-easy to use lesson plan creation
Transcript creation
Records-keeping under an umbrella school
Backup of records
While Homeschool Reporting Online is a great option for families that need to report their progress to an overseeing institution, for some families, it is too simplistic a program for their needs. For other families, the simplicity of the program will be a welcome feature.
Homeschool Day Book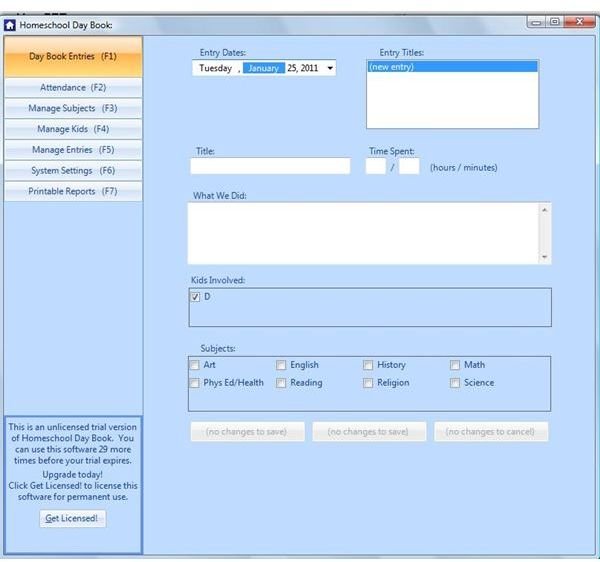 Homeschool Day Book (www.homeschooldaybook.com) is an outstanding option for the unschooling family who still needs to track what they've done for records-keeping purposes. Rather than scheduling your homeschooling activities out in advance, you can record what the student did for each day after he or she has done it. The program will cost you $39. Among the features you receive for this purchase price, you will find:
The ability to record activities before or after they are completed - quickly and easily
Easily track attendance
Print reports
Record homeschooling activities all together or individually by subject
Give each entry a different title
Create group entries for multiple students or individual students
Homeschool Day Book is a great option for those who like simple, no-frills planning that can allow instructors the ability to record and view student activities.
HomeSchool Minder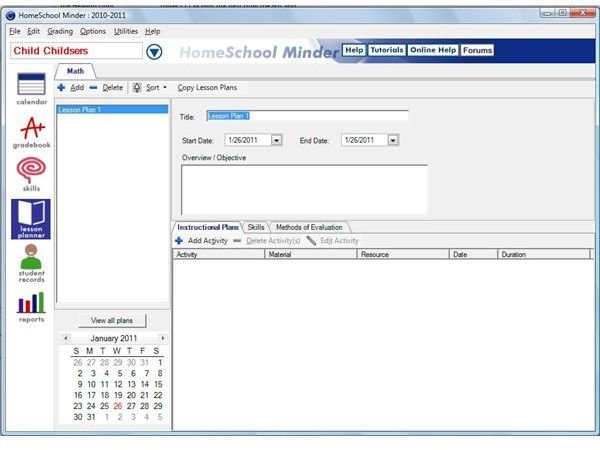 HomeSchool Minder is another outstanding option for the homeschool family needing a means for tracking all the different aspects involved in their homeschooling day. HomeSchool MInder costs $39.95 per year and has a beautiful graphical interface. In addition to tracking assignments, attendance, and appointments, HomeSchool Minder allows you to also:
Track each student's extracurricular activities
Enter in standardized test scores
Keep track of your reading lists
Ensure your students are completing their chores
Track community service projects and field trips
Create reports and transcripts
HomeSchool MInder is a great option for families that are very active, preparing for college applications, or would like to track many different things in addition to scheduling lessons for your students.
Homeschool Solutions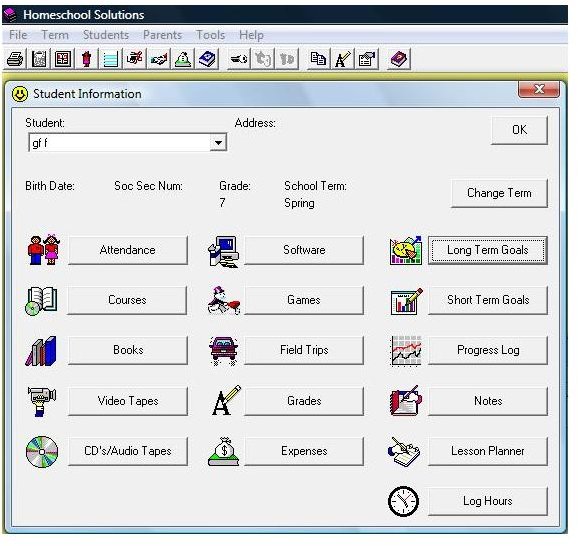 Finally, Homeschool Solutions (homeschoolsolutions.com) is a seventh option for homeschool planning software solutions. Homeschool Solutions is $25. The program offers a lot of different options for scheduling your student's learning activities. One of the unique things about Homeschool Solutions is the ability to track both long and short term goals. Additionally, you can:
Track the educational games you use in your homeschool
Track your educational software
Track expenses
Keep a log of your student's progress
Create either unit studies or daily lesson plans and track these
Keep contact info for friends and tutors in one place
With Homeschool Solutions, I found the program a little more difficult to learn than some of the other programs on the list - but once you do gain familiarity with it, the program can be a great assistance to your family.
By investing time and resources in finding the perfect homeschool scheduling software for you and your family, you can have a much more positive - and organized - homeschooling experience.
All Screenshots in this article courtesy of Ronda Levine