Resources for Homeschool American Literature Studies & Programs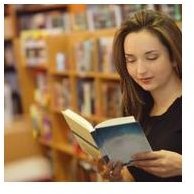 Through homeschool American Literature studies, exploring adventures in American history and the American frontier supplements your
American history classes. Reading about how pioneers measured fields and mountains can enhance science, put basic mathematical skills to work and build an appreciation for modern inventions. Autobiographies follow the life of a famous individual through many years, show how people interacted in that era and illustrate how events affected the lives of individuals. For those who need a formal structured approach there are excellent programs to choose from.
Getting Started
For those who are following the young student's natural curiosity, whole books are dedicated to listing books by reading level and topic. Some bibliographies even provide a short plot summary or a parent's guide to content. For established readers or reading aloud you can't beat Laura Ingalls Wilder's series of books about life on the frontiers of America. These books will spur lessons in animal science, textile arts, games, farming, character, and stories of frontier family life. Popular author William Bennett publishes compilations of short stories, poems, and songs centered on the American experience. Guides are often available to expand the books you choose. Remember to follow up with lots of discussion and questions to get brains turning and to increase comprehension. If your student loves to write, summaries and answering questions will provide many writing lessons. Unschooling parents need to be prepared to take their plans into any direction by reading up on books that describe how to get the most out of literature such as How to Read a Book by Mortimer Adler and with the popular and award winning Teaching the Classics course. In this way parents are prepared to teach students when and what they are ready to learn.
Structured Courses for Older Students
A great inexpensive resource for a parent or high school-age student is the self-paced online class at Universal Class. This class moves from colonial era writings to modern writings and will explore major figures and well-known literary writing.
For those who are trying to incorporate Christian beliefs into their curriculum, A Beka's American Literature course for juniors includes neglected selections from American preachers, hymns and Bible scholars. Their course contains vocabulary explanations, comprehension questions, and composition suggestions for their selections.
For those following a classical education Excellence in Literature has a course available that also includes American drama selections. This program is for students who can analyze and write about what they are reading so make sure your student has been taught basic literary terms and how to pull out themes. These are independent learning courses designed to prepare a student for college by using a college style syllabus. You can also purchase their very thorough complete literature course covering literature studies from 8th to 12th grade choosing the units you want to do to coordinate with your other studies.
Don't wait to explore American Literature. Many older books that no longer carry copyrights are available for free from the Gutenberg project and as audio books by Librivox. No matter what method you choose for homeschool American Literature, be sure to pay attention to vocabulary, keep a reading log, and talk about subjects, themes, characters, settings and plots. Whether you engage in oral discussions with your student or give structured writing assignments or both, keeping track of your homeschool achievements will be invaluable in the long run.