Celebrating Women's History Month in the Classroom: Four Ways to Discover Famous Women in History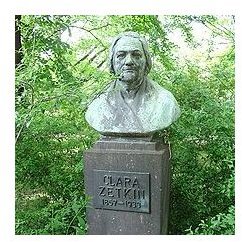 March - Women's History Month
There are important women, who have changed the face of the world, though they have often not been recognized. Each March, we
celebrate Women's History Month in the United States. However, women's history activities can be taught at other times throughout the school year.
Women's History Month began its long journey back in the early 1900s, when women were suffering oppression across economic, cultural and civil lines, the first International Women's Day was observed by 15,000 women who marched through the streets of New York City demanding the right to vote, work less hours and receive a fair wage. Later, in 1910 at the International Conference of Working Women, Clara Zetkin proposed that all women around the world have a day to present their proposals for better treatment, and for ending all oppression. On March 19, 1911, the first International Women's Day was observed.
Since that time, women from around the world have met yearly to share ideas, create ways to end oppression and celebrate their triumphs.
In 1980, President Jimmy Carter declared the observance of a National Women's History Week during the week of March 8. In 1987, Congress declared March to be Women's History Month. For the past 30 years, women have continued the work begun by those that came before them in every area of life and in every country in the world.
All throughout the month of March you can be teaching your students about famous women of history, as well as doing these activities together. Students studying the history of women will:
Discover the role women have played throughout time and across cultures.

Demonstrate an understanding of this importance through writing and presentations.

Discuss women's issues and the fight for equality through the centuries.
Activity One: Time Lines
One of the best "Women in History" activities for any age group or grade is to create a time line. Time line ideas include:
Creating one-line biographies of famous women with the dates of their birth and death (i.e., Cleopatra - Queen of Egypt - AD

69-30 or Helen Keller - The first deaf blind person to graduate from college - 1880-1968)

Create a time line of important events in women's history (i.e., September 19, 1893, New Zealand is the first country in the world to allow women the right to vote.)

Create a time line of inventions made by women (i.e., 1893 - Margaret Wilcox - the car heater or 1882 - Maria Beaseley - the life raft)

Create a time line of women artists listing one of their works.

Create a time line of women scientists and their discoveries.

Create a time line of women musicians/composers.

Create a time line of women in politics/government such as the first woman Pharaoh in Ancient Egypt, Hatshepsut.
Activity Two: Research
Researching different women, their accomplishments and struggles is another activity that can be modified for grade level. Students can:
Create a PowerPoint of the woman of their choice.

Write an essay on the life of the woman.

Write a letter to the woman thanking her for her contribution to history.

Write a story (historic fiction) about the woman with pictures.
These activities will allow students to delve into the history of various cultures as well as various activities that women were part of throughout time.
Activity Three: Guest Speakers
Finally, guest speakers are an excellent tool for teaching students about the accomplishments of women. Women in the community that are continuing the work of women from the past might be invited to speak to the students or the school.
This activity could include students composing a letter of invitation to the woman/women being invited to speak. Students could then research what the speaker had done in her life, mind-mapping questions to ask her when she comes to the class or school. In addition, students could be assigned writing, such as a compare/contrast essay of the speaker and another woman in history. In addition, students could write a news report for the school newspaper on the event.
Activity Four: Acting Out
In this activity, students would write a play or skit highlighting a moment in history in which a woman or women played an important role. For instance, students could do a mock news interview with Amelia Earhart or they could act out Chien-Shiung Wu working on the Manhattan Project.
Students could also dress as a woman in history and read something she wrote. For instance, the letters of Abigail Adams could be read by a student dressed as the First Lady.
Celebrating Women in History
Women's History Month, or any celebration of women, gives us an opportunity to awaken students to the accomplishments of famous women in history and the roles they played. This helps students realize the importance of all people, rather than a select few.
References