AP History Review PowerPoint - Download a Free AP History Review Resource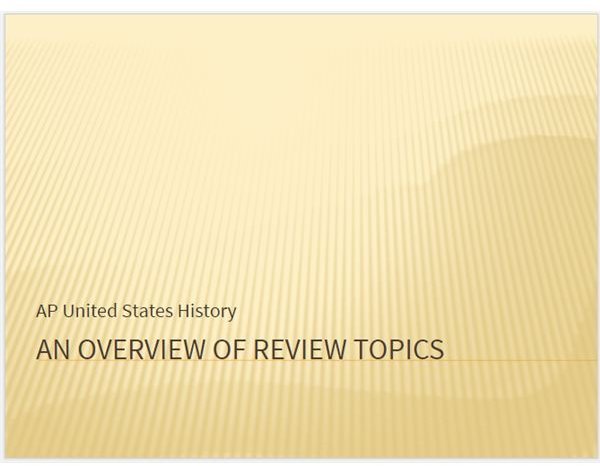 The AP U.S. History course provides students with the analytical skills and factual knowledge to deal critically with the problems and materials in U.S. History. Students learn to assess historical materials. Students also develop the skills to present reasons and evidence clearly and persuasively in essay format.
The Power Point AP History Review covers the following themes: American Diversity and Identity, Culture, Demographic Changes, Economic Transformations, Environment, Globalization, Politics and Citizenship, Reform, Religion, Slavery and its Legacies in North America, War and Diplomacy.
Each unit covered should be supplemented with primary source documentation. The primary source documentation can be located online with ease. Students should practice how to read and interpret a primary source document. A free response essay is also listed for each unit covered. The topic for the essay will relate to the historical theme being covered in the unit of study. Students should maintain a "free response" folder for each unit which contains all the free response essays.
The downloadable power point provides students and teachers with general questions for each unit covered on the exam, as well as written response questions and suggestions of primary sources that should be read with each unit of study. While this review on its own will not fully prepare a student for the rigors of the A.P. History exam, using these study questions and writing tasks, either before enrolling in an AP History course or while undertaking and AP History course should work to each students' benefit, helping them to gain mastery of the subject materials.
Downloads