Historical Female Photographers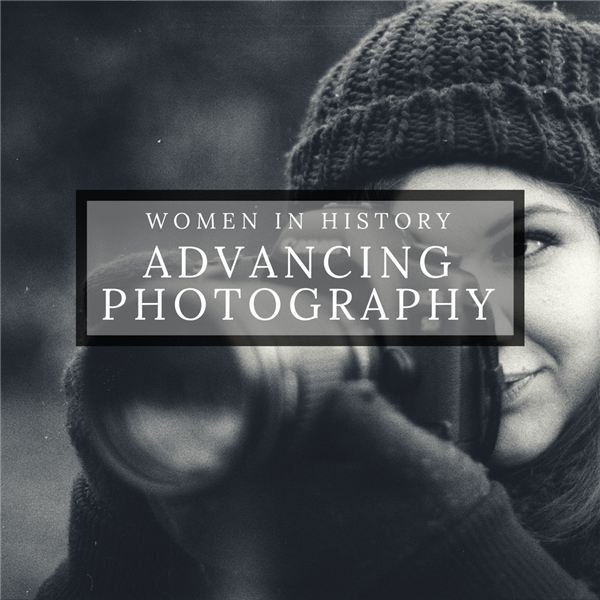 Anna Atkins
The lure of photography is the same for women as it was for men: a longing, a sense of curiosity, and a desire for scientific gain.
Ann Atkins (1799-1872) was one of the first pioneers. Her friend, Constance Talbot, wife of English chemist, linguist, archaeologist and pioneer photographer Henry Fox Talbot helped her foster an interest. Talbot is best known for his development of the calotype, an early photographic process that was an improvement over the daguerreotype.
Atkins was taking pictures right alongside Talbot and she put hers in a book rather than using illustrations. And her field was botany, so her photos were sometimes ethereal in nature.
Lee Miller
Elizabeth "Lee" Miller (1907-1977) led an extraordinary, somewhat eclectic life among events such as being a rape victim in childhood and contracting gonorrhea; becoming both a beautiful model and a photographer for famous magazines; and then in total contrast, becoming one of the first women to be a war photographer and photojournalist.
Miller photographed the Liberation of Paris, field hospitals in Normandy and on April 29, 1945, she walked through the gates of Dachau as it was liberated by American forces. In a state of shock, she managed to photograph the evidence of the Nazis' extermination of the Jews. In a strange historical thumbing of her nose, when they discovered Hitler's apartment, Miller could lay claim to muddying the floor with Dachau dust, then bathing and being photographed in Hitler's bathtub!
Being bright, beautiful and determined, she gained advantage and continued to push the envelope for women. In Paris, she sought out Man Ray and became his protégé, muse and lover. And the two worked on "solarization," a technique employing a reversal of the negative and positive parts of a photo, which created halo outlines and an enhancement of the light and dark qualities of the subject.
She also met and photographed many artists including Paul Éluard, Pablo Picasso, Max Ernst and Joan Miró.
Dorothea Lange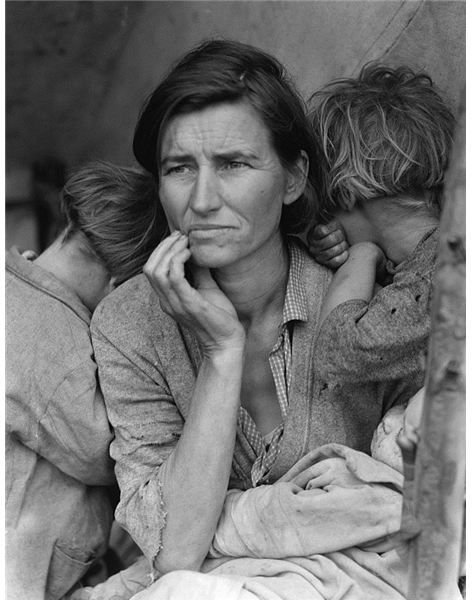 Lange (1895-1965) had planned on a career in teaching. However, a keen interest in photography found her studying with Clarence H. White while interning in a number of New York portrait studios.
The Great Depression of 1929 made her rethink teaching again, for as she looked out her apartment window, many people were standing in line waiting for bread. That image turned her head and her heart. She took their plight into her psyche and went on to photograph the unemployed, the hungry and rural and migrant workers, people who lived with the harsh realities of socioeconomic depression.
Between 1935 and 1939, she worked as a photographer for the California Rural Rehabilitation Administration and later the Farm Security Administration. She was part of gathering evidence for the proposed New Deal legislation to support the disadvantaged. In effect, she helped initiate minimum wages and maximum working hours policies. She is perhaps most famous for her portrait "Migrant Mother," a beautiful piece that captures what so many indigent Americans at the time were living through.
You can find her work in the Library of Congress in Washington, D.C.
Margaret Bourke-White
Margaret Bourke-White (1904-1971), another student of Clarence White, learned the principles of modernism. Her career began as an industrial photographer for the Otis Steel Company in Ohio, where she produced a significant body of work. The publisher Henry Luce discovered Bourke-White in 1930 and hired her to create pictorials for Fortune magazine, whose pages showcased the grandeur of industry. At age 25, she became the first female photographer to work on staff at LIFE magazine.
In addition, she got involved in photojournalism and in 1935, documented a worker's family. Soon she began collaborating with the writer Erskine Caldwell and their project culminated in a book of words and pictures on Southern poverty called "You Have Seen Their Faces."
Among her work conquests for women: Bourke-White was the first woman accredited by the United States Military as an official war correspondent during World War II, and the first woman to fly on an American bombing mission in an attack on Tunis airport. She accompanied General George Patton through Germany, recorded the liberation at the concentration camps of Buchenwald and Erla.
After the war, Bourke-White documented the India–Pakistan partition and is well-known for famously photographing Mahatma Gandhi, just hours before he was tragically assassinated.
Elsa Dorfman
Dorfman, (1937—), is an American portrait photographer who works in Cambridge, Massachusetts. Dorfman refers to herself as a "nice, Jewish girl from Brooklyn" and has a remarkable cinematic presence that shows her to be witty, self-aware and nostalgic for all things in still-portrait photography.
She is known for using a large-format instant Polaroid camera to document friends, clients and famous acquaintances such as Lawrence Ferlinghetti, Allen Ginsberg and Peter Orlovsky, Gary Snyder, Gregory Corso and Robert Creeley, poets all.
In the documentary about her work, "The B-Side: Elsa Dorfman's Portrait Photography," we feel like she is one of us as she says, "Being comfortable with the camera on myself affected how I felt in taking pictures of others. I really had in my mind that this was helping me, in some magical way, to take portraits, because people would sense I did it to myself too."
Dorfman comes across as a woman bursting with creative energy yet tempered with a self-consciousness connection to life around her. She got swept up in the Polaroid family and created both an industry for herself and a huge body of work of faces and portraiture for posterity.
References
Dickie, Chris. Photography: The 50 most influential photographers of all time. Hauppauge, NY, 2010. Book.
Morris, Errol. "The B-Side: Elsa Dorfman's Portrait Photography". Virgil Films, 2016. Documentary.
Rubin, Susan Goldman. Stand There! She Shouted: The Invincible Photographer Julia Margaret Cameron. Somerville, MA, Candlewick Press, 2014. Book
Migrant Mother By Dorothea Lange - This image is available from the United States Library of Congress's Prints and Photographs division under the digital ID fsa.8b29516
History Channel (Television network). Modern Marvels: Captured Light: The Invention of Still Photography. DVD.
Greenberg, Jan & Sandra Jordan. Meet Cindy Sherman. New York: Roaring Book Press, 2017. Book.
Partridge, Elizabeth. Dorothea Lange: Her Lifetime in Photography. San Francisco: American Masters, 2013. Book.